Abbott "Blocky" Lopez earned entry into the Madden Ultimate League as the lowest ranked of 16 competitors in Madden 18 Championship Series points. With a chip on his shoulder, he's seemingly embraced the underdog narrative, a-la the Super Bowl LII champion Philadelphia Eagles.
"My record and stats show that I've been playing really well, so I'm someone to look out for," Blocky said when asked what he'd say to anyone who might be underestimating his ability in this tournament.
From Underdog to No. 1 Seed
Rising to the challenge and lack of fanfare, Blocky finished the regular season as the No. 1 seed in the Elite Conference, with a 7-3 record and ranked top-five in total offense, passing offense, rush defense, and turnover differential.
"I had a close game against pretty much everybody during the season, whether I won or lost," he said with confidence. "It definitely was grueling. Every game was a tough game, a close game," he elaborated. "It really comes down to how you respond, whether you win or lose, how you're able to go on to the next game."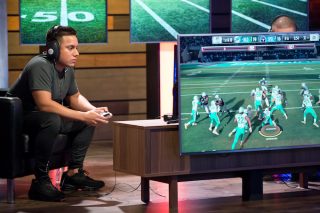 Blocky's season consisted of a series of win and loss streaks. Following a strong four-game win streak to start, he lost three straight, then won out his final three games.
"You start to get confidence, you start playing good and start rolling," he said of the ups and downs. "If you lose a couple in a row, all of a sudden you start thinking about the playoffs and how many wins you need, and it can put a lot of pressure on you."
The most pressure, perhaps, came during Blocky's Elite Conference Divisional playoff victory in overtime against Michael "Skimbo" Skimbo this past weekend. The two competitors have brewed a bit of a rivalry over the last few months. Skimbo, one of the most recognizable names in the competitive Madden community, is the only competitor in history to have won two Madden Championship Series Major belts and is the reigning Madden 17 MCS champion.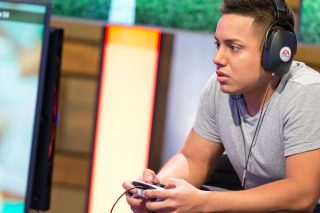 The history between the two started when Blocky faced Skimbo in the Madden 18 Club Championship series at the end of January. Skimbo won rather easily by a score of 24-10, ending Blocky's hopes of advancing to the final rounds of the tournament. But after the contest, Skimbo admitted that Blocky was no pushover, and that he put more into preparing for Blocky than he had for any other opponent. "I prepared for Blocky like I never prepared for anyone, ever. For three months, I focused on Blocky," Skimbo told reporter Adrienne Lawrernce after the game. That's some high praise for a competitor tagged with the underdog moniker.
Beating the Best
Blocky and Skimbo met again during the MUL regular season, and Skimbo won, but by a much closer, 13-9 margin. So, when Blocky defeated his adversary to advance to the MUL Conference Championship, it was a major mental hurdle cleared. "That was a very big win for me against Skimbo. Getting over that hump and showing I'm able to perform on the big stage and in the big game," the 21-year-old said. It was so big that Blocky couldn't help but show a bit of emotion near the end of the contest, something he's not known to do.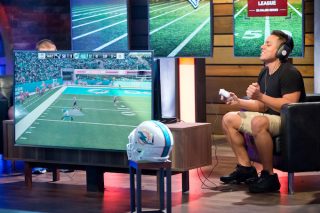 "I don't want to let my emotions run high and get away from my game plan. So, that's really the main reason why I stay focused after big plays." Seriously, the man almost never flinches while he's got a controller in his hand. "Occasionally I'll show some emotion, like when I know that's probably the game, a really big game-changing play." Smile Blocky, it won't hurt.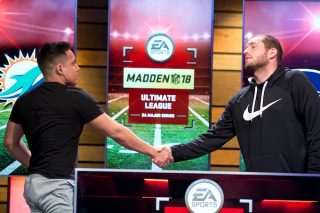 Now, Blocky is preparing for his Elite Conference Championship game against Shay "Young Kiv" Kivlen Saturday, the winner advancing to the 2018 Madden Bowl. Young Kiv defeated Blocky 24-20 in their only regular season meeting. "Kiv only beat me by like three or four points, and it came down to the last play. It really came down to a couple plays, so I was all right with the loss. You gotta move forward."
It's no secret that Young Kiv scored more touchdowns than any other competitor during the regular season. But Blocky, staying true to form, hasn't flinched yet. "I'm going to put in the work, I'm going to prepare, I'm going to put in a lot of time to get ready for Kiv. And when it comes to gameday, I'm gonna be ready."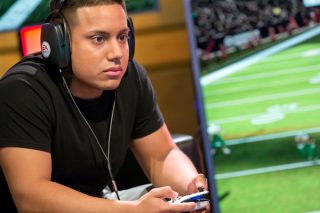 With a $500K prize pool, the Madden Ultimate League playoff atmosphere has a high level of intensity. But one thing that stood out to me when talking with Blocky is that for a 21-year-old, he has an extremely realistic and mature view of it all. "We're all doing what we love to do. We all play Madden. We all like playing video games. We all like football. At the end of the day, we're just playing a game."
Video games are supposed to be fun. Isn't that why we're all here?
---
–Matt Franciscovich (Follow Matt on Twitter @MattFranchise)
What is Madden Ultimate Team (MUT) mode in Madden NFL 18? Dig in here for more information on how to build your own ultimate Madden lineup. Customize your MUT team and support your favorite Madden Ultimate League competitors with the Gameday Competitors Program.