With a 5-5 regular season record, Eli "True" Clayton snuck into the Madden Ultimate League playoffs with the No. 4 seed in the Legend Conference. "We got $10K just for showing up, so that was a blessing," the 21-year-old said of his MUL experience.
The Madden Ultimate League regular season consisted of a 10-game grind followed by playoff rounds for those who advanced, all of which were crammed into just a few days this past winter. "I feel like every player was fatigued by day two or three. We had so many games to play and we didn't have time to look at film," True said, describing the demanding nature of the tournament, something the other competitors have echoed.
Ground Game Guru
Known for his elite stickwork and ability to juke, spin, and hurdle his way around his opponents, True's go-to running back in the Madden Ultimate League was Todd Gurley. "Gurley has way more elusiveness and agility than a lot of other running backs, so that's why I favored him over others in the field," he explained. "I tried to run with Derrick Henry and Herschel Walker and it's boring. Just running straight and trying to truck someone, there's no fun in that," True said regarding his Madden NFL 18 playing style.
A major part of the Madden Ultimate League pre-game strategy was roster building. Before every game, each competitor had an opportunity to put together a new roster, with salary cap limitations, that best fit their playing style and game plan. True was one of the only competitors who frequently used Gurley, and it was genuinely fun to watch True do his thing. He finished the regular season with a top-five rush offense, averaging 95.2 rush yards per game, combined with a top-three overall defense.
"I don't have a favorite playbook, I like every playbook, I can run anything," True revealed. Versatility is key in competitive Madden, especially when one is facing a new opponent at every turn with different strengths and weaknesses. But in his upcoming Conference Championship matchup, True will go head-to-head against the No. 2 seed in the Legend Conference, Drini "Drini" Gjoka. The two met during the regular season, and Drini came away victorious by a score of 27-24. "I've watched my regular season game against Drini a lot," True said about his semifinal preparations. "It was a back-and-forth game, it was a battle. I know what I did wrong, and I know what to improve on; it should be a really good game," he said.
But the matchup against Drini isn't the only thing True is preparing for. "You never know who you're gonna play. I know that when I watch [Abbott] Blocky [Lopez], he's one of the rare players who can pass a lot and also run. I played him a couple times earlier in the year, and he's a very elite player." If True advances to the Madden Bowl, he could very well face Blocky, or Shay "Young Kiv" Kivlen. He's preparing for every scenario.
Hold The Door Specialist
At one point during the Madden Ultimate League season, True stopped his opponent, Jahmal "Musafa Jones" Daniels on a fourth-and-short situation at the goal line. True looked up at broadcast announcer "RG" Glick and shouted "Hold the door! Hold the door!" Knowing it had something to do with the infamous "hold the door" scene from HBO's Game of Thrones, I asked for more specifics.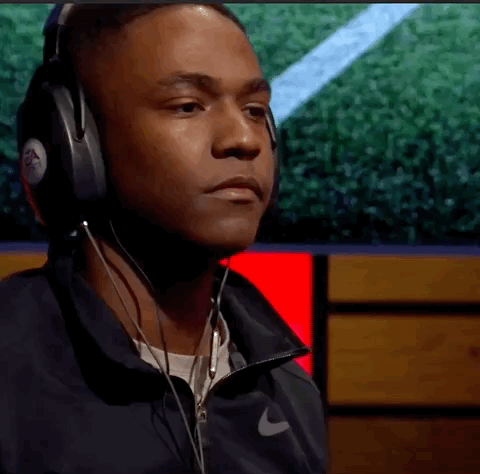 "It was my first-ever Madden NFL 17 event," True explained. "RG says 'True's gonna hold the door, he's gonna hold the door.' And I did, meaning I stopped my opponent on a fourth-and-two, and that started the whole trend." True continued, "I played the next day and held the door at the one-yard line and then it was like, okay this guy can stop everyone on fourth-and-short, so it was this fun thing that RG started. He calls me the 'Hold The Door Specialist,' so when I did it on that one play against Musafa, I just reminded him that's what I do."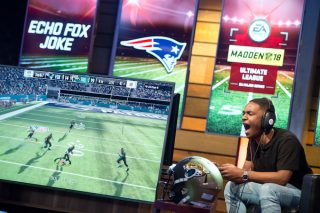 So, not only is True one of the best Madden Ultimate League competitors at open-field running thanks to his evasive stick-work, but he finished with the No. 3 overall defense in the regular season, allowing the third-fewest total yards against per game, 195.6. Whether he's holding the door on defense, or bursting through it on offense, True is a force to be reckoned with.
In the playoffs last weekend, he dismantled Raidel "Echo Fox Joke" Brito in the Wildcard Round 32-14, and put Eric "Problem" Wright's Ultimate League hopes and dreams to bed with a 27-20 victory.
But if there's one thing True remains, it's humble.
"People [at school] I've never met will ask me to play a game. I've been getting recognized more often this year. It's pretty cool, I guess," he said. I asked him what he wanted anyone watching this weekend, whether they're casual or die-hard Madden fans, to know about him. "I'm really easy to get along with, I'm not a trouble maker," he said. "I'm always laughing and joking around. I'm just me, a cool dude. There's really nowhere to go but up, honestly."
---
–Matt Franciscovich (Follow Matt on Twitter @MattFranchise)
Tune into the Madden Bowl on Saturday, April 28. For more information on tune-in times and how to watch, click here.