"I knew if I focused on [Madden] full-time, it would be worth it," Shay "Young Kiv" Kivlen explained about why he took a year off from school to pursue video games professionally. "So that ended up working out for me."
It surely did work out for Young Kiv. You might remember watching him play against Drini "Drini" Gjoka, who defeated Young Kiv in the Madden 18 Challenge final last December. Two of the youngest Madden competitors to advance to a championship title game, Young Kiv and Drini could potentially rematch in the Madden Ultimate League EA SPORTS Madden Bowl in Dallas, TX this weekend. But both competitors have to win their Conference Championship games first.
"I'm focusing on every player. I'm focusing on [Abbott] "Blocky" [Lopez] the most because I have to win that first game. But the way the format is, we don't have time to prepare for the next, so I'm preparing for everyone."
Smart. Young. Stylish. Young Kiv oozes swag, and for good reason.
He scored more offensive touchdowns, 28, and more total touchdowns, 32, than any other competitor during the Madden Ultimate League regular season. His plus-15 turnover differential ranked him third in the entire league, and he ranked first in total points scored, 263 (26.3 per game).
"It was fun. It was hard," the Seattle native said of his experience playing in the first-ever Madden Ultimate League. "Every single person you're playing is really good, you never get an easy game. It was really exhausting, but it was fun for sure, and really exhilarating."
Mom Knows Best
Unlike some of the top Madden competitors, Young Kiv isn't a life-long gamer. "I'm just a college kid that likes video games," he explained. "I used to be into sports; I played baseball, basketball, and football year-round. I started playing baseball year-round to focus on that, but had to stop because I got hurt."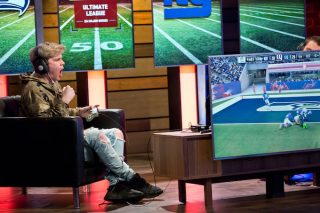 If not for his baseball injury, Young Kiv's Madden career might have never happened. Oh, and the whole mom thing.
"When I first started playing Madden, my parents hated it. I was trying to sneak it. I was playing Madden in my free time, and my mom ended up taking away my console for the whole summer when I was 16-years-old."
Classic mom move. But it's all good, there's a happy ending to this story.
"My mom ended up coming around after I made $2K at a tournament, which was big at the time. She wasn't on board at first, but now she's really supportive and she ended up going to the Seattle Seahawks Madden Club Championship series this year," he said.
Luck, Or Fate?
Young Kiv's 7-3 record in the MUL regular season earned him a bye in the Wildcard Round of the playoffs last weekend. He faced Stephen "Noble SteveyJ" Javaruski in the Divisional Round, and it was an epic game for the history books. Young Kiv won 47-30, but the on-paper score doesn't do it justice. The two competitors traded blows the entire game, and after Young Kiv took a 31-30 lead in the fourth quarter, things went off the rails. Noble SteveyJ ended up fumbling not one, but two consecutive kickoff returns, both of which Young Kiv recovered and converted into scores.
"In Madden, there are things you can do to prevent getting unlucky, but there's also stuff you can't control," he explained.
It was big of Young Kiv to recognize that he couldn't stop Noble SteveyJ's offense, and to acknowledge how fortunate he was to get those two fumbles. One thing you'll notice if you pay close enough attention, is how much respect all of the Madden Ultimate League competitors have for one another, and it's quite refreshing given the high level of intensity when there's big money in play.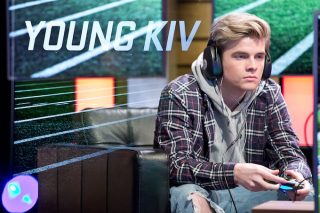 "If you can control your emotions, after skill, that's probably the biggest thing. If you can stay even keeled, you're going to be successful," Young Kiv said about high-pressure situations. Now that's advice, coming from a 20-year-old, that one can apply not only to playing video games, but to all aspects of life.
Speaking of life applications, have you seen how elite Young Kiv's hair is? I asked him what his secret is. "I use this forming cream, that's it. I put a little bit in my hands and roll it through my hair and then try to figure out what to do with it." If only it were that easy for all of us. Ah, to be young.
---
- Matt Franciscovich (Follow Matt on Twitter @MattFranchise)
Tune into the Madden Bowl on Saturday, April 28. For more information on tune-in times and how to watch, click here.