At the Madden 18 Challenge last December, Drini "Drini" Gjoka became the youngest competitor ever to win an EA Sports Madden NFL Championship Series belt. And this 18-year-old is dead serious about being a professional Madden NFL gamer.
"My favorite playbook? Um … when is this [article] going to be released? I don't know if I want to tell True (Eli "True" Clayton) my playbook," Drini said with caution over the phone. Careful not to provide any kind of edge to his opponent during the final days of preparation for the Madden Ultimate League Conference Championship, he followed up, "I can tell you my second-favorite playbook, Miami Dolphins on offense."
While cautious about playbooks, Drini was open about shedding some light on how his experience playing in the first-ever Madden Ultimate League contrasted to other Madden competitive events.
"It was super different," Drini said. "We saw what everyone's weakness was, we saw everything they liked. It was easy to know what your opponent was going to do, which made it different from other tournaments," he explained. "It was all about preparation honestly."
Preparation will be key when Drini faces True in the Legend Conference Championship round on April 28. The winner goes on to the final, the Madden Bowl, and is guaranteed at least $70K in winnings. Drini faced True during the regular season and eked out a 27-24 win. Both Drini and True use a run-heavy approach on offense but have different styles.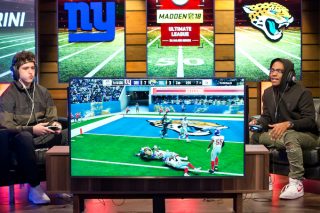 Drini propelled himself into the playoffs with powerful HB Herschel Walker, truck-sticking and steam-rolling anyone in his path along the way. True, known for his elite stick work, juked and jived his way to the MUL Conference Championship with the highly elusive and agile HB Todd Gurley.
"I'm using film from the whole season, seeing what he likes. He's a run-first guy, so I'm making sure that I know how to stop his run," Drini said confidently.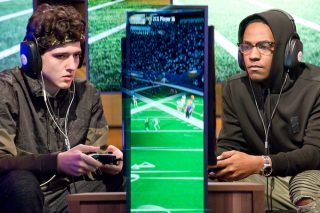 Both competitors finished with top-five rushing offenses in the MUL regular season. But it was Drini who led the league with 24 interceptions and posted a plus-18 turnover differential.
"If he's going to beat me, he's going to have to beat me off the pass." Well if that's the case, True will need to be careful with his reads given Drini's frequent interceptions.
A Rough Start, Then Domination
The Washington D.C. native finished with the No. 2 seed in the Legend Conference, soaring to a 7-3 record. But it wasn't a cinch. Drini's Ultimate League campaign started off with two straight losses, before he found a groove and went on a 7-1 streak to close out the 10-game regular season slate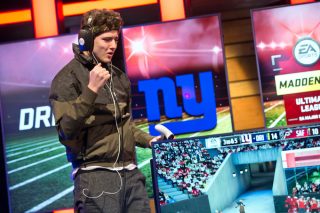 Sometimes during Madden events, the competitors will jaw at each other about "getting lucky" in the game. In other words, there are times when there's a turnover or big play that doesn't go their way, and in the moment, they chalk it up to "luck" one way or the other.
"Everybody's gonna get lucky sooner or later, and everybody's gonna get unlucky sooner or later," Drini explained. "It's really how you react. If you react badly, that's when the tables turn, and you start losing a lot. If you keep a strong mindset, you can still come back. Fight through the fluke, and still get wins."
If luck has anything to do with it, the young Madden pro seems to have a secret weapon. Drini sports a camouflage bandana when he's playing, because when he is wearing it, he seemingly can't lose.
"Before the Madden 18 Challenge, I was rocking the bandana in local tournaments and I had good results. In the group stage, I played without the bandana and started the tournament 1-2. So, I said, forget this, I'm just going to wear it for single elimination, maybe it's good luck."
Bandana Karma
He was right about the good luck. He won first place in that tournament and hoisted his first Madden Championship Series belt. And during the following MCS event, the Madden 18 Club Championship, the bandana superstition grew stronger.
"In the Madden Club Championship, I had to win two games to represent the Denver Broncos [in the round of 32]. I had the bandana on and won, but I took it off for the round of 32 and lost to DJ Llamas (Chiefs). So, I was like 'uh, this might actually be good luck.'"
As you might have guessed, Drini wore his bandana for all 10 games of the MUL regular season. His 7-3 record earned him a bye in the Wildcard Round. Clad in the bandana as he was all season, Drini won his Divisional Round matchup easily by a score of 30-3 against Chris "Dubby" McFarland, the No. 3 seed.
"I controlled the clock and took my time going down the field on offense," Drini explained. "But when I was on defense I played really aggressive against his pass-heavy offense, which caused Dubby to make bad reads all game. My two User Lurks in the beginning put me in a great spot to win the game."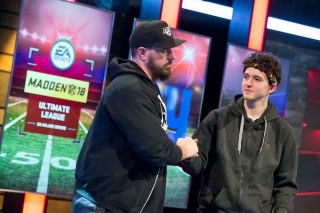 With momentum and some bandana karma on his side, Drini will look to win his second MCS belt this weekend. So, what's next, after this season's Madden Bowl? "I want to grow my brand. I want to have a lot of followers on Twitter, Twitch, YouTube. I don't want to only be a competitive player, I want to be an all-around full package."
---
–Matt Franciscovich (Follow Matt on Twitter @MattFranchise)
Tune into the Madden Bowl on Saturday, April 28. For more information on tune-in times and how to watch, click here.