Updated December 19
NOTE: This isn't all that's happening with Zero Chill. There's plenty to dig in to, including more Ghosts, Out of Position Players, items, challenges, and more.
Be sure to log into Madden Ultimate Team daily to check out all the new content coming throughout the program till January 7.
Also, see the official Madden Ultimate Team handle for the most up-to-date info on what else Zero Chill has to offer.
Updated December 14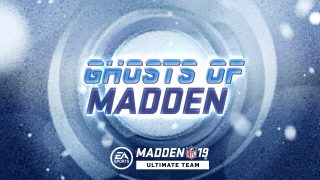 As a beacon of superstardom, an NFL rookie class arrives every season with promises of championship glory and enough talent to change the direction of an entire franchise.
Those rookies now have their time to shine as Ghosts of Madden Future in Zero Chill. The newest wave of MUT items delivers more talent to choose from to build your Ultimate Team dynasty.
Available through Sets and special store offers, don't miss out on these Ghosts of Madden throughout the Zero Chill program.
Here's a look at some of the Ghosts of Madden Future.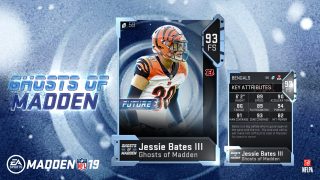 Jessie Bates III, FS, Cincinnati Bengals
Bates brings quality coverage in the secondary with excellent scores in Man and Zone Coverage. He's also a skilled tackler with decent Hit Power. He's an ideal safety to send on the blitz to overload the offense's protection and notch a quick sack.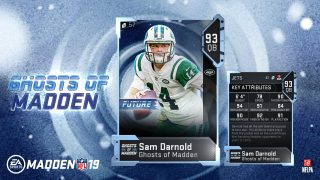 Sam Darnold, QB, New York Jets
Darnold is a developing QB with solid base ratings. There's a bit of a drop-off in accuracy on deeper routes, but his 92 Throw on the Run can extend plays when the pocket collapses. Darnold is dynamite with shorter routes, so look to use slant routes once they break through zone schemes and TE corner routes as your checkdowns.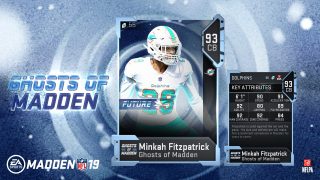 Minkah Fitzpatrick, CB, Miami Dolphins
Fitzpatrick is the most versatile cover artist in this group. Equally balanced in zone and man schemes, Fitzpatrick has the skills to shut down WRs snap after snap. Few CBs have this skillset.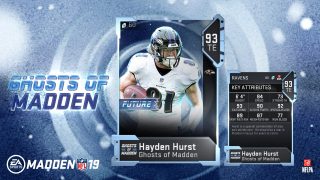 Hayden Hurst, TE, Baltimore Ravens
Hurst is the mold you want TEs to fit into. A decent route runner with great catch ratings, Hurst would make an ideal checkdown option mentioned above with Sam Darnold. Hurst isn't a liability in blocking assignments either, so you aren't sacrificing your ground game for an extra red zone target.
Quenton Nelson, LG, Indianapolis Colts
Coming in with great protection numbers, Nelson is a monster up front. Great Strength and run blocking ratings mean he should widen your rushing lanes a bit and start eating up bigger chunks of yards with your HB. His ratings in pass protection are only a slight dip in comparison, but you won't notice it too much. Nelson is a fantastic add to your O-line.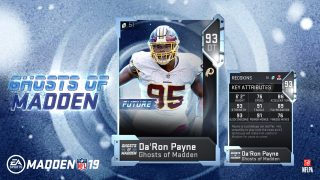 Da'Ron Payne, DT, Washington Redskins
Last but not least, Payne stands as sort of the antithesis to Nelson. Like most DTs, Payne is more skilled at plugging up running lanes and forcing protection shifts than racking up sacks. However, his Strength and Power Moves combo means he can break through the line to force the QB out of the pocket and disrupt route timing. Adding Payne to your D-line could force some poor throws, letting you win the turnover battle.
Updated December 12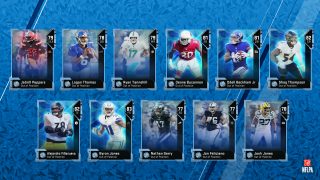 Zero Chill just wouldn't be the same without this Madden community favorite. Out of Position Players are back to deliver the ultimate changeup.
This groups features some big names from NFL's past and present filling a spot on the field outside of their natural position.
Available through Packs, here are the featured players in this wave of Zero Chill content.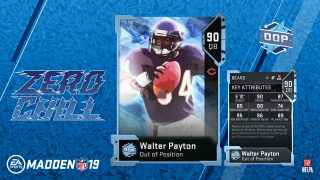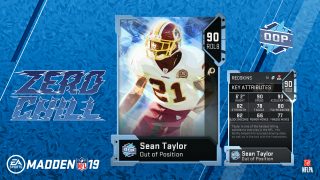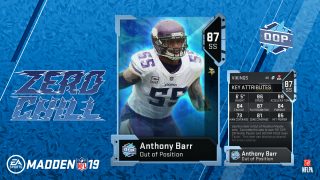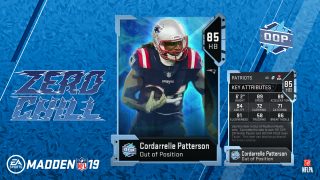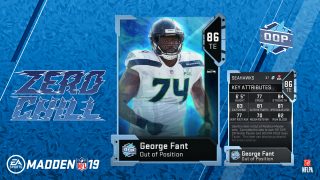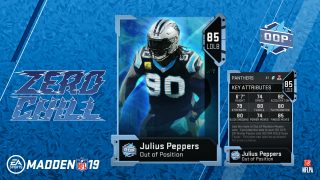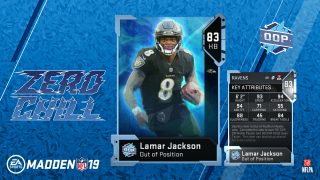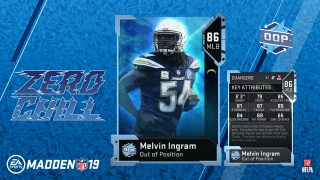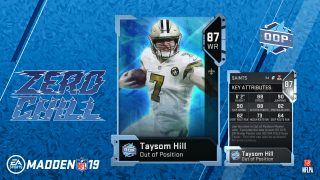 Updated December 10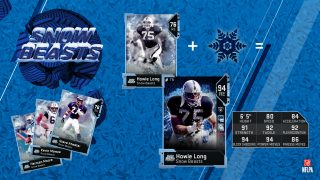 You've been plowing away in Zero Chill, and you've built up a solid surplus of Snow. Now you'll get a chance to put that collection to good use.
Dropping today, Snow Beasts enter the fray. This group of four players starts out with a low 76 OVR. But here's the catch. Unlike other powerups, the four Snow Beasts can be upgraded with just Snow. So, these items are very easy to upgrade and can quickly be added to your starting lineup.

The four Snow Beasts are RE Howie Long, SS Steve Atwater, C Kevin Mawae, and WR Herman Moore. Each one will feature their own Solo sequence as well. Complete them to earn that specific Snow Beast and use Snow to permanently upgrade that item. You can take a Snow Beast all the way to a 94 OVR.
More to come as Zero Chill continues.

Updated December 8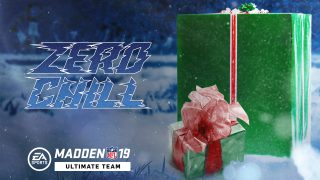 The holiday season is not complete without Presents!
And now, Presents have entered the action in Zero Chill. Ranging in rewards, Presents can be earned through special store offers and are available from now until December 17.

But just like typical presents you'll receive through the holiday season, these can't be opened until specific days. So you'll just have to wait and see what's inside.

Stay tuned. There's still more to come with Zero Chill.
Original Post. December 7
From the Frozen Tundra in Green Bay to the frigid temps in Buffalo, some of football's most historic games take place during a massive cold front. The same can be said in Madden Ultimate Team.
Winter has come to Ultimate Team with Zero Chill, a massive MUT program and a community favorite. Now through January 7, Zero Chill brings loads of wintery-themed events and items. Outlast the winter as new content drops throughout the program.
Zero Chill introduces Snow. Though Solo Challenges and objectives, earn Snow and redeem it at the store for other items to help build your Ultimate Team.
That's not all that's coming to MUT. Check back for plenty more as content drops through the next month. But first, here's the first wave of items that's just the tip of the Zero Chill iceberg.
Here are the two Masters kicking off Zero Chill.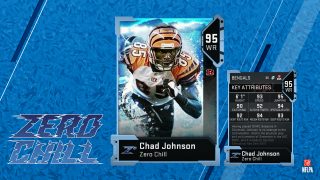 Chad Johnson, Ochocinco, whatever you're calling him, 85 is the prototypical deep threat. Solid Speed, great Jumping, and fantastic Route Running make him an instant star on nearly every MUT roster. If you happen to have a QB with a big arm, Chad Johnson might be your favorite new asset.
One of the most fearsome players in NFL history, Dick Butkus is a monster of winter. His size, Speed, Strength, Tackle, and Hit Power ratings make him an absolute menace to the best of offensive lines. Don't overthink this one. If you manage to add this guy to your lineup, send him on the attack as often as you can or simply level any pass catchers cutting through the middle.
Here are some of the other players you can earn in Zero Chill. More to come!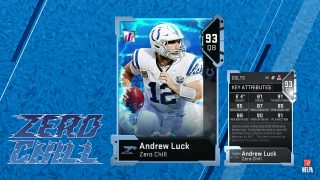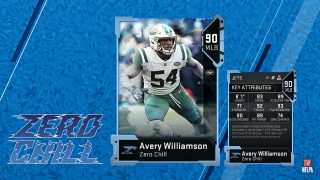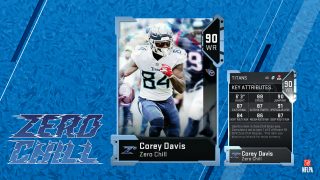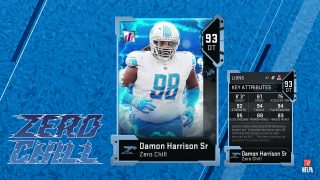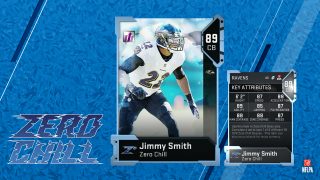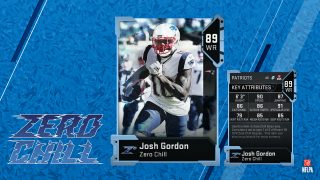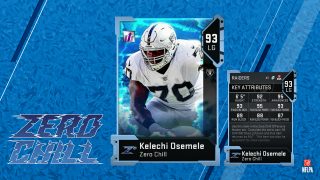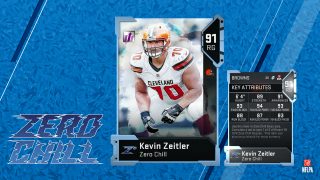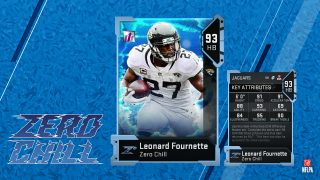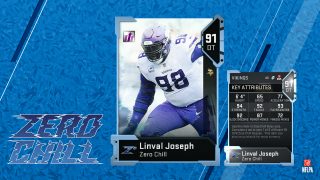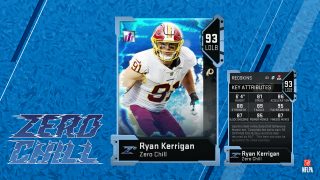 ---
Madden NFL 19 is available now. Stay in the conversation by following us on Facebook, Twitter, Instagram, YouTube, and EA Forums. Sign up for the Newsletter today to receive updates on Madden, and other EA news, products, and events, all season long.