More content comes your way as Heavyweights, Veterans, and Flashbacks bring in more NFL talent to choose from.
Here are the details on these drops and player cards for Week 9.
VETERANS
Found under Token Sets, NFL Veterans bring an experienced dynamic to your squad by adding some seasoned, active NFL players to your Ultimate Team roster. Gather Gold, Silver, and Elite Tokens to earn Veterans over and over.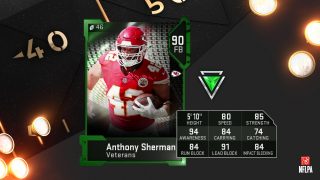 Anthony Sherman, FB, Kansas City Chiefs
A skilled fullback can add new dimension and depth to a running game. Sherman is an outstanding blocker, but is a great pass catching option, too. Sherman will often draw fantastic mismatches, if he's covered at all depending of the defensive scheme he's facing. If you need a short-yardage conversion, few are better.
FLASHBACKS
A community favorite, Flashbacks have been an Ultimate Team staple since 2012 and contain some of the most sought-after players in the game. Earn Elite, Gold, and Silver Tokens by turning in unwanted players under Token Sets and redeem them for a random Flashback player.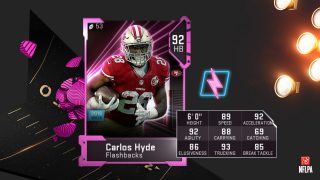 Carlos Hyde, HB, San Francisco 49ers
Hyde brings a slightly different power rushing option than Sherman. Significantly faster, Hyde carries an effective combination of Speed, Agility, and Elusiveness capped by his 93 Trucking. Hyde is agile enough to line up perfect Truck Sticks.
HEAVYWEIGHTS
Every player, coach, or coordinator will tell you that the NFL battle begins in the trenches. Whether you plan to light up the night with an electric passing game, or you're more blue collar and are going to pound the rock to victory, you better bring some Heavyweight backup to keep you safe. Head to Token sets with a pocket full of Silver, Gold, and Elite Tokens to redeem yours.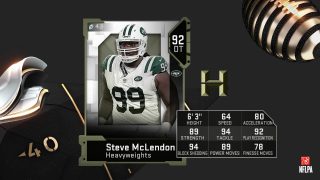 Steve McLendon, DT – New York Jets
Make sure to follow @EASPORTS_MUT to see when we go live with the #MaddenDailyDrops Twitch stream.
---
Madden NFL 19 is available now. Stay in the conversation by following us on Facebook, Twitter, Instagram, YouTube, and EA Forums. Sign up for the Newsletter today to receive updates on Madden, and other EA news, products, and events, all season long.