Beef up your Madden Ultimate Team with Legends, including some of the greatest names in the NFL. New Legends are available every week, and these cards highlight a specific game in a renowned player's NFL career.
There are a few ways to earn these superstars. Full versions of Legends roam Ultimate Team packs. They can also be won via the Auction House. Lower OVR versions of each Legend are available through packs and the Auction House, too. Gather them all and head to Sets to be rewarded with the full Legend version.
You can also earn a Power Up edition by beating each Legend's team in a Solo Challenge. Power Up your Legend for immediate impact or use the full Legend to take its potential to the next level, adding additional chemistry availability.
Here are the Legends for Week 11.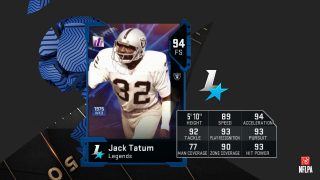 Jack Tatum, FS, Oakland Raiders
Few players in NFL history hit as hard as Jack Tatum. He enjoyed hitting WRs so hard that they'd second guess whether or not they should play football ever again. Not only could he hit hard, but as a safety, he was able to build up tremendous speed for a devastating amount of momentum. This Legends Tatum commands that same respect with great Zone Coverage, Hit Power, and Tackle ratings. Get Tatum on your roster for absurd stopping power.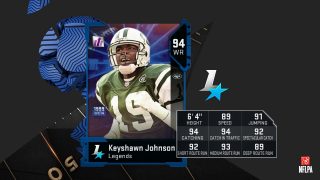 Keyshawn Johnson, WR, New York Jets
With great hands, super athletic, and tremendous size, Keyshawn Johnson was built to play WR. As part of the Legends drop, Johnson is a fantastic option for nearly all routes. His size makes up for his not-as-legendary Speed. His ratings are excellent down the board for Catching. While he's not a speedster, Johnson makes for an excellent Hot Route choice when you see the blitz coming. Send him on a slant route against zone schemes to force a mismatch with a linebacker in coverage for easy first downs.
That's not all that's coming in this week's Legends drop. There's an LTD Legend you won't want to miss when we announce it on the #MaddenDailyDrops Twitch stream. Make sure to follow @EASPORTS_MUT to see when we go live.
---
Madden NFL 19 is available now. Stay in the conversation by following us on Facebook, Twitter, Instagram, YouTube, and EA Forums. Sign up for the Newsletter today to receive updates on Madden, and other EA news, products, and events, all season long.