Beef up your Madden Ultimate Team with Legends, including some of the greatest names in the NFL. New Legends are available every week, and these cards highlight a specific game in a renowned player's NFL career.
There are a few ways to earn these superstars. Full versions of Legends roam Ultimate Team packs. They can also be won via the Auction House. Lower OVR versions of each Legend are available through packs and the Auction House, too. Gather them all and head to Sets to be rewarded with the full Legend version.
You can also earn a Power Up edition by beating each Legend's team in a Solo Challenge. Power Up your Legend for immediate impact or use the full Legend to take its potential to the next level, adding additional chemistry availability.
Here are the Legends for Week 12.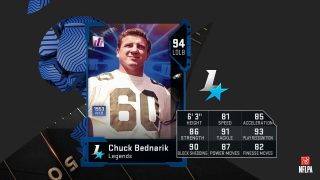 Chuck Bednarik, LOLB, Philadelphia Eagles
If there was ever a linebacker to send on the attack every down, it's Bednarik. A dangerous combination of Strength, Tackle, and Block Shedding, this item is especially effective behind a quick defensive end to disrupt rushing lanes, leaving Bednarik in the gap, perfectly capable of solo tackling most backfield options.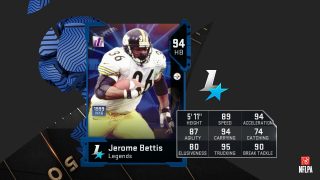 Jerome Bettis, HB, Pittsburgh Steelers
The Bus keeps rolling in Ultimate Team with this item. Extremely quick off the line of scrimmage, this Bettis is nearly impossible to bring down in open space. Line up the Truck Stick and flatten most defenders with ease. A straight power back, Bettis exposes defenses that lack a power hitter. Not only should you want Bettis on your roster, you must be aware if your opponent has him on the field since he's automatic for short-yardage conversions.
That's not all that's coming in this week's Legends drop. There's an LTD Legend that's a MUT community favorite. You won't want to miss when we announce who it is on the #MaddenDailyDrops Twitch stream. Make sure to follow @EASPORTS_MUT to see when we go live.
---
Madden NFL 19 is available now. Stay in the conversation by following us on Facebook, Twitter, Instagram, YouTube, and EA Forums. Sign up for the Newsletter today to receive updates on Madden, and other EA news, products, and events, all season long.