Beef up your Madden Ultimate Team with Legends, including some of the greatest names in the NFL. New Legends are available every week, and these cards highlight a specific game in a renowned player's NFL career.
There are a few ways to earn these superstars. Full versions of Legends roam Ultimate Team packs. They can also be won via the Auction House. Lower OVR versions of each Legend are available through packs and the Auction House, too. Gather them all and head to Sets to be rewarded with the full Legend version.
You can also earn a Power Up edition by beating each Legend's team in a Solo Challenge. Power Up your Legend for immediate impact or use the full Legend to take its potential to the next level, adding additional chemistry availability.
Here are the Legends for Week 17.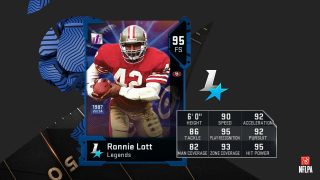 Ronnie Lott, FS, San Francisco 49ers
90 Speed, check. 95 Play Recognition, check. 93 Zone Coverage, check. 95 Hit Power, double check. Few, if any, players in NFL history defined grittiness more than Ronnie Lott. He was not only dangerous for QBs to throw to, but his play reading skills and monstrous tackling ability made WRs look over their shoulder every time they crossed his zone. That doesn't change with this Legends drop, as Lott can act as a bit of an enforcer. He's essential to slowing down pass-heavy offenses. Even if they do make the grab, Lott's Hit Power is enough to ensure they don't gain much after the catch. He's also one of a handful of safeties capable of solo-tackling HBs that favor power over shiftiness.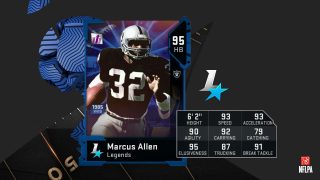 Marcus Allen, HB, Oakland Raiders
Speaking of HBs, enter Marcus Allen, one of the all-time greats. The 93 Speed with 95 Elusiveness are a dynamic one-two punch that make any HB effective in Madden. But combine that with an 87 Trucking and a 91 Break Tackle, and then you have an HB that's too fast for heavy-hitters to stop, and too difficult to bring down for speedier defenders. Allen delivers a balanced approach to the ground game.
That's not all that's coming in this week's Legends drop. There's an LTD Legend that's also headed your way. You won't want to miss when we announce who it is on the #MaddenDailyDrops Twitch stream. Make sure to follow @EASPORTS_MUT to see when we go live.
---
Madden NFL 19 is available now. Stay in the conversation by following us on Facebook, Twitter, Instagram, YouTube, and EA Forums. Sign up for the Newsletter today to receive updates on Madden, and other EA news, products, and events, all season long.