Beef up your Madden Ultimate Team with Legends, including some of the greatest names in the NFL. New Legends are available every week, and these cards highlight a specific game in a renowned player's NFL career.
There are a few ways to earn these superstars. Full versions of Legends roam Ultimate Team packs. They can also be won via the Auction House. Lower OVR versions of each Legend are available through packs and the Auction House, too. Gather them all and head to Sets to be rewarded with the full Legend version.
You can also earn a Power Up edition by beating each Legend's team in a Solo Challenge. Power Up this Legend for immediate impact or use the full Legend to take its potential to the next level, adding additional chemistry availability.
Here are the Legends for Week 7.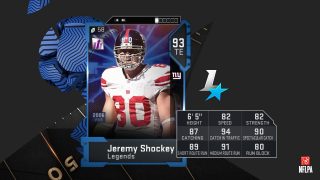 Jeremy Shockey, TE, New York Giants
A massive red zone target, Shockey excels in crowded space. His 94 Catch in Traffic and 91 Medium Route Running means he's going to be one of the best options available when in scoring position.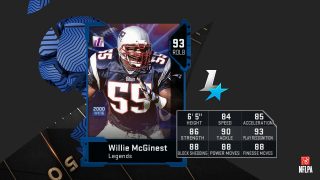 Willie McGinest, ROLB, New England Patriots
There's nothing this McGinest item can't do. With size, Speed, Strength, and quality ratings down the board, McGinest is outstanding in any defensive scheme.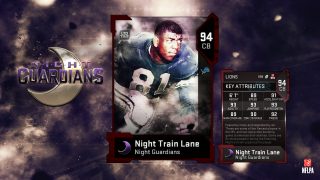 Night Train Lane, CB, Detroit Lions
And the special surprise this week, the Legendary Night Guardian, Night Train Lane. A Madden community favorite, Night Train Lane is the pinnacle of talent in Most Feared. Just having him on your Ultimate Team roster means your User INT numbers are going to instantly increase.
Make sure to follow @EASPORTS_MUT to see when we go live with the #MaddenDailyDrops Twitch stream.
---
Madden NFL 19 is available now. Stay in the conversation by following us on Facebook, Twitter, Instagram, YouTube, and EA Forums. Sign up for the Newsletter today to receive updates on Madden, and other EA news, products, and events, all season long.