Beef up your Madden Ultimate Team with Legends, including some of the greatest names in the NFL. New Legends are available every week, and these cards highlight a specific game in a renowned player's NFL career.
There are a few ways to earn these superstars. Full versions of Legends roam Ultimate Team packs. They can also be won via the Auction House. Lower OVR versions of each Legend are available through packs and the Auction House, too. Gather them all and head to Sets to be rewarded with the full Legend version.
You can also earn a Power Up edition by beating each Legend's team in a Solo Challenge. Power Up this Legend for immediate impact or use the full Legend to take its potential to the next level, adding additional chemistry availability.
Here are the Legends for Week 8.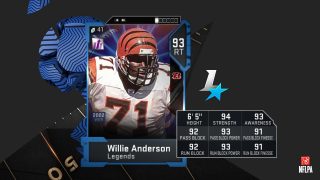 Willie Anderson, RT, Cincinnati Bengals
Oh, you need better protection on the O-line? Well, now you can step up that game in a major way with Willie Anderson. With relevant ratings all in the 90s, Anderson is the closest thing to a living wall in Madden. Regardless of offensive game plan, Anderson provides a huge upgrade in the trenches.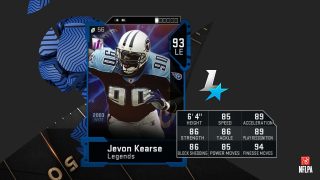 Jevon Kearse, LE, Tennessee Titans
If going beast mode on the defensive side is more your thing, then this Jevon Kearse Legend is all you need. Absurd Speed for a player of this size and skill set, Kearse is dangerous on the attack. He'll bring constant pressure, potentially forcing some ill-advised passes you could take advantage of.
That's not all that's coming in this week's Legends drop. There's an LTD Legend you won't want to miss when we announce it on the #MaddenDailyDrops Twitch stream. Make sure to follow @EASPORTS_MUT to see when we go live.
---
Madden NFL 19 is available now. Stay in the conversation by following us on Facebook, Twitter, Instagram, YouTube, and EA Forums. Sign up for the Newsletter today to receive updates on Madden, and other EA news, products, and events, all season long.