Super Bowl LIII is almost here. The New England Patriots and Los Angeles Rams are about to face off for the Lombardi Trophy in the biggest show of competition.
That competition is overflowing into Madden Ultimate Team as the Super Bowl program brings a fresh battle to MUT with new items, challenges, and more.
It all kicks off January 25 with six Legends known for epic Super Bowl performances and 18 current players with SB experience. It's also time to fight for a win with Red vs. Blue Solo Challenges. Go through the Solos to choose your side, either Red or Blue, and do what you can to ensure a big win. You'll also earn a NAT 94 OVR Legend.
The Challenges are crucial to see if either will Red or Blue win. Whichever color has more completed sequences by February 1, that team's Legend will receive a boost to 95 OVR. The current status of the fight between Red and Blue will be on display throughout the contest and within Ultimate Team itself.
That's not everything coming in the Super Bowl Program! Sign in to MUT each day to find more content. The program runs through February 8.
Here are some of the players dropping.
Team Blue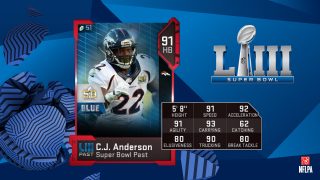 C.J. Anderson, HB, Denver Broncos

He may be on the smaller side of HBs, but Anderson delivers an excellent combination of speed and power. His decent scores in Break Tackle and Elusiveness add to his big-play potential and go along with his 90 Trucking. He's very usable in open space and can easily be used to pound the rock between the tackles.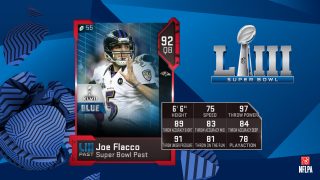 Joe Flacco, QB, Baltimore Ravens

Flacco's accuracy numbers vary a bit, but the key to use him effectively is his outstanding 97 Throw Power. He can fire off lasers all day on shorter routes, so use slant routes with your WRs that are solid in traffic to start dissecting zone schemes. When you force the defense to be front-heavy, use Flacco's big arm again to take some chances downfield. But make sure your opponent is biting on the dump passes you've been dishing out.

Eli Manning, QB, New York Giants

Eli delivers a much more balanced approach than Flacco. His 91 Throw Power is a bit of a step down, but his accuracy scores are significantly better across the board. Use short and medium routes to expose mismatches, especially at the slot position. Your big plays are going to come from using 1v1 matchups with your higher OVR WRs and using stick moves to break-off beyond the secondary.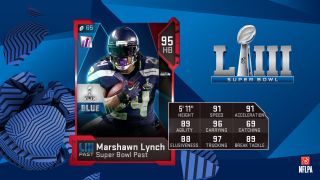 Marshawn Lynch, HB, Seattle Seahawks

It's time to go full beast mode with this one. It's no secret that Lynch is one of the more elusive and versatile powerbacks in recent memory. It's simple here, just master the Truck Stick. With your timing down, there are very few defenders with high enough tackle to bring him down in open space. Outstanding in short-yardage situations, his Trucking ability alone is enough to create your own Beast Quake.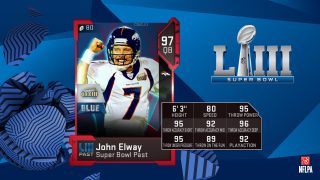 John Elway, QB, Denver Broncos

Maybe the most dynamic QB in this group, Elway can get the job done with his versatile array of talent. His 95 Throw Power and high accuracy numbers make him an extremely effective passer. Able to make any throw, getting Elway on your roster will easily force defenses to spread out more than they'd like, allowing you to take advantage of his 80 Speed to take easy first downs when coverage tightens up. Few players can create this much chaos on their own, but Elway is one of those players.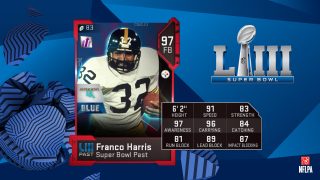 Franco Harris, FB, Pittsburgh Steelers

Team Blue is all about the heavy hitters in the ground game. Having Harris in your lineup has always provided a dual-threat addition to your rushing offense. He's a solid rusher and has great Catching numbers. In passing plays, he usually attracts the attention of second or third option linebackers. Harris is faster than most of those options, and too difficult to bring down solo by most DBs. An added benefit is his size and Blocking ratings make Harris great in protection assignments and lead blocking. He could be just the player you need to get your offense moving in a tough battle.

Team Red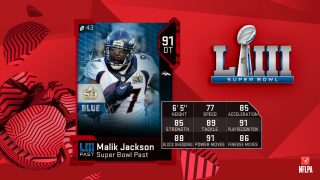 Malik Jackson, DT, Denver Broncos

While Team Blue brought in a wave of powerbacks and signal callers, Team Red is mostly made up of defensive juggernauts. First up is Malik Jackson, who is an absolute wall at DT. He disrupts nearly every running lane and can bring down almost anyone solo. But his ratings to break through the O-line give Jackson a dynamic many DTs don't possess.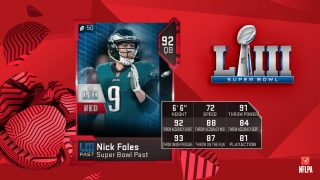 Nick Foles, QB, Philadelphia Eagles
One more QB. The hero of Philly can deliver passes in tight coverage in the medium and short game. You'll have to be more conservative than some of the other QBs from Team Blue, but he's excellent under pressure, provides enough balance to an offense, and is deceptively good on the run.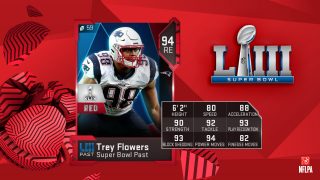 Trey Flowers, RE, New England Patriots
If you're in need of an edge rusher, look no further than Trey Flowers. He's an absolute powerhouse with a 90 Strength and 92 Tackle. This is in addition to his 93 Block Shedding and 94 Power Moves. He can flatten many offensive linemen and force offenses to put more TEs or FBs in blocking assignments, which can take some quality pass options out of the equation.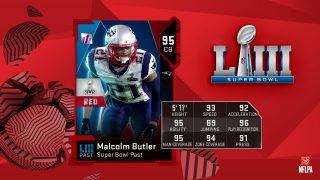 Malcolm Butler, CB, New England Patriots

Regardless if you favor man or zone coverage schemes, Malcolm Butler is a must-add CB. Effective in nearly any role given to him, Butler is a cover artist. He can shadow any elite WR and deliver consistent coverage throughout the contents. He can cover tons of ground in zone and is an excellent candidate for some User INTs.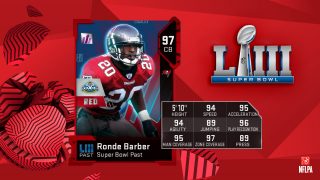 Ronde Barber, CB, Tampa Bay Buccaneers.

If you prefer controlling safeties, there are few better options than Ronde Barber. Absurdly good in any assignment, Barber is a must-add item and will be the player of choice for many players. Even if you prefer controlling something up front, Barber's Play Recognition and coverage ratings will continue to bring great coverage even if you don't control him at all.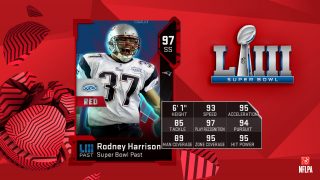 Rodney Harrison, SS, New England Patriots

When you talk about defenders that just shrink the field, Rodney Harrison is at the top of that list. There is simply no weakness in his ratings. Not only can he bring down anyone on the field, he's one of the best players to use on the occasional safety blitz. With Harrison in your starting lineup, offenses will be forced to shorter passes, not to mention his hitting ability could create turnovers. If you win the turnover battle, you win in Madden.

---
Madden NFL 19 is available now. Stay in the conversation by following us on Facebook, Twitter, Instagram, YouTube, and EA Forums. Sign up for the Newsletter today to receive updates on Madden, and other EA news, products, and events, all season long.