Every week of the NFL season, EA SPORTS runs Madden NFL 19 game simulations of each matchup in an attempt to predict the outcome. This year, we're analyzing some of the player-specific statistical information the game simulations spit out to help inform fantasy football lineup decisions. As you'll discover below, some of these projections end up being spot on, and some, well, not so much. EEither way, we're here to have fun so try to remember that before you get triggered by a crazy stat line. Let's check on the Week 10 projections.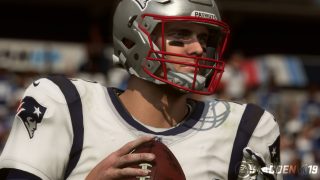 QB – Tom Brady at Tennessee Titans
Madden 19 Projection for Week 10
Fantasy Points: 26
Pass Yds: 349
Pass TDs: 4
INTs: 0
Rush Yds: 0
Through nine weeks, Tom Brady stands as the QB12 in fantasy football with 17 touchdown passes, seven interceptions, and 2,494 passing yards. He's only had one multi-touchdown game over the last month though, which has obviously limited his upside as a fantasy asset. Alas, his Patriots keep winning, and now that receivers Julian Edelman and Josh Gordon seem to be firing on all cylinders, Brady has options all over the field. It's worth keeping an eye on Rob Gronkowski's status as Sunday nears; he sat out Week 9's contest with a back injury. Having Gronk on the field would obviously give Brady a boost (not like he needs it) but even if Gronk is back, the four touchdown passes might be hard to come by – especially against a stingy Titans secondary that's allowed just 11 such scores on the season. You're still starting Brady in fantasy lineups but Madden 19's projection is pushing it. It'd be wise to side with the under for Brady here.

HB – Saquon Barkley at San Francisco 49ers
Madden 19 Projection for Week 10

Fantasy Points: 23.8
Rush Att: 19
Rush Yds: 111
Rush TDs: 1
Rec: 4
Rec Yds: 67
Rec TDs: 0
Given the sorry state of the New York Giants offense (averaging just 18.8 points per game), rookie running back Saquon Barkley has had himself an impressive start to his pro career. In standard scoring, Barkley is the RB6 overall, but he jumps up to RB4 in full PPR formats because he's been littered with targets as a pass-catcher out of the backfield, averaging over eight targets per game. He's also averaging 4.7 yards per carry and has seven total scores on the year. Following two monster games in Weeks 5 and 6 with 24 and 28 fantasy points respectively, Barkley's production has slowed a bit. But he's due for a bounce-back in Week 10 against a 49ers defense that has conceded 452 receiving yards to running backs this year, plus 10 total touchdowns. Even if the game falls out of favor for the Giants, which could easily happen, Barkley will remain relevant as a pass-catcher. The rookie runner is a rare player that you can set and forget in your starting lineup each week, and Madden 19's projection of 23.8 fantasy points seems completely attainable for Barkley on Monday night. I'm going bold and rolling with the over for Barkley this week.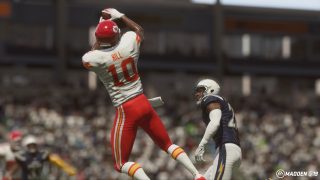 WR – Tyreek Hill vs. Arizona Cardinals
Madden 19 Projection for Week 10

Fantasy Points: 24.9
Rec: 4
Rec Yds: 129
Rec TDs: 2
Tyreek Hill has had a slow couple of weeks, with just 70 and 69 yards in each of his last two games, respectively. And while Hill might see an uptick in target share this week as Sammy Watkins deals with a foot injury, the matchup is far from favorable. The Cardinals are a top-10 defense in limiting opposing fantasy wideout production. Some of that has to do with game script – teams simply run the ball into the ground against Arizona's sieve-like run defense, but some of it can also be attributed to CB Patrick Peterson's continued dominance in the secondary. Still, Hill is one of those fantasy wideouts that you have to start on a weekly basis because his ceiling is so incredibly high. He can literally go from zero to 15 points on a single play, not to mention the wizardry that quarterback Patrick Mahomes has conjured this year. If Hill sees double-digit targets against Arizona, he has a chance to hit Madden 19's projection, but I'm going with the under.
TE – David Njoku vs. Atlanta Falcons
Madden 19 Projection for Week 10

Fantasy Points: 14.7
Rec: 7
Rec Yds: 87
Rec TDs: 1
Oddly enough, David Njoku's 47 standard fantasy points are enough to rank him as a top-12 TE in fantasy for the season, with an average of 5.2 fantasy points per game. If that sounds low, well, it is. But tight end has been such a nightmare this year for fantasy owners, Njoku has actually been a weekly starting option. His 57 targets rank him fifth at the position, but it's like hey bro, score more touchdowns (he has two). In a game that's projected to be somewhat high-scoring against the Falcons, Njoku should be fired up in all fantasy lineups this week. But if you're expecting him to hit Madden 19's fantasy projection of 14.7 points, keep in mind that would be a season-high mark. And remember that his floor is actually zero (he didn't see a single target in Week 8). I'm going for the under on this one.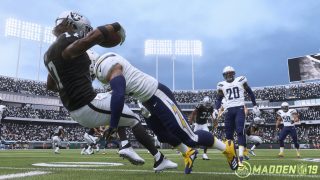 DEF – Chargers at Oakland Raiders
Madden 19 Projection for Week 10

Fantasy Points: 13
Sacks: 4
INTs: 2
Fumbles Recovered: 0
Points Allowed: 6
The Chargers D/ST has been inconsistent for fantasy purposes this season, but a matchup against a reeling Oakland Raiders squad is about as juicy as it gets. Oakland is averaging a bottom-five 17.6 points per game on offense. They've also given up 25 sacks on the season, eight of which have come in their last two games. It's open season for the Chargers defense in this game, even on the road. Fire up the Chargers defense with confidence in all fantasy formats this week and look for at least one pick-six against the Raiders. If that happens, they'll easily hit the over.

–Matt Franciscovich (Follow Matt on Twitter @MattFranchise)
---
Madden NFL 19 is now available on Xbox One, PlayStation, and PC. Stay in the conversation by following us on Facebook, Twitter, Instagram, YouTube, and EA Forums. Sign up for the Newsletter today to receive updates on Madden, and other EA news, products, and events, all season long.