Every week of the NFL season, EA SPORTS runs Madden NFL 19 game simulations of each matchup to try and help predict the outcome. This year, I'm analyzing some of the statistical information the game simulations give back to us and determine how realistic they are, to try and help fantasy football fans make lineup decisions. As you'll discover below, some of these projections end up being spot on, and some, well, not so much. Either way, we're here to have fun so try to remember that before you get triggered by a crazy stat line. Let's do this.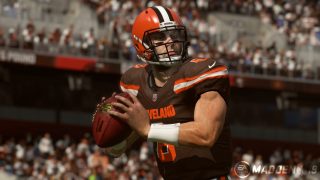 QB – Baker Mayfield vs. Los Angeles Chargers
Madden 19 Projection for Week 6
Fantasy Points: 25.6
Pass Yds: 290
Pass TDs: 4
INTs: 1
To be completely honest, you're not starting Baker Mayfield in fantasy football this week unless you're desperate or play in a two-QB league. But his stats from the Week 6 simulation are promising if you're rolling him out in a DFS lineup. The first thing that jumps out to me is the four touchdown passes, which I'm inclined to hedge to two. In two starts this year, Mayfield has a 3:3 TD:INT ratio. Even in Week 4 against a porous Raiders secondary, Mayfield only threw two touchdown passes, and Cleveland dropped 42 points in that game. On the flipside of this argument, the Los Angeles Chargers defense has allowed 13 passing touchdowns to opposing quarterbacks, tied for third-most in the NFL. Beyond that, the simulated 290 pass yards is completely reasonable, and I'd even suggest the over for Mayfield given the talent in his receiving corps, like after-the-catch specialist Jarvis Landy, tight end David Njoku, and deep threat receiver Antonio Callaway.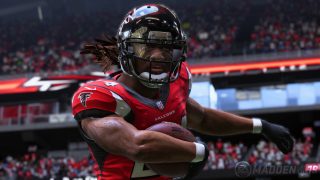 HB – Devonta Freeman vs. Tampa Bay Buccaneers
Madden 19 Projection for Week 6

Fantasy Points: 20.9
Rush Att: 23
Rush Yds: 106
Rush TDs: 1
Rec: 6
Rec Yds: 43
Rec TDs: 0
Devonta Freeman returned to action last week after sitting out since Week 1 with a knee injury. Unfortunately for his fantasy owners, Freeman logged just eight rush attempts in a game that quickly fell out of favor for the Falcons. Even worse, rookie running back Ito Smith, who had just three carries the entire game, pilfered a goal-line attempt for a touchdown. But there's reason for optimism regarding a Freeman bounce-back this week. First, the Falcons game against the Buccaneers is slated to be one of the highest-scoring games of the week. Add to it that the Buccaneers are allowing a league-worst 34.8 points per game to opponents, so there should be more than enough opportunity for Freeman to produce. The 29 touches that the Madden 19 simulation projects for Freeman is extremely generous considering he's still likely to share work with Tevin Coleman, but he should still be able to produce high-end RB2 value this week, so make sure he's in your lineup.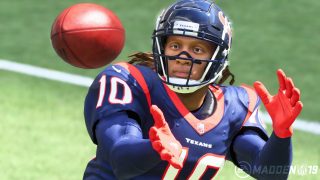 WR – DeAndre Hopkins vs. Buffalo Bills
Madden 19 Projection for Week 6
Fantasy Points: 29.1
Rec: 9
Rec Yds: 171
Rec TDs: 2
Last Sunday night, DeAndre Hopkins single-handedly put his Texans in a position to get an overtime win over the Cowboys with this one incredible catch and run (and spin, and spin again, and run some more).
You best believe his Spin Move rating is going to see a bump in this week's ratings update. When I talked to Hopkins earlier this summer, he was pretty upset that he had a 94 OVR in Madden 19 at launch. And rightfully so after he finished 2017 as fantasy football's highest-scoring wide receiver and earned first-team All-Pro honors for the first time in his career.
And from a production standpoint, he hasn't let up in 2018. Hopkins is the current leading receiver in the NFL with 594 yards through five games. Yeah, that's an average of 118 per contest. He's seen no fewer than 10 targets in a game this season and ranks fourth in standard fantasy points (68.7) and targets (57). While Madden 19's simulation of nine receptions for 171 yards and two touchdowns seems out of reach for most, it's just another day at the office for an All-Pro caliber wideout like Hopkins.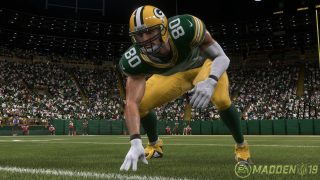 TE – Jimmy Graham vs. San Francisco 49ers
Madden 19 Projection for Week 6

Fantasy Points: 16.2
Rec: 9
Rec Yds: 102
Rec TDs: 1
Jimmy Graham ranks fifth in targets among all tight ends with 36 this season, an average of 7.2 per game. So, the nine receptions this week's Madden simulations projected for the Packers TE would be a season-high mark, as would 102 yards. He's only scored once so far this year and has yet to post a double-digit fantasy day in standard scoring, so the simulation is being generous on all fronts. It's a favorable matchup for Graham, against a San Francisco 49ers defense that ranks bottom-10 in fantasy points per game allowed (9.36) to the position including four touchdown receptions (tie for the most in the NFL) and eight red zone touches (most in NFL). The worry here is that Green Bay may just pound the rock on the ground if they can get out to an early lead, which is likely, given that the Packers are heavy home favorites on Monday night.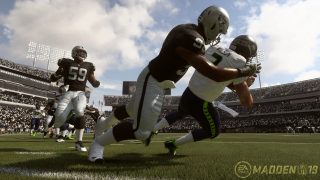 DEF – Oakland Raiders vs. Seattle Seahawks
Madden 19 Projection for Week 6

Fantasy Points: 10
Sacks: 4
INTs: 1
Fumbles Recovered: 0
Points Allowed: 10
About the Raiders defense. . .
The unit is third-worst in the NFL with 404.4 yards allowed per game, and the Raiders give up 29.8 points per game to opposing teams, also third-worst. Those two stats alone should scare you away from using them in fantasy football, and this week's matchup against the Seahawks is no different. The Raiders have just one game all year with more than four fantasy points, and now they have to travel to London for an international contest. If Oakland does hit the 10 fantasy point mark that the Madden 19 simulation has projected, I'll be shocked.
–Matt Franciscovich (Follow Matt on Twitter @MattFranchise)
---
Madden NFL 19 is now available on Xbox One, PlayStation, and PC. Stay in the conversation by following us on Facebook, Twitter, Instagram, YouTube, and EA Forums. Sign up for the Newsletter today to receive updates on Madden, and other EA news, products, and events, all season long.