Every week of the NFL season, EA SPORTS runs Madden NFL 19 game simulations of each matchup in an attempt to predict the outcome. This year, we're analyzing some of the player-specific statistical information the game simulations spit out to help inform fantasy football lineup decisions. As you'll discover below, some of these projections end up being spot on, and some, well, not so much. Either way, we're here to have fun so try to remember that before you get triggered by a crazy stat line. Let's dive into Week 8.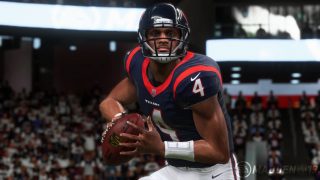 QB – Deshaun Watson vs. Miami Dolphins (TNF)
Madden 19 Projection for Week 8
Fantasy Points: 25.4
Pass Yds: 240
Pass TDs: 2
INTs: 0
Rush Yds: 78
Deshaun Watson has all the tools to make him an elite fantasy football quarterback and we saw his ceiling last year as he lit up the league with the help of receivers like deep threat Will Fuller and All-Pro DeAndre Hopkins. Reflected in his Madden 19 ratings are Watson's abilities as a threat on the ground with an 87 Agility, 80 Elusiveness, 89 Ball Carrier Vision, and 86 Throw On The Run, combined with his 80+ Accuracy at all distances and 90 Throw Power attributes. But as a fantasy quarterback, Watson has struggled to produce for two straight games after averaging nearly 25 fantasy points per contest over the previous four weeks. Week 8 is a perfect get-right spot for Watson and his fantasy owners as the Texans face a Miami pass defense that has not played well the last two weeks. The unit has allowed over 22 fantasy points per game to opposing quarterbacks in that span, including five touchdown passes. He should easily hit Madden 19's projection of 270 pass yards and two passing touchdowns, but I'd hedge the 78 rushing yards down to 50 as Watson hasn't eclipsed 44 yards on the ground in a single game yet this year.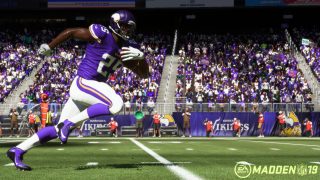 HB – Latavius Murray vs. New Orleans Saints (SNF)
Madden 19 Projection for Week 8

Fantasy Points: 27
Rush Att: 14
Rush Yds: 94
Rush TDs: 2
Rec: 4
Rec Yds: 56
Rec TDs: 0
Latavius Murray has been a stellar plug-and-play replacement for an injured Dalvin Cook (hamstring) the last two weeks. In the Vikings games against the Cardinals and Jets, Murray has racked up 241 scrimmage yards and three rushing touchdowns and is fantasy's RB4 during that span. For a running back who has a reputation as a between-the-tackles plodder, Murray is constantly underrated. His Madden 19 ratings of 91 Speed, 93 Acceleration, and 89 Agility signal that he deserves more credit from a pure athleticism standpoint, and fantasy owners should treat him as a low-end RB1 for as long as Cook is sidelined. Cook is the far superior raw talent but, newsflash, a player cannot score fantasy points if he doesn't play. This week, Murray faces the Saints on Sunday night, and it's shaping up to be one of the highest scoring games of the week. Savvy fantasy owners know to take advantage of these kinds of potential high-scoring games where touchdown opportunities should be aplenty. Though if the game ends up being more of a pass-heavy shootout, Murray's rushing totals may come in below Madden 19's projection of 94 yards and two rushing touchdowns. Either way, Murray is a must-start if Cook has to sit yet again.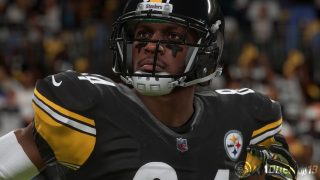 WR – Antonio Brown vs. Cleveland Browns
Madden 19 Projection for Week 8
Fantasy Points: 27.3
Rec: 8
Rec Yds: 109
Rec TDs: 2
Rush Att: 2
Rush Yds: 44
As if being a 99 Club member and gracing the cover of Madden NFL 19 wasn't enough reason to set-and-forget Antonio Brown in your fantasy lineups all season, let's go ahead and talk him up some more.
I mean, the guy has been everything fantasy owners thought he'd be when they drafted him in the first round back in August. Through six games, Brown has racked up six touchdown receptions, tied for second most among wideouts. He's averaging 14 standard fantasy points per game, and 20.6 PPR points per game. The one area where Brown is "lacking" is his total yardage thus far of 478 receiving yards through six games, an average of about 79 per contest. He faces the Cleveland Browns this week, a defense he shredded in Week 1 for 93 yards and a score on 16 targets. The sky is the limit for the matchup-proof receiver in fantasy football in any given week, but you didn't need an expert to tell you that.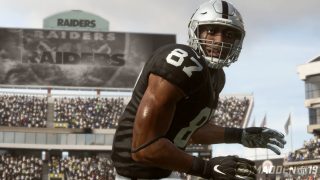 TE – Jared Cook vs. Indianapolis Colts
Madden 19 Projection for Week 8
Fantasy Points: 14.7
Rec: 4
Rec Yds: 87
Rec TDs: 1
Jared Cook currently ranks top-10 among all NFL tight ends in targets, receptions, and yards, and he's already had a bye. His 8.7 standard fantasy points per game ranks him sixth at his position, and he slides up a spot for those who play in PPR formats, with 14 points per game. He's already producing as a top fantasy tight end and ranks third at the position with 11 red zone targets. With the departure of wideout Amari Cooper this week via trade to the Cowboys, Cook's fantasy owners are licking their chops at the potential bump in target share for the veteran tight end. Cook's matchup this week against the Colts is a favorable one, as the Indianapolis defense has surrendered 477 receiving yards to tight ends this year, eighth-most in the NFL.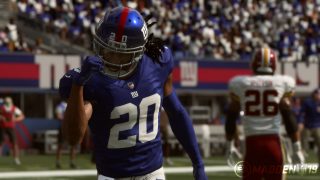 DEF – New York Giants vs. Washington Redskins
Madden 19 Projection for Week 8
Fantasy Points: 12
Sacks: 3
INTs: 1
Fumbles Recovered: 0
Points Allowed: 3
At first glance the projected three points allowed by the New York Giants defense seems like a joke. But the Washington Redskins haven't necessarily been lighting up the league in terms of their offensive production. In fact, Washington's 21 points per game average ranks them 25th in the NFL. But the Giants defense is a bad option for fantasy football. The unit ranks 28th in the NFL in terms of total fantasy points scored this season and hasn't finished a week with more than seven points thus far. Plus, the Giants, who have a 1-6 record, just traded away starting corner back Eli Apple to the Saints this week, further depleting their defensive abilities. Consider New York a no-go for Week 8 in fantasy football.

–Matt Franciscovich (Follow Matt on Twitter @MattFranchise)
---
Madden NFL 19 is now available on Xbox One, PlayStation, and PC. Stay in the conversation by following us on Facebook, Twitter, Instagram, YouTube, and EA Forums. Sign up for the Newsletter today to receive updates on Madden, and other EA news, products, and events, all season long.