What's up Madden fans?!
We're back again to talk about additional gameplay updates coming to Madden 20.
This is our second gameplay edition of Gridiron Notes to follow up a developer livestream showing you the new RPO and Playbook updates in Madden 20. This post serves as a recap of that stream.
First up, read the deep dive article breaking down RPOs and Playbook updates straight from Sr. Game Designer Clint Oldenburg's keyboard.
If you missed the live broadcast, the stream archive and highlights are embedded throughout this post. We loved the entire show, especially the comprehensive and detailed information from Game Designer Anthony White about the 200-plus RPOs (run/pass options) coming to Madden this season.
Community Questions
1. What are the three types of RPOs that are in Madden 20?
We have three types of RPOs in Madden 20 this year – Read, Peek, and Alert.
2. What new handoff animations are coming to Madden 20?
We updated many offensive playbooks because of the new animations we have. Look into playbooks like the Rams and Ravens as they have very unique options that fit their team's playstyle. Things like Jet Sweeps and Play Action Jet Sweeps are now all options across a wide variety of playbooks in Madden 20. We also have the Philly Special in the game this year.
3. Did you make any offensive line improvements to Madden 20?
We cleaned up the animation quality to make transitions into and out of blocking interactions smoother. We improved the locomotion for pulling linemen on Power-O and Toss plays. We also added all the necessary blocking schemes required to support the new plays, such as Jet Sweep Touch Pass and End Arounds. We did a little bit of work to slide pass protection to make it more aggressive towards the slide side. This will make it a little bit riskier to use away from the slide side.
Lastly, we made significant improvement to QB Contain. These improvements include Contain players who get up the field faster and react quicker to scrambling QB, and we also created logic for the interior pass rushers to push the pocket vertically to condense the size of the pocket on QB contain plays. The risk of using QB contain is that pass rushers will not be looking to shed blocks initially in the play but tighten the pocket down instead. The goal here is to keep the QB in the pocket and force him to throw, rather than penetrate to get sacks, which opens up a lot of running lanes for the QB.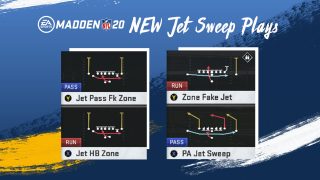 4. How is the offensive line impacted by RPOs? Will I be able to make line shifts?
The offensive line treats RPOs like running plays – they will be run blocking 100 percent of the time, which is why you must throw the ball quickly to avoid an Illegal Man Downfield penalty. There are no line shifts or adjustments available on RPOs because they are run blocking. You can bluff them in offline H2H play, but they will have no functional impact, just like all the other running plays in the game.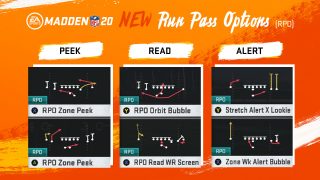 5. Can you explain any other details about playbook updates? I keep hearing about offense, but what about defense?
The defense has gotten a variety of AI upgrades to support RPOs and the new trick plays. This AI will give them ratings-based reactions to these plays to either play it correctly or get faked out by the various "influencer" assignments on these plays, in addition to the Run and Pass Read key behavior used on RPOs. In terms of actual playbook content, we plan to update defensive playbooks in post-launch while offensive playbooks are our primary focus for launch day.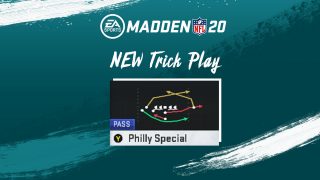 6. What updates have happened to the pass rush in Madden 20? Zone abilities, Superstar Abilities, RPOs, trick plays – how are we going to stop all of this?
We have made a strategic decision for the pass rush to have a big impact in the game to balance the passing game. You are not going to have a ton of time in the pocket on average to make reads, you'll have to get the ball out quick. This is emphasized when playing against superstar pass rushers.
What's Next
Next Thursday (5/30) at 10:00 a.m. ET we will be talking about new updates coming to Madden Mobile this season with another developer Twitch stream (https://www.twitch.tv/eamaddennfl). This will look at the new Season Score coming to Madden Mobile and other exciting news about what's coming to the game.

EA Play
Set your calendar for EA Play, and more specifically Saturday, June 8. The event will feature a first look at Madden 20 gameplay along with a special guest to talk about the game. For players who live in the Los Angeles area interested in attending, you can register and get more info at the links below.
---
Madden NFL 20 is out worldwide on August 2. Pre-order the Superstar Edition and play 3 days early. Stay in the conversation by following us on Facebook, Twitter, Instagram, YouTube, and EA Forums. Sign up for the Newsletter today to receive updates on Madden, and other EA news, products, and events, all season long.