Welcome back to Gridiron Notes!
If you missed last night's stream you can view it below. Apologies for audio issues as they will be addressed for next week's show.
Today we will be talking about Face of the Franchise: QB1 (we will refer to it as FOTF hereafter) and updates to Franchise mode in Madden NFL 20. We have lots to talk about, too, including the Scenario Engine, new Lineup Screens, and tuning updates. We also want to give you a closer look at the new Career Campaign, FOTF.
The goal of this article is to walk you through what each step of the process will be like in FOTF, so you can get a feel for your first hands-on experience on August 2 when the game launches.
Okay, let's kick it off. Once you enter FOTF, you'll have to decide what college team you'll want to play for. We have ten Division 1 schools to choose from, and you'll see ten caps lined up on a table. You'll have to pick one, which ultimately will be your school that you'll be competing for.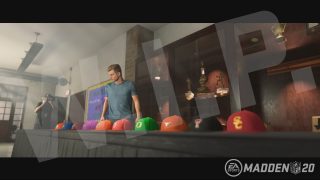 After choosing your college, you'll see your own unique backstory, which will give you more information about your previous history as a football player. You'll then move on to editing your face. There's a great little moment here that we're sure will make people laugh, as the first time we played through we got a good chuckle as to how the entire scene was setup.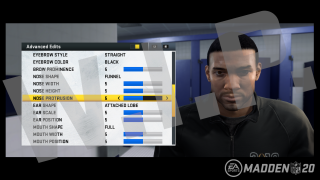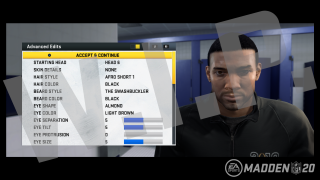 When you begin to create your face, you'll have both basic and advanced feature options. The basic features include head type, skin tone, hairstyle, and facial hair, while the advanced features present a deeper dive, where you can further customize your look through morphing controls focused around features such as eyes, ears, noses, chins, and many others.
Once you've locked in your appearance and have chosen a voice from three unique options, you'll be off to visit your locker room for the first time. Here's where you'll decide what type of quarterback you are. You will select an archetype from the following four: Improvisor, Field General, Strong Arm, and Scrambler.
Now that you've set your QB's archetype, you're ready to play. You'll be introduced as a College QB during pre-game warm-ups of your first College Football Playoff game. You'll get some throws in via some passing drills to get loosened up for the big game.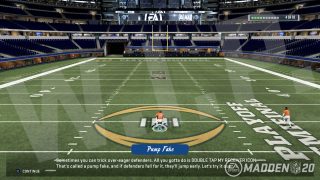 Upon completing the College Football Playoff and finishing up your college career, your path to the NFL continues to the NFL Combine and ultimately to the NFL Draft. The combine experience offers interviews with NFL coaches and QB drills where you will show off your abilities to the league. Based on your performance in the college playoffs and combine, you'll enter the NFL Draft to see which team is ready to hitch its wagon to its new Face of the Franchise: Welcome to the NFL, rook!

Once drafted, you will start your core Franchise mode experience. Your OVR rating, archetype, and abilities are all based on your college experience. Also, you will encounter a variety of scenarios that tie back directly to the choices you made and how you performed on the field in college.
Additional Franchise Updates
The team also worked on updates to Franchise mode for the Madden NFL 20 season. The below details are directly from our deep dive article, which came straight from the development team.
Ratings Spread
We've adjusted the range of ratings that you'll see on players. What does this mean? As examples:
The ratings difference between a 90 OVR player and an 89 OVR player is now larger
Each skill point you spend will be more impactful, and you can earn more skill points over the course of a career
In some cases, you will now see a starter with an OVR in the mid-50s.
New Scenarios
We've added an all-new in-game system that generates playable scenarios featuring interactions with characters via a variety of ways including branching dialogue, dynamic events that reflect your performance and choices, and challenges that build the story of your unique NFL career.
Development Abilities
We've made large updates to our progression system to support Superstar and Zone abilities. There are different player ability groups in Madden NFL 20: Normal, Star, Superstar, and Superstar X-Factor. Both Superstar and X-Factors players can earn Superstar Abilities, but only X-Factors can earn Zone Abilities. Abilities allow NFL stars to feel and play more realistically by showcasing unique skills that only stars possess.
Coach Mode
Coach mode is also getting scenarios. And the changes to Development Abilities have a big impact on Coach mode. Coaches will want to build up their teams with Superstars and X-Factor Superstars via trades, free agency, and the draft. We've also added an overhauled lineup UI to make Franchise mode even smoother.
Contract Updates
We've taken a meticulous pass on existing player contracts to ensure they match the NFL. This will not only be more authentic, but it will also make managing your roster's cap space more realistic.
Progression Updates
We've overhauled our progression tuning, including making changes to XP gains from weekly training, actions on the field, and goal completion. These changes should ultimately lead to users being able to increase the OVR of more players on their team, meaning they have more options in how to develop their roster.
Draft Updates
We've taken a full pass on our Rookie Generators. People familiar with draft classes from the past few years are in for some surprises, from names, to bodies, to ratings, and more.
One more draft surprise is that rookies with a Superstar ability will have their ability hidden until they've played through at least half of a season. This means that if you draft either a Superstar or an X-Factor Superstar you won't know exactly what you've drafted until later in a season – use your preseason wisely.
Pro Bowl
The annual Pro Bowl game makes its return to Franchise and will also be featured in FOTF. Play the AFC and NFC matchup consisting of the NFL's top Superstars during each unique season.
Gameplay Effects Updated
We've implemented a ton of changes, like Throw Power overhauls to change QB trajectories. But that's just one example! Tune in to our gameplay stream on 5/23 for more of the inside scoop on additions and changes you'll find in Madden NFL 20.
Community Questions
1. Is Ratings Spread a Franchise mode thing only?
Ratings Spread will apply to other areas of the game, namely rosters in Exhibition. It will not impact Madden Ultimate Team.
2. Can you provide more detail about the Scenario Engine and what "help for those struggling in their career" means?
Users will not experience the Scenario Engine during a football game. We will not impact gameplay because someone is struggling during a game. We want Franchise mode to be more challenging for users that are performing well. Here is an example: You're going into a boss battle against an opposing X-Factor. If your record is above .600, you will not gain as much XP for beating that boss as you would if you had a worse winning percentage. The thinking here is that we see a bunch of users dominate their offline franchise year over year. They don't need extra XP to continue to dominate, but then you have people on the other side who are struggling to win any games, so we wanted to give them opportunities to win better rewards if they're already struggling.
3. Is there a difference in single user/multi-user franchises when it comes to the Pro Bowl?
If you get six wins in Coach mode, you will get to play the Pro Bowl. For single-player mode we have different season stats thresholds to play in the Pro Bowl. If you're playing in a single-player/multi-user franchise experience as a coach or owner, you will have full control over your conferences team in the Pro Bowl. In multi-user leagues we will pair users up against each other based on their records during the regular season. The players that qualified for the Super Bowl won't participate in the Pro Bowl.
4. Can you use your QB from Face of the Franchise: QB1 in MUT?
No, this is a Franchise mode specific experience only.
5. Is the Scenario Engine taking over for Frostbite, or are they different things totally?
Completely different things. The Scenario Engine is a way to create story lines within Franchise mode, whereas Frostbite is a game engine.
6. Will the bigger spread in ratings actually be meaningful and lead to more variety in team overall ratings? Furthermore, how does this affect sim stats?
Yes, the bigger spread in ratings will impact team OVR ratings. Simulation takes into account all ratings, but it's also comparing it against the players you're going up against.
7. On contracts, I can't help but wonder if the effort on making initial contracts more realistic was part of a larger effort to better model the finances part of managing an NFL lineup?
Yes, we want to make free agency more meaningful. We want tougher decisions in team building. The entire point of team building, and free agency, is to have a good enough payoff when you acquire a player, and if it's too easy then that payoff is diminished. By adding the contracts, we were able to make these moments mean more because you have to make selective choices on your team building direction. Which is something we've never had before.
8. The draft is always going to be something that needs work in Madden in some way, but I'm wondering how annoying it's going to be to have to wait to find out a player's development trait?
You get a payoff knowing that you have someone special. You will know they have an X-Factor or Superstar ability because you will see a hidden dev ability on their player card and on the lineup screen you will see the golden background to signify that this player has an abilities dev trait. You will know immediately this will be someone that can be a game-changing player for you. This player won't have access to his X-Factor/Superstar abilities until they reach the downs threshold.
---
Madden NFL 20 is out worldwide on August 2. Pre-order the Superstar Edition and play 3 days early. Stay in the conversation by following us on Facebook, Twitter, Instagram, YouTube, and EA Forums. Sign up for the Newsletter today to receive updates on Madden, and other EA news, products, and events, all season long.