Welcome to the Madden NFL 20 Top 100 players countdown. In today's article Associate Designer Andre Weingarten and Dustin Smith will break down our top 100 players based on Overall rating. In cases where there are ties at an Overall number, the Madden Ratings Adjustor team discussed and ranked those players. So, without further ado, here is 100-76!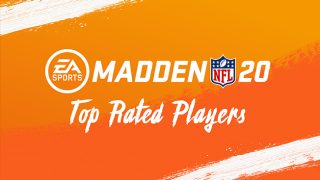 100. Shaq Mason
RG Patriots | 88 OVR
99. Denzel Ward
CB Browns | 88 OVR
98. Keanu Neal
SS Falcons | 88 OVR
97. Emmanuel Sanders
WR Broncos | 88 OVR
96. A.J. Bouye
CB Jaguars | 88 OVR
95. Desmond Trufant
CB Falcons | 88 OVR
94. Ali Marpet
LG Buccaneers | 88 OVR
93. Terron Armstead
LT Saints | 88 OVR
Armstead is one of the most athletic linemen in the NFL, and his 5th best Pass Block Finesse (91) is further proof. His unique blend of elite speed (fastest LT) and strength, allow him to win against any type of pass rusher, and do damage in space as a run blocker.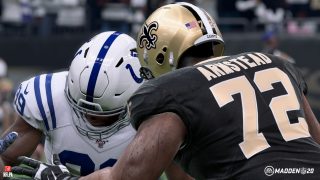 92. Joe Mixon
HB Bengals | 88 OVR
91. Joey Bosa
LE Chargers | 88 OVR
90. Juju Smith-Schuster
WR Steelers | 88 OVR
89. Kevin Byard
FS Titans | OVR 89
88. Greg Olsen
TE Panthers | 89 OVR
87. Kyle Fuller
CB Bears | 89 OVR
His 95 Zone Coverage is the third best in the NFL. Fuller showcases excellent football IQ to play through his receiver, and keep his eyes on the QB at all-times in zone. That, plus his very good speed lets him excel in any Zone defense.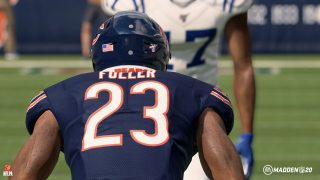 86. Devonta Freeman
HB Falcons | 89 OVR
85. Devin McCourty
FS Patriots | 89 OVR
84. Kevin Zeitler
RG Giants | 89 OVR
83. Julian Edelman
WR Patriots | 89 OVR
82. Brandon Graham
RE Eagles | 89 OVR
81. Alex Mack
C Falcons | 89 OVR
80. Lane Johnson
RT Eagles | 89 OVR
The 2nd best RT in the NFL, he has the best Impact Blocking at 91. RT may be weaker than LT, but not because of guys like Lane Johnson. Equally as good run blocking as he is pass blocking, he is able to play in a variety of roles due to his great athleticism.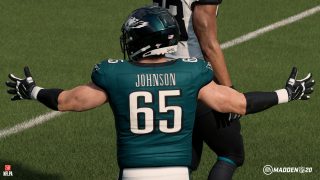 79. Amari Cooper
WR Cowboys | 89 OVR
78. Chris Jones
DT Chiefs | 89 OVR
77. Keenan Allen
WR Chargers | 89 OVR
76. Matt Ryan
QB Falcons | 89 OVR
One of the most underrated players in the NFL, Ryan's 94 Throw Under Pressure ranks 3rd best at QB. Known as Matty Ice, Ryan is incredibly well-rounded, and has superb accuracy to every level of the field.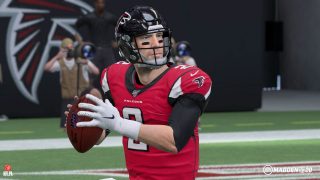 ---
Madden NFL 20 is out worldwide on August 2. Pre-order the Superstar Edition and play 3 days early. Stay in the conversation by following us on Facebook, Twitter, Instagram, YouTube, and EA Forums. Sign up for the Newsletter today to receive updates on Madden, and other EA news, products, and events, all season long.