Welcome back to another installment of Madden 20's Gridiron Notes! In today's article Associate Designer Andre Weingarten and Producer/Ratings Guru Dustin Smith provide quick details on the Top 10 rookies in Madden 20.
With launch right around the corner, today we break down the top 10 rookies in Madden NFL 20!! This list is based on Overall rating, and in cases where there are ties at an Overall number, the Madden Ratings Adjustor team discussed and ranked those players. So, without further ado, here are the best 10 rookies in Madden 20!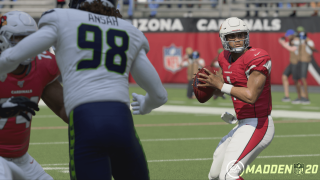 10. Byron Murphy Jr.
CB Cardinals: 75 OVR
Murphy is the most pro-ready CB in this class, thanks to his excellent change of direction, feel in Zone and overall football IQ. He can also pack a punch at the point of contact, too.
9. Brian Burns
LOLB Panthers: 75 OVR
His 91 Acceleration is T-2 among DE/OLBs in the rookie class. Burns comes into the league as a light, pass rush specialist. His combination of elite athletic traits, and refined pass rush moves allow him to wreak havoc on clear passing downs.

8. Dexter Lawrence II
DT Giants: 76 OVR
While his primary role in the NFL will be that of a Nose Tackle, he offers pass rush upside thanks to his excellent raw power and surprising quickness for a 340 pound DT.
7. D.K. Metcalf
WR Seahawks: 76 OVR
Despite knowing what was coming in Ole Miss' offense, when healthy, Metcalf's size, speed and strength were too much for DBs to handle.

6. Marquise Brown
WR Ravens: 77 OVR
Brown tops the rookie charts with a blazing 97 speed! Thanks to his speed, agility, and refined routes, Brown terrorized college football, breaking tackles and big plays on a regular basis.
5. T.J. Hockenson
TE Lions: 77 OVR
His 83 catching is the best among rookie TE's & 6th among all rookies. On top of his receiving ability, Hockenson is a tone-setting blocker, making him easily the most well-rounded TE in the class.

4. Josh Allen
LE Jaguars: 77 OVR
Allen's 85 pursuit is tied for the best in the rookie class. Allen's best trait is his versatility. At Kentucky he showed the ability to hawk down ball-carriers with his speed and pursuit, beat tackles with lethal finesse moves en-route to the QB, and even drop into coverage to match RBs in space. He may not be the most refined right now, but he has all the tools to be a long-term starter in any scheme.

3. Nick Bosa
RE 49ers: 78 OVR
At 79, Bosa's Finesse Move is the best among all rookies. Thanks to his elite burst and bend for the position, combined with an incredibly refined pass rush plan, Bosa is a day 1 plug and play starter in base or pass rushing downs.
2. Ed Oliver Jr.
DT Bills: 79 OVR
Oliver's athletic profile is unreal for an interior player, as he has the speed of a Linebacker, the agility of an edge rusher, and the strength of a DT. In a role that will capitalize on his strengths, Oliver's best football is definitely ahead of him.
1. Quinnen Williams
DT Jets: 80 OVR
His 81 block shed is the best in the rookie class & T-14th at DT. Despite only 1 year as a starter, Williams obliterated anyone in his path. He can win with speed or power, and has a nose for the ball-carrier in run defense. He comes in as our best rookie, and should be an immediate impact player for the Jets.
---
Madden NFL 20 is out worldwide on August 2. Pre-order the Superstar Edition and play 3 days early. Stay in the conversation by following us on Facebook, Twitter, Instagram, YouTube, and EA Forums. Sign up for the Newsletter today to receive updates on Madden, and other EA news, products, and events, all season long.