Welcome to the Madden NFL 20 Top 100 players countdown. In today's article Associate Designer Andre Weingarten and Dustin Smith will break down our top 100 players based on Overall rating. In cases where there are ties at an Overall number, the Madden Ratings Adjustor team discussed and ranked those players. So, without further ado, here is 25-1!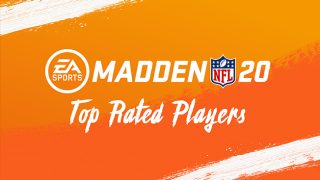 25. Ezekiel Elliott
HB Cowboys | 94 OVR
His 98 Ball Carrier Vision is 2nd best at HB. One of the last true work-horses in the NFL, Elliott is a 3-down back who is the carrying force for the Cowboys offense. With a powerful stiff arm and phenomenal leaping ability, his vision and burst through the hole make him one of the league's elite.

24. Stephon Gilmore
CB Patriots | 94 OVR
23. Philip Rivers
QB Chargers |94 OVR
22. Damon Harrison Sr.
DT Lions | 95 OVR
21. Earl Thomas III
FS Ravens | 95 OVR
20. Trent Williams
LT Redskins | 95 OVR
19. Michael Thomas
WR Saints | 95 OVR
18. Odell Beckham Jr.
WR Browns | 96 OVR
17. Travis Kelce
TE Chiefs | 96 OVR
16. Jalen Ramsey
CB Jaguars | 96 OVR
15. Fletcher Cox
DT Eagles | 96 OVR
14. Zack Martin
RG Cowboys | 96 OVR
13. Tom Brady
QB Patriots | 96 OVR
He has the best Mid Accuracy (98) and Awareness (99) in the NFL. Brady remains the league's most precise passer, and he doesn't appear to be slowing down. He continues to show the ability to adapt and maximize his surroundings, and it once again resulted in a Super Bowl victory.

12. Todd Gurley II
HB Rams 97 OVR
11. J.J. Watt
LE Texans | 97 OVR
10. Von Miller
LOLB Broncos | 97 OVR
9. David Bakhtiari
LT Packers | 97 OVR
8. Patrick Mahomes
QB Chiefs | 97 OVR
His 94 Deep Accuracy & 97 Throw Under Pressure lead all QBs. Mahomes 2018 season was unprecedented. His combination of excellent accuracy, and ability to find open receivers outside of structure led to consistent highlight-reel plays.

7. Luke Kuechly
MLB Panthers | 98 OVR
6. Julio Jones
WR Falcons | 98 OVR
5. Antonio Brown
WR Raiders | 98 OVR
His 98 Catch in Traffic & Spec Catch are 2nd best among all WRs. AB's combination of elite route running and concentration at the catch point make him one of the league's most dangerous receiving threats.

4. Bobby Wagner
MLB Seahawks | 99 OVR
3. Deandre Hopkins
WR Texans | 99 OVR
2. Khalil Mack
LOLB Bears | 99 OVR
1. Aaron Donald
RE Rams | 99 OVR
---
Madden NFL 20 is out worldwide on August 2. Pre-order the Superstar Edition and play 3 days early. Stay in the conversation by following us on Facebook, Twitter, Instagram, YouTube, and EA Forums. Sign up for the Newsletter today to receive updates on Madden, and other EA news, products, and events, all season long.