Hey Madden Community!
KRAELO (aka Agent K) here! Welcome back to another installment of Madden 20's Gridiron Notes. For those that are new to Gridiron Notes, Gridiron Notes is where we keep you up-to-date with the latest Madden 20 news. Our goal with this series is to provide you with deeper insight into our game and update you when we have new and relevant information to share about Madden 20.
Over the last couple of weeks, our players have been playing Madden 20, and they have been sharing feedback about the game. One of the things we have heard loud and clear from our players is that they are still a little bit confused on what Archetypes are and how they work in Madden, specifically Madden Ultimate Team.
We had a chance to sync with both Jake Stein and RG on the Madden Team and they were happy to provide more clarification on this feature for our players.
So without further ado, let's get into it!
FROM THE DEVELOPERS
Hey Madden Community, Jake and RG here with some information about player Archetypes in MUT. We are seeing questions from the community around Archetypes in MUT so we wanted to make sure we took time to address some of the most common ones we are seeing out there in the Community.
What are Archetypes?
For the first time in MUT, players are assigned an Archetype based on their position and play style. Each position can have as many as 4 different Archetypes. For example QB's can either be a Scrambler, Field General, Improviser, or Strong Arm. The Archetype a player is assigned is based on their real life play style (i.e. A guy like Tom Brady has a Field General Archetype while a guy like Lamar Jackson has a Scrambler Archetype).
Why are Archetypes Important in MUT?
A player's Archetype in MUT is important because it determines two keys things about the player. These two key things are:
Overall Calculation
Archetype determines what ratings are taken into account most when calculating a players OVR. For example, the speed rating will factor more into a Scrambler QB's OVR than it would for a Field General.
Superstar Ability Selections
Archetypes also determine what Superstar Abilities a player gets access to. For example, if you look at the "Red Zone Deadeye" ability which gives any player with this ability perfect pass accuracy in the red zone. This ability is available for every QB Archetype except for Scrambler.
How can I tell what Archetype a player is in MUT?
Each MUT item has a symbol in the upper left corner that shows you what Archetype the player currently has. Here is an example of what the Archetype looks like on a player item in MUT (i.e. highlighted in yellow).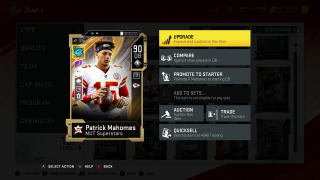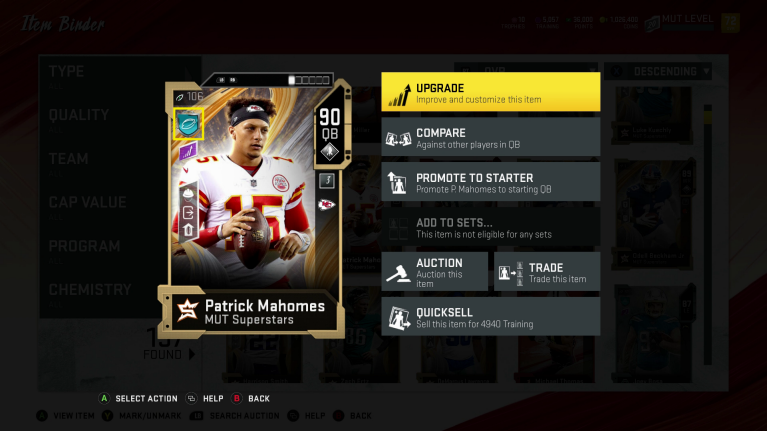 Below is a breakdown of the Offensive and Defensive Archetypes in Madden Ultimate Team.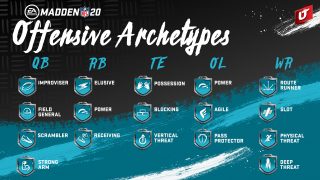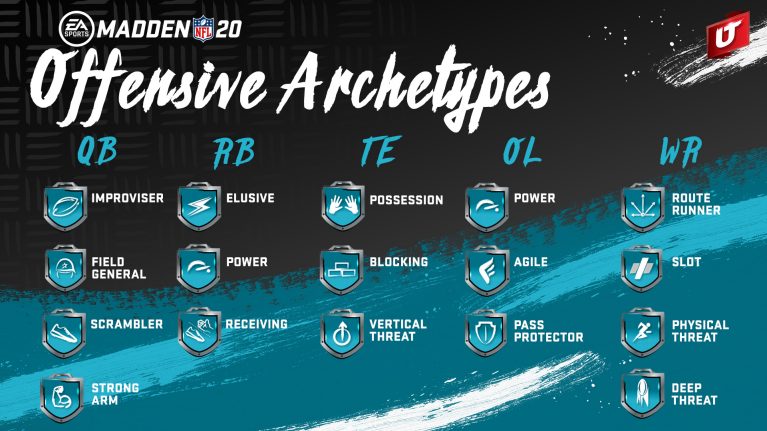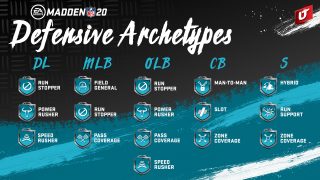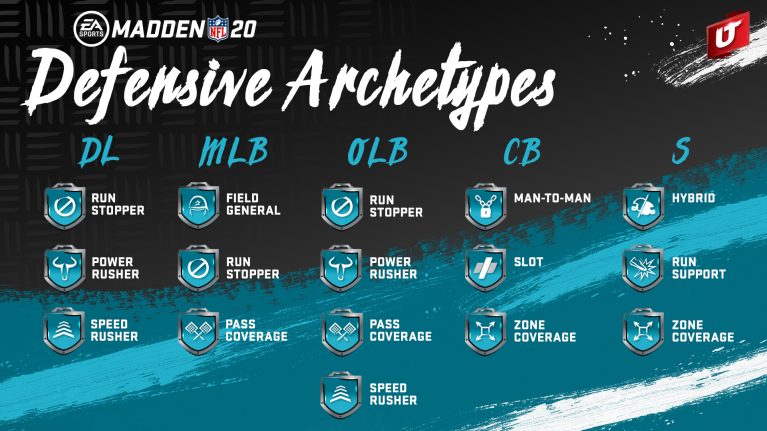 Community Spotlight
Here is a great video from community member Director Seaich (YouTube, Twitter) who breaks down how Superstar X-Factors and Superstar Abilities work in Madden Ultimate Team.
For the spreadsheet he referenced in his video, you can find it in the Gridiron Notes: X-Factors and Superstar Abilities Requirements in Madden Ultimate Team.
Community Questions
Just a reminder, if you have any questions regarding Madden 20, please let us know. You can send your questions to us on Twitter at @EAMaddenNFL and @EASPORTS_MUT or share your feedback on our EA Forums here.
Each week, our community team will be working with the Madden development teams to get you answers and context around your Madden 20 questions.
Here are some great questions we have received from the community about Madden 20. Again, thanks for taking the time to ask your questions. We appreciate it!
Q: I have been experiencing disconnects when playing Madden? Is this a known issue?
A: Improving the disconnects is a top priority for the development team. They are currently aware of the issue and working to address it. Once we have more details, we will let players know on the EA Forums.

Q: I am still missing content from my Madden NFL 20 Pre-Order. What can I do to address this?
A: If you are missing content from your Madden NFL 20 Pre-Order, make sure to contact help.ea.com so that they can investigate your account and transaction history. Make sure to keep your help desk ticket number for future tracking purposes.
Q: I am still missing content in Madden Ultimate Team like my Madden MVP Program Rewards. What can I do to address this?
A: Players that contacted Customer Care for missing content in Madden Ultimate Team like Madden MVP Program Rewards can now follow up on their existing help desk tickets through help.ea.com for resolution. This issue has been resolved at the Studio Level and Customer Care can assist in granting any content that players may be missing.
Q: Why is my pack count not updating on the Madden Rewards website?
A: Pack counts not updating on the web interface is a known issue and our teams are investigating. Although, the web interface is not updating, if you use the Madden NFL 20 Companion App, your pack counts will show up correctly. Once there is an update to the web interface, we will make sure to let players know on the Madden NFL EA Forums.
Q: I noticed that in Madden Ultimate Team, that Weekend League is OPEN this weekend. Is there any more information on Weekend League that I can reference in regards to rewards structure?
A: Yes, starting this weekend, Weekend League will be OPEN for all players to participate. This year, Weekend League will be an OPEN event the first weekend of each monthly WL cycle. For more information regarding Weekend League Weekly and Monthly (August) Rewards, check out our EA Forums post - Weekend League | Weekly Rewards and Monthly Rewards for August.
What's Next
As we head into the weekend, we have another Legend release coming to Madden Ultimate Team. Here is a sneak peek at one of the Legends coming to Madden Ultimate Team this Saturday (August 10th).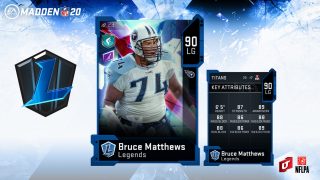 To find out who the other two Legends coming to Madden Ultimate Team this Saturday, make sure to tune into Friday Night Football on MutheadTV (www.twitch.tv/mutheadTV) this Friday at 6 PM ET! Muthead will be streaming the FNF Summer Series Championship live from The GameStop Performance Center in Dallas, TX. Crush, Pavan, Prodigy, Cleff, Oreo and DaKingg will be competing for the $10,000 prize pool!
---
Stay in the conversation by following us on Facebook, Twitter, Instagram, YouTube, and EA Forums. Sign up for the Newsletter today to receive updates on Madden, and other EA news, products, and events, all season long.