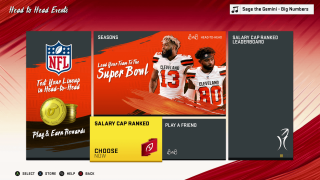 Hey Madden Ultimate Team Community!
KRAELO here (aka Agent K) Welcome back to another installment of Madden 20's Gridiron Notes. For those that are new to Gridiron Notes, Gridiron Notes is where we keep you up-to-date with the latest Madden 20 news. Our goal with this series is to provide you with deeper insight into our game and update you when we have new and relevant information to share about Madden 20.
Today, our goal is to provide you details on the upcoming Salary Cap update happening next week.
So without further ado, let's get into it and have RG, Gameplay Designer on the Madden Team, kick things off!
From the Developers
Hey Madden Salary Cap Fans! RG here!
In a previous X-Factors and Superstar Abilities Requirements Gridiron Notes, I mentioned that we would be updating the Salary Cap mode throughout the Madden Season. I mentioned that a big goal for the team this year was to keep the Salary Cap mode fresh and updated. This meant that users should expect a variety of updates throughout the year adjusting the different cap costs within Salary Cap mode. These adjustments could be anything from the total cap, player salaries, ability salaries, or even a positions specific salary formula. The team has used a variety of data throughout the season to ensure these cap updates continue to maintain game balance, creativity, and more importantly fun.
Well that time has come and here is a comprehensive update on what you can expect updated in the Salary Cap mode soon.
Cap Increase
With this update the total available cap in Salary Cap mode will be increasing from 775 to 825 (50 cap increase).
With the 50 cap increase players should be able to improve their salary cap teams while still giving our development team plenty of runway room to update the cap some more in future updates. We will be sure to monitor the feedback around this cap change so we can take it into account in our future updates.
Ability & X-Factor Cap Updates
One of the biggest change's users will notice in this salary cap update is the revamped salary cost for many of our Superstar & X-Factor abilities. The goal here was to lower the cap of some of the more under used abilities. As for increasing the cap of abilities we did our best to avoid that with a few exceptions which are listed below.
Some notable cap changes for abilities we decreased cap on are:

Secure Tackler - goes from 12 cap to 6 cap
Unfakeable - goes from 12 cap to 6 cap
Tackle Supreme - goes from 20 cap to 11 cap
Pick Artist - goes from 10 cap to 8 cap
Conductor - goes from 25 cap to 18 cap
Hot Route Master - goes from 60 cap to 55 cap
TE Apprentice - goes form 30 cap to 25 cap
Outside Apprentice - goes from 35 cap to 20 cap
Many more! - The total list of ability cap changes can be downloaded here:
X-Factor Cap Update Sheet
In an attempt to avoid increasing the cost of abilities there were only 3 that had their cap increased. These 3 abilities are:

Homer - goes from 5 cap to 10 cap (This is due to the decrease in cap to X Factor abilities)
Indoor Baller - goes from 5 cap to 10 cap (This is due to the decrease in cap to X Factor abilities)
Threat Detector - (This is due to the effectiveness of this ability in MCS play)
Core Gold Cap Decreases
For this first update we are taking a different approach with how we adjust the cap of individual players. Instead of increasing the cap of some of the more popular players like we have done in the past we instead decided to decrease the cap for the majority of Core Gold players. Over the years we have noticed how hard it is for users to have viable backup players in salary cap, as well as how low the usage rate for core gold items is in SC. The hope is this change will limit these two issues giving users the ability to create more depth in their lineup's. The three main things we hope to accomplish with this change are:

Help players justify spending cap on better backup players
Help players have the personnel to run multiple formation sets instead of just one
Help improve the performance of special teams (Hopefully less 60 rated 10 cap players running around)

For game balance reasons we avoided touching the cap of Core Gold items for the following positions:

Any Offensive Linemen (LT,LG,C,RG,RT)
Kickers & Punters
QB's

As the year progresses, we will do different things in the "update player caps" department. This just felt like a cool new approach to try for our first update of the season.
The list that showcases what Core Gold items have had their salary changed can be downloaded here:

Gold Player Cap Updates Sheet
Preliminary Salary Cap Update Schedule
In an attempt to be more transparent with the community we wanted to share our current schedule for Salary Cap updates going forward. When looking at this schedule it is important to keep in mind that these dates are subject to change at any time. We will do our best to uphold this schedule but like we saw with Hurricane Dorian there can always be unforeseen events that require us to pivot and adjust.
Update 1 = September 16th moved to September 23rd due to Hurricane issues

Milestone = Occurs around the Club ladder halfway point

Update 2 = October 31st

Milestone = Occurs right after Clubs Online Elimination

Note: The Arizona (10/31), Houston (11/2), and Philly (11/2) Club events may have to be played on the old SC values at their live events since players may have little to no time to react to this update

Update 3 = December 4th

Milestone = Final update before club finals

AFC/NFC South (12/5 – 12/6) clubs may have to be played on the old SC values at their live events since players may have little to no time to react to this update

Update 4 = January 28, 2020

Milestone = Occurs day the LCQ ladder starts

Update 5 = February 28, 2020

Milestone = Occurs halfway through LCQ ladder

Update 6 = April 4, 2020

Milestone = Occurs the day after LCQ online elim ends. This is the final update before Madden Bowl

Update 7 = May 2020 (TBD)

Milestone = Last update of year after Madden bowl

Hope everyone enjoys these updates as we look forward to continuing them throughout the season. In the meantime, good luck in your pursuit to become a NFL Club Champion!
- RG (Follow RG on Twitter @RG_Madden)
Just a reminder, if you have any questions regarding Madden 20 or any feedback on today's Salary Cap Update, please let us know. You can send your questions and feedback to us on Twitter at @EAMaddenNFL and @EASPORTS_MUT or share your feedback on our EA Forums here.

---
Madden NFL 20 is out worldwide on August 2. Pre-order the Superstar Edition and play 3 days early. Stay in the conversation by following us on Facebook, Twitter, Instagram, YouTube, and EA Forums. Sign up for the Newsletter today to receive updates on Madden, and other EA news, products, and events, all season long.