The Madden 99 Club is an exclusive tier of NFL talent that represents the highest level of video game prestige, reserved solely for earned and maintained excellence on the field. A 99 OVR is the maximum possible rating in Madden, and 99 Club status elevates a handful of players above even the most skilled superstars in the league.
It's finally time to unveil the upcoming season's Madden 99 Club players. The updated members-only crew looks a bit different than last season's group did, so you'll want to keep checking back here all week for our daily reveal. And for the hardcore fans, here's a bit of a hint: Each member of this year's Madden 99 Club is also a Superstar X-Factor in Madden NFL 20.
DeAndre Hopkins
WR | Houston Texans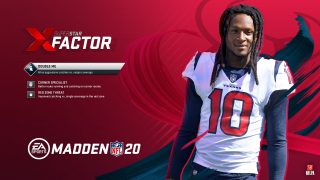 WR | #10
Height | 6'1"
Weight | 215 lbs
College | Clemson
Exp | 7th season
Brace yourself. DeAndre Hopkins is going to be virtually unstoppable in Madden NFL 20.
Following his second-straight First Team All-Pro nod, and yet another season of insane statistical output, Hopkins has earned the honor of being the only offensive player in the Madden 99 Club at launch.
Plus, Hopkins is a Superstar X-Factor with a zone ability called Double Me. When he enters the zone, Hopkins' ability increases his success rate on aggressive catches against single coverage. The guy has baseball mitts for hands, and he's always open. Just throw the ball in his general vicinity in Madden NFL 20, and Nuk will come down with it.
Hopkins' Ratings Highlights
99 Catching – Best in Madden NFL 20

99 Jumping – Best in Madden NFL 20
99 Spectacular Catch – Best in Madden NFL 20
99 Catch In Traffic – Best in Madden NFL 20
99 Release – Best in Madden NFL 20
There's no debate here. Hopkins is far and away the best WR in Madden NFL 20.
When we spoke to DeAndre Hopkins last summer about his Madden ratings, he was feeling a bit underrated with a 94 OVR at launch. This should squash any lingering beefs with our Madden Ratings Adjustors and serve as the definitive confirmation that Hopkins is the best in all the land at his craft.
Though his 83 Spin Move rating could use a bump. *Looks around, ducks.*
Khalil Mack
LOLB | Chicago Bears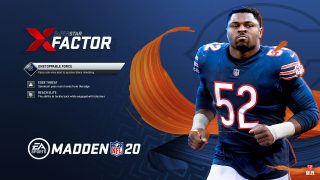 LOLB | #52
Height | 6'3"
Weight | 252 lbs
College | Buffalo
Exp | 6th season
We all witnessed first-hand what the addition of a 99 Club-caliber player like Khalil Mack can do for an entire defensive unit. When the Chicago Bears acquired Mack from the Raiders last season, he changed the face of the NFC North, and became the foundation of Chicago's defensive front.
In his first game as a Bear, Mack went off, forcing two crucial turnovers, including a strip-sack, and logged a 30-yard pick-six scramble, all in the first half. He finished the 2018 campaign with 12.5 sacks and six forced fumbles.
Mack's Ratings Highlights
97 Power Moves
95 Pursuit
94 Tackle
94 Jumping
Like a lion hunting his prey, if you lose sight of Mack after the snap in Madden NFL 20, it's already too late. Elite pass rushers like Mack are a mix of strength, speed, and tenacity. His zone ability called Unstoppable Force highlights what makes Mack a true Monster of the Midway. When he enters the zone, his ability increases win rate and block shed speed against one-on-one pass blocks.
Bobby Wagner
MLB | Seattle Seahawks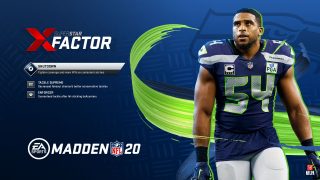 MLB | #54
Height | 6'0"
Weight | 242 lbs
College | Utah State
Exp | 8th season
Bobby Wagner is an elite and versatile defender and is arguably the most well-rounded linebacker in the league. Wagner is a beast against the run, dominant in pass coverage, is one of the league's premiere pass-rushing linebackers, and is hands down the best tackler in the NFL. Wagner doesn't miss tackles either, as he's only logged 13 missed tackles over the last three seasons.

Wagner's Ratings Highlights
99 Tackle – Best in Madden NFL 20
99 Pursuit – Best in Madden NFL 20
98 Hit Power – Best in Madden NFL 20
Like all of this season's Madden 99 Club members, Wager is also a Superstar X-Factor player, with a zone ability called Shutdown. Shutdown defenders have the talent to erase receivers from the game. When Wagner enters the zone, his coverage is tighter, and interceptions are more frequent on contested catches. Wagner can literally do it all on the defensive side of the ball.
Aaron Donald
RE | Los Angeles Rams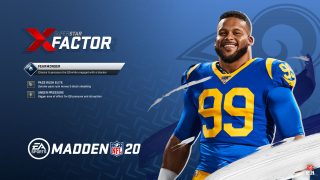 RE | #99
Height | 6'1"
Weight | 280 lbs
College | Pittsburgh
Exp | 6th
The Los Angeles Rams defensive superstar has made the Pro Bowl in all five of his NFL seasons, and has earned four first-team All-Pro honors. He's also won back-to-back Defensive Player of the Year awards, and his ludicrous 20.5 sacks a season ago led the league.
The most dominant defender in the NFL today, Aaron Donald is a true game-wrecker. Donald fronts a group of elite pass-rushers that intimidate QBs with their sheer presence. Here are some of his best attributes.

Donald's Ratings Highlights
99 Strength – Best in Madden NFL 20
99 Power Moves – Best in Madden NFL 20
98 Pursuit – Best in Madden NFL 20
97 Block Shedding – Second-best in Madden NFL 20
96 Finesse Moves – Second-best in Madden NFL 20
With the combination of Donald's 99 OVR and his suite of Superstar X-Factor abilities, you can imagine how much of a dominant force he will be in Madden NFL 20. When his Fearmonger Zone ability is activated, he will be able to apply pressure on opposing QBs even while engaged with blockers.
When a 280-pound man can move like this, it's going to be a problem for anyone trying to stop him.
Stay tuned here for more 99 Club announcements later this week!
– Matt Franciscovich (@MattFranchise on Twitter)

---
Madden NFL 20 is out worldwide on August 2. Pre-order the Superstar Edition and play 3 days early. Stay in the conversation by following us on Facebook, Twitter, Instagram, YouTube, and EA Forums. Sign up for the Newsletter today to receive updates on Madden, and other EA news, products, and events, all season long.