Football is finally back. All of the unpredictable Week 1 action was a reminder of just how much we think we know during the offseason – and now it's time to completely overreact to everything that went down.
The Cleveland Browns struggled mightily after being one of the most hyped offenses this summer. Kansas City Chiefs receiver Sammy Watkins exploded for three touchdowns. Oh by the way, Antonio Brown is a New England Patriot now (though he didn't play in Week 1).

Now it's time to get down to business and highlight some of Week 1's risers and fallers in the Madden NFL 20 ratings based on what went down in NFL stadiums across the country. Keep an eye out all season for our Madden Ratings Adjustors at NFL games. These guys are always watching. Access the full Madden NFL 20 Player Ratings Database HERE.
Week 1 Risers
Lamar Jackson | QB | Baltimore Ravens
Five touchdown passes, 324 pass yards, zero interceptions, and a perfect 158.3 passer rating. "Pretty good for a running back," Lamar Jackson joked in a post-game presser.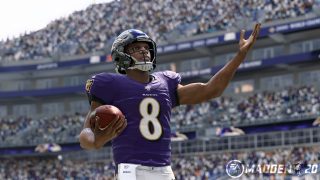 Known for his Michael Vick-like ability to move the offense with his legs, Jackson has clearly taken a step forward in his ability to throw the football. He's already a dangerous QB in Madden with his 94 Speed, 95 Acceleration, and 95 Agility combination. But his pass accuracy ratings are due for a bump, and if he continues on this path, Lamar Jackson could legitimately be the second-coming of the Original Madden Legend, Vick.

Not to be overlooked, speedster rookie WR Marquise Brown posted 140 yards and two touchdowns in his NFL debut. Back in June when the Madden 20 rookie ratings were revealed, I wrote:

"... [Marquise] Brown takes over as the second-fastest WR in Madden NFL 20 at launch, with a 97 Speed rating and 95 Acceleration. The combination of Brown and Ravens' mobile QB Lamar Jackson should make for a highly dangerous duo on gameday, both on the sticks and in reality."

Point to the lie.

Michael Gallup | WR | Dallas Cowboys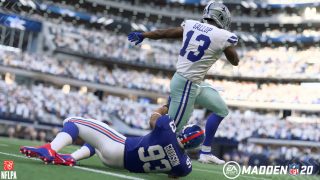 A deep sleeper in fantasy football leagues entering the season, second-year receiver Michael Gallup posted a 7/158/0 line against the Giants in Week 1. The Giants defense is bad, yes, but Gallup took advantage of a new-look Cowboys offense and a career day from his QB, Dak Prescott, who surgically shredded New York's secondary en route to a 405-yard, four touchdown performance. Gallup is more than deserving of a Madden ratings lift entering Week 2.

Gardner Minshew II | QB | Jacksonville Jaguars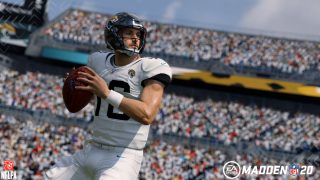 When the Jaguars starting QB, Nick Foles, exited the game in the first quarter with a broken collarbone (set to miss several weeks after surgery), rookie Gardner Minshew II took over under center. Shockingly, the sixth-round draft selection completed 22 of his 25 pass attempts, and moved the Jacksonville offense well, logging 275 pass yards, two touchdowns, and one interception. After one impressive throw on the run, the broadcast announcer compared the rookie to Patrick Mahomes. Let's pump the breaks on that, but it's a good sign for Minshew's development. His Madden 20 Launch Rating was a 59 OVR, and that's likely to creep up over the next few weeks, as long as he remains Jacksonville's starter pending a complete meltdown.

Week 1 Fallers
Jameis Winston | QB | Tampa Bay Buccaneers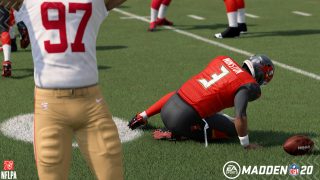 A lot of pre-season hype about the Buccaneers offense came crashing down last Sunday when Jameis Winston sprinkled sloppy play and poor decision making throughout the game against the 49ers. Ultimately, Winston threw for just 194 yards on 20 completions, with three picks, and a single touchdown, recording a despicable 55.6 completion percentage. Winston's 76 OVR Launch Rating is looking quite generous after his Week 1 performance.

Corey Linsley | C | Green Bay Packers
The Packers starting center was manhandled by a stout Chicago defensive front in the NFL's 100th season opener. Green Bay logged negative 12 yards in the first quarter and the man that center Corey Linsley is tasked with protecting, QB Aaron Rodgers, was sacked a total of five times in the game.

Deon Bush | SS | Chicago Bears
The fifth-year defensive back played just five snaps in the Bears season opener against the Packers. Ha Ha Clinton-Dix is the better player, and the starting FS for Chicago, so Deon Bush will struggle to find playing time. Thus, his Madden rating will suffer.

- Matt Franciscovich (Follow Matt on Twitter @MattFranchise)
---
Stay in the conversation by following us on Facebook, Twitter, Instagram, YouTube, and EA Forums. Sign up for the Newsletter today to receive updates on Madden NFL 20, and other EA news, products, and events, all season long.