The biggest storylines from Week 2 in the NFL swirl around signal-callers, both positive and negative.

Devastating injuries struck Ben Roethlisberger (elbow, season-ending) and Drew Brees (thumb, will miss several weeks). Stellar performances from the likes of Patrick Mahomes, Tom Brady, and Dak Prescott have them on the rise in the Madden ratings. Poor showings from Cam Newton and Ryan Fitzpatrick have them slipping.

Here, we'll highlight some of Week 2's risers and fallers in the Madden NFL 20 ratings based on what went down in NFL stadiums across the country. Keep an eye out all season for our Madden Ratings Adjustors at NFL games. These guys are always watching. Access the full Madden NFL 20 Player Ratings Database HERE.
Week 2 Risers
Patrick Mahomes | QB | Kansas City Chiefs
When the Madden 20 launch ratings were revealed this past summer, some were surprised that cover athlete Patrick Mahomes was snubbed from the prestigious 99 Club, entering the season with a 97 OVR in Madden. Well in his first two games of the 2019 season, the 2018 NFL MVP has picked up right where he left off. He's already thrown seven touchdown passes and is coming off a 443-yard, four-TD clinic against the Raiders. Mahomes' Madden rating is on the rise this week. There's a chance that he has room to improve as he continues to develop at the NFL level. The 24-year-old superstar is one to watch going forward.

Dak Prescott | QB | Dallas Cowboys
For the second straight week, Dak Prescott was masterful throwing the ball around the field. He completed a ridiculous 26 passes out of 30 attempts for 269 yards and three TDs, and now has an 82.3 percent completion percentage on the season. He also racked up 69 rushing yards on five attempts. The new-look Dallas offense is cooking under offensive coordinator Kellen Moore, and we are here for it. One of the more popular teams in Madden 20, the Dallas Cowboys have a cake Week 3 matchup against a crumbling Miami Dolphins, so we could see another increase in Prescott's rating in the near future.

Tom Brady | QB | New England Patriots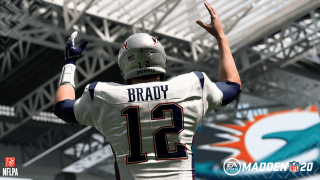 The Madden Ratings Adjustors were present in Miami when the Patriots destroyed the Dolphins on Sunday. Tom Brady threw two touchdown passes (one to newly acquired Patriots receiver Antonio Brown) and completed 20 of his 28 pass attempts in the 43-0 victory; granted two of New England's TDs were scored defensively. The GOAT was surgical in Week 1 against the Steelers as well, and on tape it looks as though he's effortlessly cruising through the start of the season. Brady's Madden 20 rating is getting a deserved bump as a result. On to Week 3.

Week 2 Fallers
David Johnson | HB | Arizona Cardinals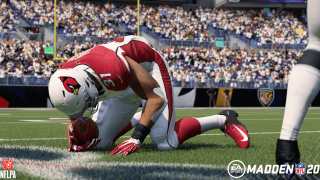 This is a tough one, because David Johnson has been one of the more special running backs in the NFL over the course of the last four seasons. But he simply hasn't looked like his old self in recent weeks, especially not in Week 2 against the Ravens. Johnson posted just 14 rush yards on his seven attempts with one rushing TD, and added one reception for zero yards. He also injured his wrist in the game, but reports point to him being fine for Week 3. Still, his lack of production isn't slipping by the Madden Ratings Adjustors this week, so Johnson's rating will see a downtick.

Cam Newton | QB | Carolina Panthers
Something's not right with Cam Newton. He's yet to throw a single TD pass in two games, and has -2 rush yards on the season. He couldn't hit his receivers on any deep passes last Thursday night, and his accuracy simply wasn't there. Perhaps the missed preseason action due to injury is catching up to him. And heading into Week 3 he's dealing with an apparent foot injury (maybe the reason his mobility has been limited). Either way, his ratings are slipping this week on account of the sloppy Week 2 game. Come back to us, Cam!

Ryan Fitzpatrick | QB | Miami Dolphins
We knew the Miami Dolphins had a chance to be a bottom-feeding team in the standings this season. But we didn't realize the fall would be this dramatic. In two games, Ryan Fitzpatrick has completed just 25 passes for 274 yards with four interceptions and a lone touchdown pass. Fitz actually threw more TD passes to the Patriots defense in Week 2 than he has to his own offense over the two-game span. "Fitzmagic" has pulled a disappearing act in Miami and his Madden 20 rating is dropping due to his poor play. It's only a matter of time before the team gives second-year QB Josh Rosen a chance to start.


- Matt Franciscovich (Follow Matt on Twitter @MattFranchise)
---
Stay in the conversation by following us on Facebook, Twitter, Instagram, YouTube, and EA Forums. Sign up for the Newsletter today to receive updates on Madden NFL 20, and other EA news, products, and events, all season long.