As we buckle up for Week 4 action in the NFL, there's some big news in the world of Madden 20 ratings. This season's cover athlete, Patrick Mahomes, has earned himself a spot in the 99 Club, on account of his consistent top-shelf performance on the field. Mahomes set himself apart from other quarterbacks in the league, and this season he has continued to prove that he belongs in a tier all his own.
Week 4 Risers
Patrick Mahomes | QB | Kansas City Chiefs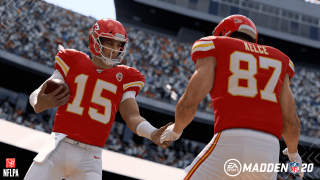 Patrick Mahomes is virtually unstoppable. It doesn't matter the matchup, the guy is a lock for at least three touchdowns and something like 350 pass yards per game. He's already racked up 10 touchdown passes with no interceptions, and has over 1,100 pass yards ... in just three games. His rating was bumped up to a 98 OVR last week. And the Madden Ratings Adjustors were on the field in Kansas City when the Chiefs dismantled the Ravens in Week 3. It is time for Mahomes, Madden 20's cover athlete, to join the prestigious 99 Club. Welcome to the club, and enjoy your stay, Mr. Mahomes. We're positive it's going to be a lengthy one.

Daniel Jones | QB | New York Giants
When you begin your NFL career as a rookie backup with a 68 OVR rating as Daniel Jones has, there's a lot of room for improvement. And when you come bursting onto the scene in you first NFL start with a four-touchdown, 350-plus yard game for your team's first victory of the season as Daniel Jones did, your Madden rating is bound to see a solid bump. Hence Jones' rising rating heading into Week 4. Now the starter for the Giants, Jones' mobility and youth should lift the production of those around him. New York fans finally have something to be excited about.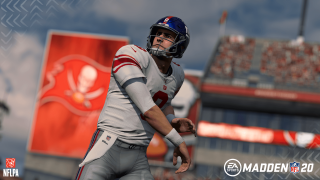 D.J. Chark | WR | Jacksonville Jaguars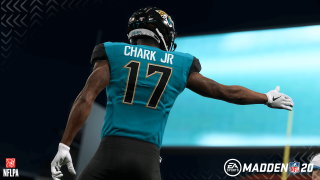 On the rise for the third consecutive week, second-year receiver D.J. Chark has emerged as the Jaguars No. 1 receiver so far this season. He's scored a touchdown in three consecutive games now and is tied with Dede Westbrook for the team lead in targets (14) over the last two games. Chark is a speed-demon in Madden 20 with a 94 SPD rating, so he's a dangerous weapon on deep balls and after the catch.

Week 4 Fallers
Aaron Rodgers | QB | Green Bay Packers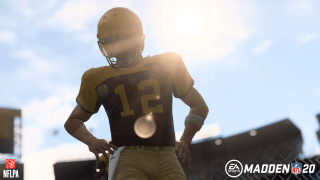 Aaron Rodgers has not had the start many had hoped for. His season high in passing yards is 235 and he has yet to throw more than two touchdowns in a game, which is very unlike the Rodgers we've grown used to. It seems there have been some growing pains between Rodgers and the new coaching staff in Green Bay. Granted, he's had some tough matchups against Chicago, Minnesota, and Denver defenses. The Packers are winning and enter Week 4 with a 3-0 record, but Rodgers' below-average play is on the Madden Rating Adjustors radar, and so he'll see a dip as a result.

Chris Carson | RB | Seattle Seahawks
The Seahawks running back has had a rough start to the season. Chris Carson lost a fumble in each of Seattle's first three games and is averaging just 3.5 yards per carry on the season. As a result, his Carrying and Ball Carrier Vision ratings are seeing a downtick this week. Carson is leaving a real window of opportunity for Rashaad Penny to chip into his workload, once healthy.

Dede Westbrook| WR | Jacksonville Jaguars
Speaking of slow starts, Dede Westrbook was one of the more hyped sleeper WRs this summer, as reports pointed to his connection with Nick Foles. Well, Foles is injured and Westbrook has been in quite a slump despite continued opportunities. Westbrook has yet to eclipse 46 yards in a single game this season, and backup QB Gardner Minshew seems to favor the aforementioned D.J. Chark. Westbrook is seeing a drop in both Awareness and Catching ratings heading into Week 4 games.


- Matt Franciscovich (Follow Matt on Twitter @MattFranchise)
---
Stay in the conversation by following us on Facebook, Twitter, Instagram, YouTube, and EA Forums. Sign up for the Newsletter today to receive updates on Madden NFL 20, and other EA news, products, and events, all season long.