Can you believe that we're already a quarter of the way through the 2019 NFL season? Teams and players are beginning to show their true colors as we have a bigger sample size to pull from to apply to Madden ratings. Some of the players at the top of their positional ranks are starting to slip, and sleepers are beginning to emerge.

Now it's time to get down to business and highlight some of the risers and fallers in the Madden NFL 20 ratings based on what went down in NFL stadiums across the country, ahead of Week 5 action. Keep an eye out all season for our Madden Ratings Adjustors at NFL games. These guys are always watching. Access the full Madden NFL 20 Player Ratings Database HERE.
Week 5 Risers
Matthew Stafford | QB | Detroit Lions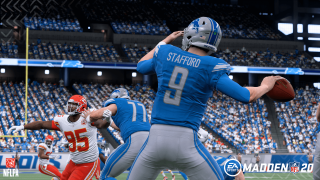 Through the first four weeks of the season, Matthew Stafford is playing better than his 79 OVR Madden rating might suggest. He's coming off a three-TD, 291-yard performance against the Chiefs, and has only thrown two picks thus far this year. Ahead of Week 5, Stafford ranks 10th in the NFL in passing yards with 1,122, more than Tom Brady and Aaron Rodgers, and he ranks second in the NFL in passing TDs with 9. On the heels of his strong start, Stafford is getting a ratings bump this week.
Kenny Golladay | WR | Detroit Lions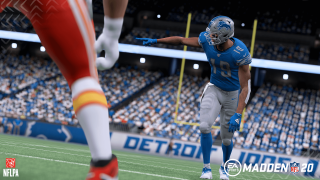 Coinciding with the ratings bump for Matthew Stafford, Lions receiver Kenny Golladay is due for his first increase of the year ahead of Week 5. Golladay has four total TDs on the season, through four games, including a 33-yarder against the Chiefs in Week 4. His Jumping and Catch In Traffic ratings are deservedly increasing after consistently showcasing his athletic ability on the field each week.
Ronald Jones | RB | Tampa Bay Buccaneers
Coming off a 19-carry contest in Week 4, Ronald Jones is in line to enjoy his third ratings increase of the young season. He posted 70 yards and a touchdown against the Rams last week and is averaging 4.7 yards per carry on the season. He's trending up, along with his Tampa Bay offense, ahead of Week 5, and it may not be long before he surpasses his teammate, Peyton Barber (77 OVR), in the ratings.
Week 5 Fallers
Ezekiel Elliott | RB | Dallas Cowboys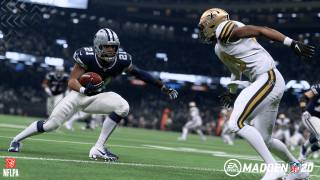 Entering Week 4 as the second-highest rated halfback in Madden 20 with a 94 OVR, Ezekiel Elliott was unable to get much going in primetime against the Saints. He averaged just 1.9 yards per rush and lost a fumble in his team's first loss of the season, though he did manage a 1-yard TD plunge. Maybe he's still getting up to speed after his extended preseason holdout, but the Madden Ratings Adjustors are bumping him down a notch ahead of Week 5.
Odell Beckham Jr. | WR | Cleveland Browns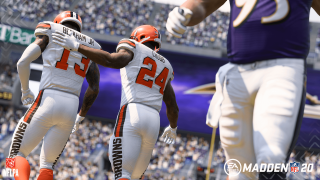 If we're being honest, Odell Beckham Jr. has only had one solid outing so far this season, when he went off for 161 yards and a TD against the Jets in Week 2. But even in a Week 4 game where his Browns dropped a 40-burger on Baltimore, OBJ managed a mere two receptions for 20 yards. Coming into Week 4, OBJ was the third-highest rated WR in Madden 20 with a 97 OVR, but he's in line for a downtick as we look ahead to Week 5.
Kirk Cousins | QB | Minnesota Vikings
To be fair, Kirk Cousins faced one of the toughest defenses in the NFL in Week 4 in the Chicago Bears. But it's not just that game that's negatively affecting his Madden ratings. Cousins has only thrown three TD passes in four games, as the Vikings have taken a more run-heavy approach on offense. At launch, Cousins was an 81 OVR, and he's falling to a 79 OVR ahead of Week 5. Cousins will have to step it up for a few weeks in a row to regain his launch status.
- Matt Franciscovich (Follow Matt on Twitter @MattFranchise)
---
Stay in the conversation by following us on Facebook, Twitter, Instagram, YouTube, and EA Forums. Sign up for the Newsletter today to receive updates on Madden NFL 20, and other EA news, products, and events, all season long.