Hello Madden fans!
By now, you already know the details about the Face of the Franchise: QB1 Campaign and Superstar X-Factors coming in Madden NFL 20. Now, it's time to dig into some exciting new updates to Madden Ultimate Team that we're thrilled to share with you. We hope you're just as excited as we are, so without further ado, let's dive into some new Madden Ultimate Team features that you can look forward to!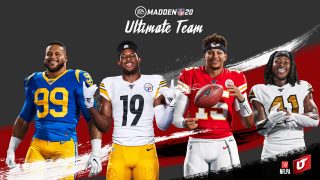 Missions
Missions offers a new perspective on Madden Ultimate Team. From everything like play experiences to building out sets in your item binder, Missions will help guide you on your quest for the best items and rewards in Madden Ultimate Team. Think of it as a roadmap to upgrading your squad with the items you want, with a clearly laid out path of how to earn those items or rewards. Missions will help you navigate to the content you're looking for without having to spend valuable time searching for it.
Our goal with this new feature is to make sure the right Missions that make sense for you are surfaced when you're in the game. To start, you'll be fed different Missions based on your MUT level. Then as you progress, more Missions will begin to open up and help you to explore different areas of the game.
Now, Missions are not what is used to grant you rewards in Madden Ultimate Team. Instead, think of Missions as the vehicle to get you to that reward. And a Mission may not always be based off one particular thing. For example, a Mission could be something like "Earn 50 Series Trophies." Missions will link you to all of the play experiences like H2H Seasons, Squad Seasons, Solo Battles, etc., those places where you can earn those Series Trophies on your way to completing said Mission.
Think of it as a roadmap to earning the best items from your favorite programs. Want to acquire that MUT Master item (for example)? Missions will be your step-by-step guide on how to achieve that goal, whether it's through Ultimate Challenges, Squad Seasons, the Auction House, completing a trophy set, or another play experience, Missions is the tool that will get you there in the most efficient way.

Ultimate Challenges
Ultimate Challenges is the next step in the evolution of what was formerly known as Solo Challenges. Solos, no more!
One of the major adjustments in Ultimate Challenges is a new star-based rewards system. Before you begin an Ultimate Challenge, you will have the ability to choose from one, two, or three stars. The higher the number of stars, the higher the difficulty and intensity of the challenge. If you want a more casual experience, you can select one star. Once you begin bumping up the star level, the challenge gets more difficult, in any number of ways, to complete. For this reason, Ultimate Challenges will be replay-able. So, you can complete an Ultimate Challenge on one star to get comfortable with it. Then you can work your way up to three stars, and the rewards you receive upon completion will reflect the star level you completed the challenge on.
Ultimate Challenge Rewards
Now, let's talk about how rewards are granted based on this new star concept. No longer are big-time rewards tied to simply winning the last Challenge in a given sequence. Instead, you will see a list of "milestones" where rewards are dished out as you accumulate more stars in a given category. Milestones will have increasing thresholds of star totals, and you will have the opportunity to earn everything from the list as you continue dominating Challenges.
We should also mention how Bonus goals work in Madden NFL 20. We've already talked about how in most Ultimate Challenges you'll have the opportunity to choose between 1, 2, or 3 base stars, but you'll also be able to earn additional stars from bonus goals as well (where applicable). In order to earn a full 5 stars, you will need to complete the bonus goals on the highest difficulty.
For instance, if you play the Challenge at 1-star and achieve both bonus goals you will come out of that Challenge with 3 stars. However, if you were to replay the same Challenge on the hardest difficulty and do NOT re-earn the bonus goals, you will still only have earned 3 stars from that Challenge. Unlike previous years, you will have the opportunity to re-try bonus goals no matter how many times you've previously attempted the Challenge.
In a way, this is a shift from the sequential Solo Challenge programs of Madden Ultimate Team past. Players will have the option for more variety in terms of their path to earning those stars and rewards.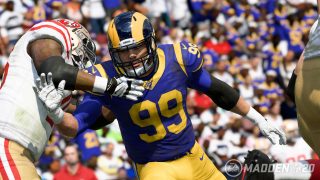 Loading In and Out of Ultimate Challenges
Another update that we're pumped to announce involves a tweak to loading in and out of challenges. When you complete an Ultimate Challenge in Madden NFL 20, you'll be prompted to advance to the next challenge without exiting to the main menu via a loading screen. There, you'll be able to choose your star difficulty, click accept, and boom—you're quickly on your way to the next challenge. You'll have the ability to complete as many Ultimate Challenges as you want within one sequence without backing out, and you'll see your rewards pour in whenever you decide to put down the sticks and back out to the main menu.
In addition, almost all our content in Ultimate Challenges has the ability to be played as either single-player or with friends. That's right: bye-bye solos! If you're playing Ultimate Challenges with someone else, your Madden Ultimate Team rosters will merge together the same way they have in in MUT Squads. Get hyped to knockout some Ultimate Challenges with your pals!
Superstar Abilities
Superstar abilities and X-Factors will also be supported within Madden Ultimate Team in Madden NFL 20. What the community dubbed as "Red Chems" in Madden NFL 19 are basically gone now. Some chemistries from Madden NFL 19 will make the transition to Madden NFL 20, but there will also be brand new ones that are significantly stronger. They're meant to be things that eliminate chance and provide more guaranteed results. Your running back might juke faster, or your quarterback might have perfect passing when outside the pocket, for example. More specific details for how Ultimate Team will be integrating Superstar Abilities will be revealed at a later date.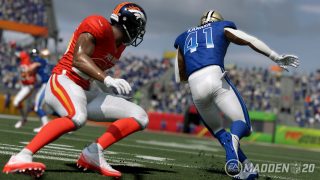 Player Archetypes
Another exciting feature added this year in a continued effort to differentiate players is the addition of player archetypes to Madden Ultimate Team. There are a couple of noteworthy aspects to player archetypes, beginning with the ability to now craft different player OVR calculations for each archetype. Up until this point, we have had to use one OVR formula for each position, and that really made things difficult when it came to spots like tight end and outside linebacker. Now that we have archetypes, we'll be able to better differentiate a Speed Rushing OLB versus a Pass Coverage OLB or a Vertical Threat TE versus a Blocking T.
Also, we will use player archetypes to appropriately offer gameplay abilities to the archetype that makes sense. So, for example, a Field General QB will not have Escape Artist, which allows QBs with that ability to quickly move out of the pocket to avoid the rush and, conversely, a Scrambling QB will not have access to Pocket Deadeye, which gives QBs perfect passing with their feet set inside the pocket. Choosing what you want on the field has never been as important as it will be in Madden NFL 20.
House Rules
House Rules in Madden NFL 19 was well-received by the community, and we're extremely grateful for the positive reception. In Madden NFL 20, House Rules will be available once again, much closer to launch. We're excited to deliver more flexibility on what we can offer via House Rules, like dropping you into an overtime scenario for a condensed and more efficient play experience, for example.
Stay tuned for our gameplay stream on 5/23 for more of the inside scoop on additions and changes you'll find in Madden NFL 20.
– Jake Stein, Associate Producer (Follow Jake on Twitter @Jstein2469)
---
Madden NFL 20 is out worldwide on August 2. Pre-order the Superstar Edition and play 3 days early. Stay in the conversation by following us on Facebook, Twitter, Instagram, YouTube, and EA Forums. Sign up for the Newsletter today to receive updates on Madden, and other EA news, products, and events, all season long.