Hey Madden Community!

KRAELO (aka Agent K) here! Welcome back to another installment of Madden 20's Gridiron Notes. For those that are new to Gridiron Notes, Gridiron Notes is where we keep you up to date with the latest Madden 20 news. Our goal with this series is to provide you with deeper insight into our game and update you when we have new and relevant information to share about Madden 20.

Today JP Kellams and Jake Stein will be talking about a new mode coming to Madden called Superstar KO. So, without further ado, let's get into it!

FROM THE DEVELOPERS
Hi Madden Nation! I'm JP Kellams (@synaesthesiajp), producer on Madden's brand-new mode, Superstar KO. I'm writing to introduce you to the newest way to play Madden NFL 20, and surprise ... You can go play this TODAY! This blog is a super deep dive, and there is a ton to say and learn, but if you stick with me, you will be an expert at Superstar KO before you know it.

What is Superstar KO?
Superstar KO is a brand new, online eliminator mode for Madden 20. It is a celebration of football, a game that combines Superstar X-Factors, custom rules, and unique teams with a new, unique stadium and commentary style to provide a brand-new play experience you can't get anywhere else. It is all about fast-to-fun gameplay, where every play matters, and games that can last from 30 seconds to 10 minutes. It always presents you interesting choices, whether it be about how you build your team, or how you overcome or take advantage of mismatches. But most of all, it is just fun. We've been working on this in secret for a while, and now that that cat is out of the bag, the entire team can't wait to play with you.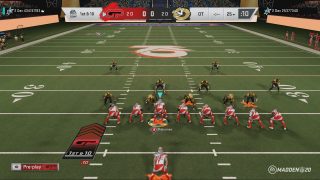 To get to shorter games, we've combined the House Rules tech we've been working on for the past year to create gameplay rules that make sure every play matters. You'll each get a chance to score in phase one, Superstar OT, and if you are still tied, you can settle the score in a brand-new house rule called Tug of War. The play on the field is dominated by Superstar X-Factors. You will be given a few to start, as well as the chance to earn (or steal!) more, but best of all, the X-Factors are active from the very first play. If you've wanted to see the full power of the NFL's best, Superstar KO is the place. Finally, they all come together on eight brand new teams developed exclusively for Superstar KO. They have custom playbooks and rosters that give each team a unique flavor. From the air-it-out style of Dot City, to the defensive mastery of Shutdown. Each playbook is created to have strengths and weakness that create interesting mismatches and situations.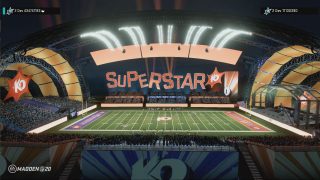 Superstar KO takes place in a custom-designed stadium. Like a festival for the best football on the planet, it is in an undisclosed location where players with the X-Factors of today meet the Legends of yesterday, and maybe even some Iconic superfans as well. Calling the action is our DJ and announcer, Tre Mo, who stays on top of the game, but makes sure you know exactly how everyone is doing. The crowd gets into it as well, and they are known to be incredibly vocal. It is a vibe where fun rules, big plays are the norm, and you are never far from the action. Winning is exhilarating but losing never hurts—just jump back in and build a new team to take the crown. Finally, you can expect us to keep updating Superstar KO as the year progresses. We've got a bunch of new rules, players, and ideas that will keep the game fresh. But first, let's get into how you play.
How Do I Play Superstar KO?
Once you come into Superstar KO, you have your first choice. You can play 1v1, 2v2, or 3v3. Each queue is unique, and you will match up with others who are playing with the same number of players. For solos, just click the play button. Squads will play once everyone you've invited or matchmake with is ready.

Next up, it is time to pick your team.
The KO Teams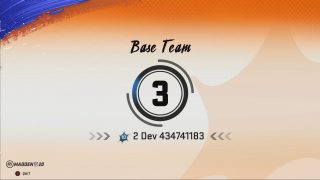 Picking teams in KO is like picking your character in a fighting game. Each team has unique strengths and weakness that you will have to learn. The playbooks that each team uses are entirely custom for Superstar KO, so don't expect to see what you'd see in other modes in Madden. Part of the fun of Superstar KO is trying out different teams, learning which playbook gels with your play style, and developing a draft strategy. Another thing you will notice is how visually distinct the teams are: they all have unique uniforms, fun coaches, and a unique history. Let us fill you in on the teams you will see at launch, with a gameplay deep dive from our very own Jake Stein.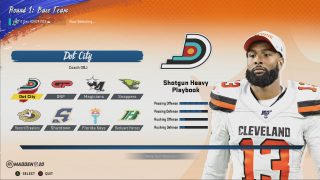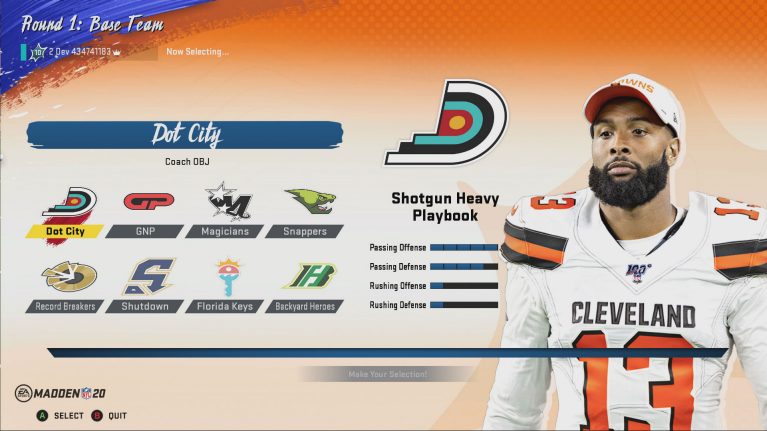 Dot City (Coach: Odell Beckham Jr.)
Standing five yards back and letting it fly is a time-honored tradition, so when Odell Beckham Jr. heard about the Superstar KO tournament, he knew his team was going to be all about the dots. Dot City plays the game to leave a mark, and their graffiti-covered uniforms make sure you'll see them do it.

Jake's Notes:
The base roster is built to match this team's identity which is throwing the ball on every down. They are deeper at WR but weak at HB. The OL is also geared to be better at pass blocking than run blocking. When it comes to defense, you're only going to find players who are better skilled to play the pass.

The offensive playbook consists of 24 plays, all from the Shotgun. Dot City practiced all offseason and managed to add a single HB Draw but expect the ball to get aired out whenever you come up against OBJ's Dot City.

Defensively they only have sub packages and coverage defenses. You will be very susceptible when matching up against a team with any kind of running attack.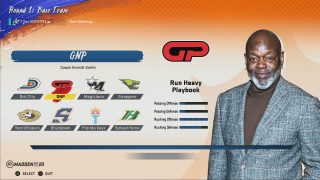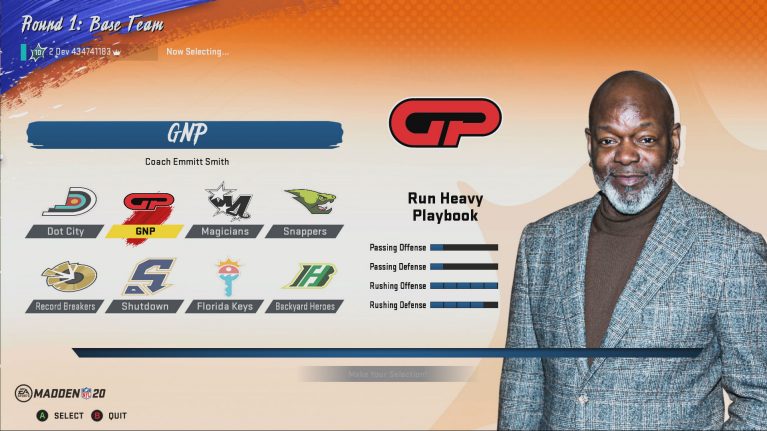 GNP (Coach: Emmitt Smith)
GNP, also known as Ground and Pound. Hard-nosed football that wins championships. It is a style that Emmitt Smith personified as a player, and now as a coach in Superstar KO, he is going to make sure that all the other teams in the tournament know that wins are carried over the line by a running back. GNP may play a simple game, but if you can't stop them, you won't beat them.

Jake's Notes:
GNP's base roster has noticeable strengths at HB and run blocking from the OL. Conversely, they leave a little to be desired from QB and WR. On defense they have an exceptional front-seven but lack depth at CB.

The offensive playbook is predominantly under center run plays with a few passes to keep the defense honest. On defense you're only going to find "base" defenses which means you might have matchup issues against any team looking to throw the ball consistently.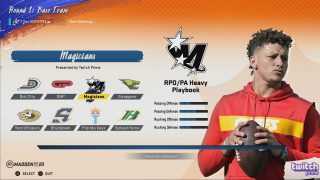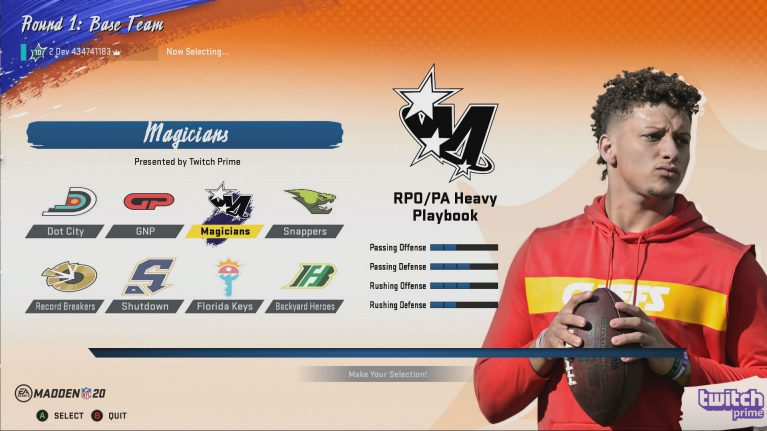 Magicians (Coach: Patrick Mahomes)
Magic is in the air. With a simple sleight-of-hand, a run play turns into a pass. With misdirection of the eyes and hands, play action sends the defense in the wrong direction. Illusions are hard to create, but in the hands of a master magician, they fool everyone. The Magicians are in Superstar KO to do just that, and they've brought the best magician in the NFL, Patrick Mahomes, to make sure that no one else understands their magic. The tricks aren't easy, but in the Magicians dazzling uniforms, sponsored by Twitch Prime, the victories are amazing.

Jake's Notes:
Deshaun Watson and Dalvin Cook will be your default backfield for the Magicians which should provide you the either/or option that comes with an RPO-based team. Defensively, you'll find some balance with players that are on average able to defend the run and pass.

From a playbook standpoint, the offense is almost all RPO plays out of different formations. During playtesting, we added some "legitimate" pass plays that can get the ball down the field when you find yourself in long down and distance situations.

Defensively it's a bit of a balanced approach with an emphasis on man-to-man plays.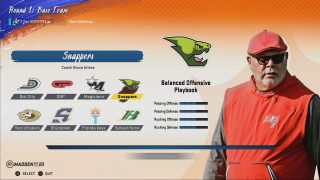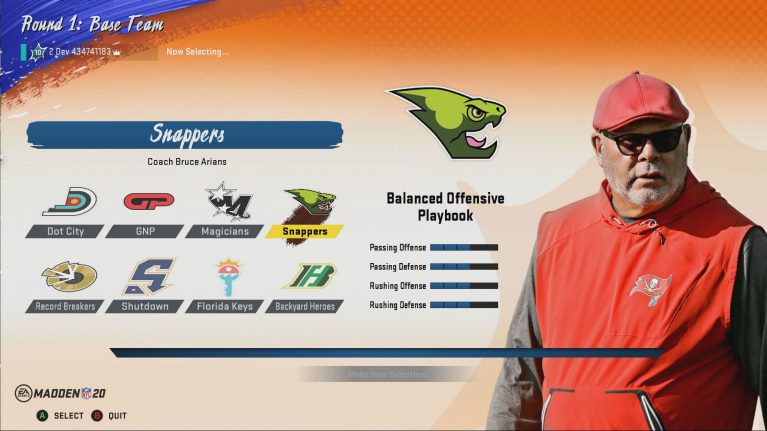 Snappers (Coach: Bruce Arians)
Everything in moderation, nothing to excess. For centuries, wise men have extolled that balance is the key to life. Bruce Arians' entry into Superstar KO is about a balanced approach that keeps all your options open. Just don't expect these Snappers to turtle up, once this team is locked in, they don't let go of the lead.

Jake's Notes:
This is the only roster in Superstar KO that has equal OVRs across all the starting players.

The Snappers are a balanced attack with an equal amount of runs and passes available to choose from. The defensive playbook is also very balanced and able to match up versus almost any offense.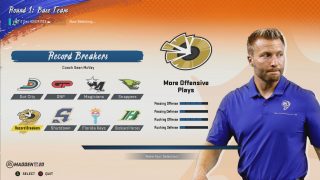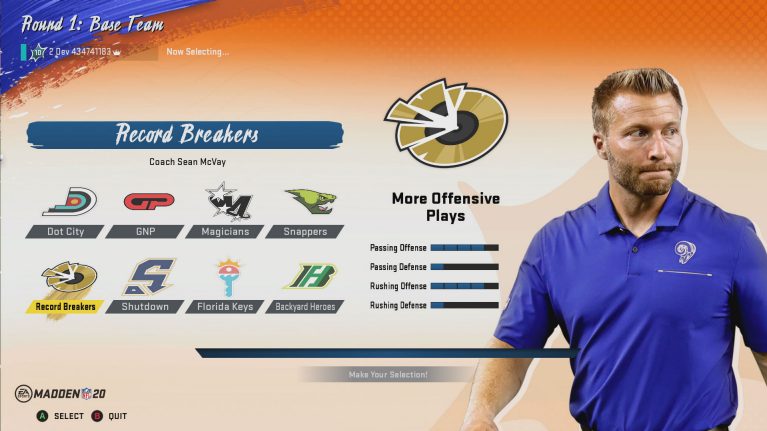 Record Breakers (Coach: Sean McVay)
"Who cares if the other team scores!? We are here to win, and we are here to break records!" Sean McVay's rallying cry for the Record Breakers defines how they play the game: Plenty of choices on offense, not so many on defense. The goal with the Record Breakers is to get into that endzone every chance you get, using plays the other team can't stop. At the end of the day, all that matters is the win, and the only way to win is to have the most points at the end. Just make sure you are on top when the music stops.

Jake's Notes:
The Record Breakers have an above average starter at every position on offense but be warned, they are below average in almost every defensive spot.

The Record Breakers are unique in that they have twice as many offensive plays (48) than any other team in Superstar KO. They provide the most flexibility and different ways to attack defenses. However, they have half of the defensive plays (12) compared to every other team, so be prepared to outscore your opponents.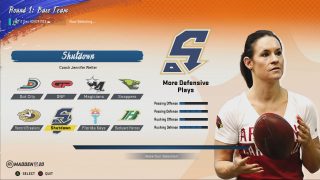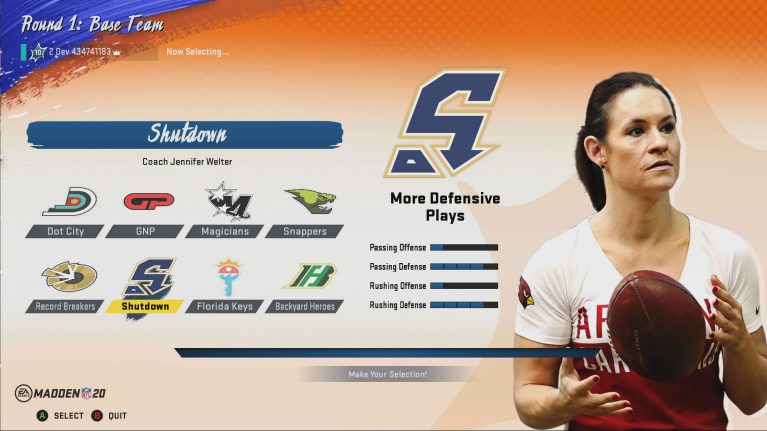 Shutdown (Coach: Dr. Jennifer Welter)
For the first time in Madden history, a woman is on the sidelines leading a team, and Dr. Jennifer Welter has absolutely no intentions of giving anyone an inch. They are here to shut down the competition. A defense specialist, Welter's Shutdown know that the best offense in Superstar KO is an amazing defense. Dr. Jen's squad is ready for anything the other teams can throw at them and will maximize every opportunity they create.

Jake's Notes:
Coach Welter is bringing all the defense to Superstar KO. The base roster is above average and ready to dominate at all defensive positions, but as you can imagine, the offense is going to need some Superstar X-Factors added if you have any shot of moving the ball.

Shutdown is the yin to the Record Breakers yang; they have the only 48 play defensive playbook but a very limited 12 play offensive play selection.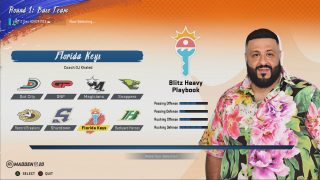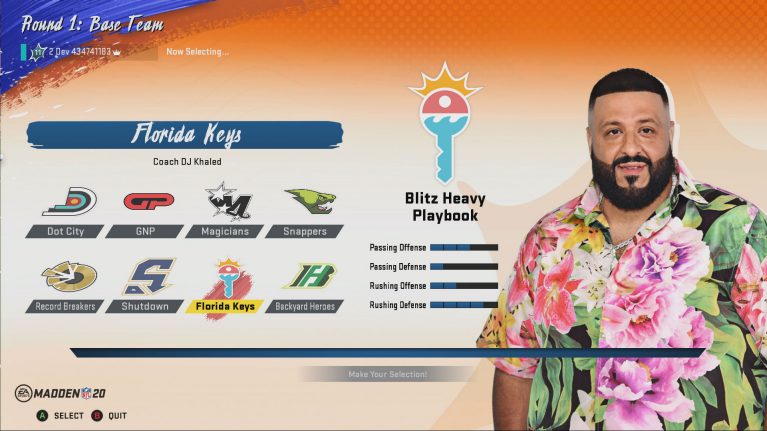 Florida Keys (Coach: DJ Khaled)
Major key alert! Once DJ Khaled heard about Superstar KO, he put together a squad and hopped on his private jet straight to the tournament. Florida Keys are here to win in style, with a blitz-heavy playbook that is meant to put opposing QBs on the ground while the crowd lets the other team know who's the best. With uniforms that let everyone know Miami's finest is here to represent, the game play is simple. To win the first game. And then another one. And another one. And another one.

Jake's Notes:
DJ Khaled has built a base team around putting pressure on the backfield and taking down the QB. With a defensive roster built around Power and Speed Rushers, this blitz-heavy powerhouse of a team is a force to be reckoned with.

On the offensive side, nothing stands out, so making sure you learn your offensive plays and pick Superstars that make your plays a winner is a key strategy.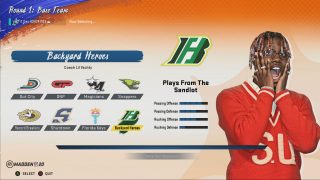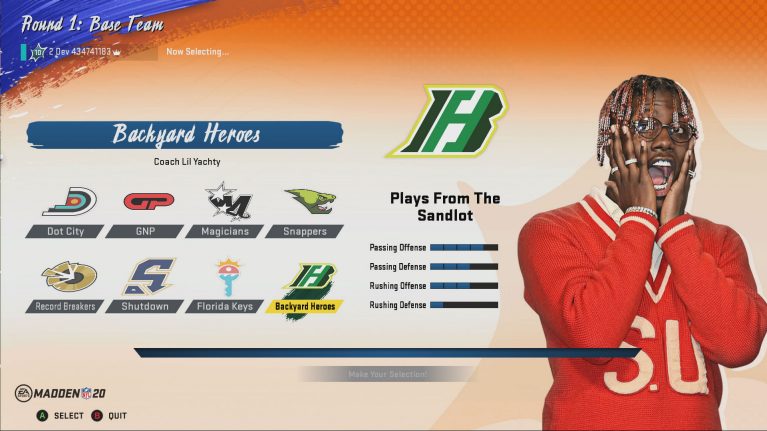 Backyard Heroes (Coach: Lil Yachty)
Football is meant to be fun. Every Superstar who makes it to the Super Bowl started out as a kid in the backyard. These backyard games were about plays that take big risk but bring big rewards. Yet, when these backyard heroes hit the big time, there aren't as many opportunities to play for the love of the game. When Lil Yachty heard about Superstar KO, he put together a team that plays for fun, and never lets you forget it. While Lil Boat and his squad are now heroes on the big stage, in their hearts, they never really left the backyard and the crazy plays that made them love the game.

Jake's Notes:
With a mix of Offensive and Defensive veterans that stand out, this roster feels like pure football. The Backyard Heroes playbook is also full of the big moment plays that memories of made of: Long passes, quick feet, and impact plays that give you all the bragging rights.

The openness of the Backyard Heroes playbook means that any Superstar can fit right into the fun.

Once you've got your team locked in, it is time to draft three Superstars and get started. These Superstars will be random offensive or defensive players. As you play, you'll add more Superstars after each win, until you have three on both sides of the ball.
Superstars, Icons, Legends, and Rarity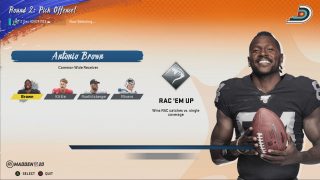 There are three types of players in the drafting rounds: Superstar X-Factors, Legends, and Icons. The Superstar X-Factors are the names you know from today's NFL; the players who can change the complexion of the game on a dime. All 50 X-Factors from Madden NFL 20 are available at random during the draft. They are joined by Legends and Icons. Legends are the best players of NFL lore, but they don't get into the game very often. You'll have to be lucky to see them stand up and appear in your draft. Even rarer are Icons. These NFL superfans tend to be coaches, but sometimes they will suit up and don a helmet, becoming key players in your quest to become Undefeated Champs.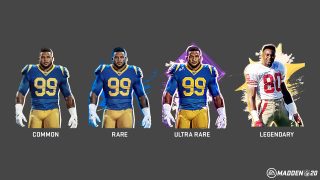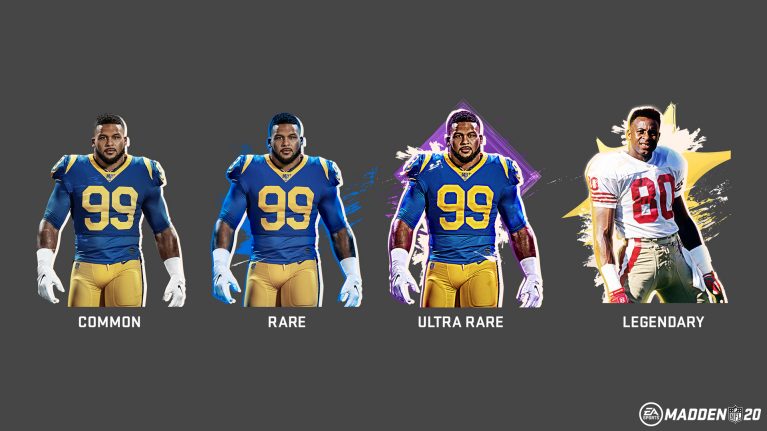 Each player has a rarity level, like what you might see in a battle royale game like Apex Legends. Common players just have their Superstar X-Factor ability and don't have a special color associated with them. Players with a blue outline are Rare players. They have an X-Factor plus a couple of Superstar abilities to spice things up. Purple players are Ultra Rare. They have an X-Factor and even more abilities that can change the game. Finally, you have gold Legendary players. Legends and Icons make up this group, but sometimes an X-Factor could achieve Legendary status. Alongside an X-Factor, this group of players have an enormous amount of passive abilities that can dominate a game, but beware, they are not invincible, so look for counters that can stop them in their track.

Now you are ready to enter the game and become a Superstar.
Gameplay Rules
Superstar OT

Once you enter the game, players each get a drive from their own 25-yard line. There are no special teams in Superstar KO, so there are no kickoffs, punts, or field goals, just 75 yards in front of you. If you can score a touchdown, you must go for two.

Once your drive is over, your opponent takes over with the same goal. If they match your score, we go to a tiebreaker. Otherwise the game is over. With these rules, lots of situations can end the game:
Player A scores and converts two-pointer. Player B scores and does not convert. Player A wins.
Player A scores touchdown by does not convert. Player B scores and converts. Player B wins.
Player A loses a turnover and player B scores (pick-six or recovered fumble). Player B wins.
Player A does not score. Player B loses a turnover and Player A scores. Player A wins.
Player A does not score. Player B scores a touchdown. Player B wins.
Player A scores. Player A loses a turnover on two-point conversion (or safety) and player B scores. Player B scores a touchdown. Player B wins.
I think you get the idea. One interesting difference in Superstar KO is how we handle turnovers. Say you were to stop your opponent with a fumble or interception on the 1-yard line. You wouldn't want to start your drive from there! It would be a disadvantage. So, after a turnover, you will start from the spot of the ball, or your own 25-yard line, whichever is better. Also, unlike NFL overtime rules, if the ball changes hands twice on the final possession, the team which had the ball at the beginning of the play will get a fresh drive. Consider it a reward for taking that ball back.

So now you know how things can end in Superstar OT, but what happens if you are tied at the end of the drives? TUG. OF. WAR.
Tug-Of-War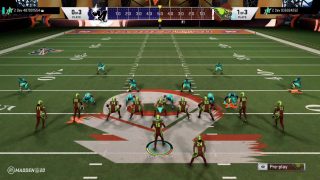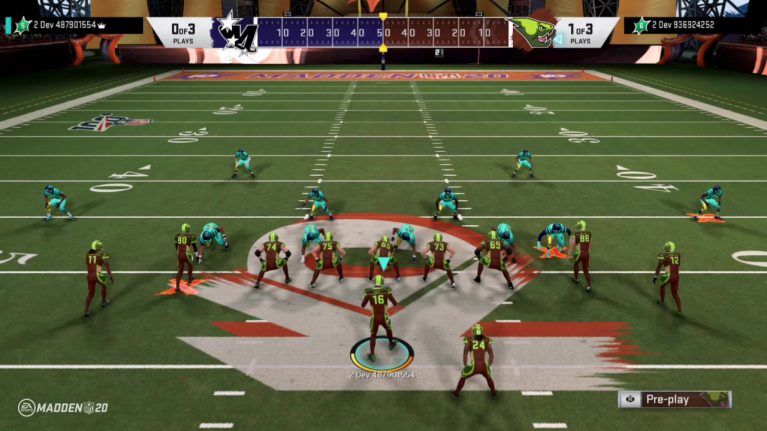 You may remember Tug-of-War from EA Sports NCAA Football 14. Players start at the 50-yard line and take turns alternating plays on offense until they score or plays run out. After the plays run out, whoever is closest to their opponents endzone wins. In Superstar KO, at launch, each team will have three plays on offense to move the ball in the right direction. Once those plays end, or a touchdown is scored, the game is over.
Winning, Losing, KO Level, and Rewards
You won your first game of Superstar KO? Congratulations! Your next step is to draft another Superstar to add to your team.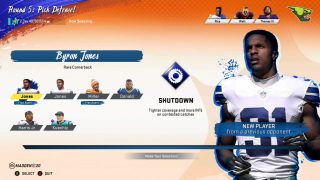 These rounds will be random, just like earlier, until you fill out three players on offense and three on defense, except this time you might notice the "Free Agent" tag. These are players from the team you just defeated. If you noticed your opponent had an Ultra Rare Khalil Mack that would be perfect for your defense, steal them! Free Agents are only shown if you have a spot on your roster for them, so if you already have chosen a Superstar QB, you won't see another one in future rounds. You must stick with the guys you bring on the field in Superstar KO. Once you've drafted again, you are right back into the action and are playing another game. If you win four games in a row, you are considered Undefeated Champs and receive an awesome XP reward.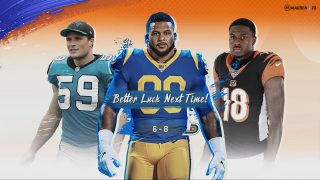 Oh no! You lost!? I'm sure it was something we did. Or something your little brother did. Or something your dog did … You can't take your eyes of the screen in KO, or something bad will happen! But don't worry! Nothing bad happened to you. Just jump right back into game, pick a team, and draft a new set of Superstars. You are only seconds away from starting over and getting another shot at glory. Get back in there!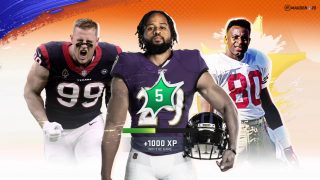 When you play Superstar KO, you will always receive XP that contributes to your KO level. All games earn you XP, but wins get you bonuses, including a great bonus for going 4-0 and becoming Undefeated Champs. Your KO level is bragging rights in KO. How high can you push that number!?

Every week you will have a chance to earn an Ultimate Team reward by playing Superstar KO. These are only once a week, and can't be repeated, but they are a great way to build up a MUT roster and check out the variety of gameplay experiences to be had in Madden Ultimate Team.
Beta
We are launching Superstar KO as a beta for the first season. While we've done extensive playtesting in the studio (and bought more pizza than I'd like to admit), we want your feedback. Superstar KO has been a massive team effort, and we feel you should be part of that team. What balance changes do we need to make? Is something overpowered? Between your feedback on places like Twitter and Reddit, and the data the game also provides us, we want to make changes to make Superstar KO the best way to play a quick game of Madden 20. And who knows, we might add some surprises, too!
Why Superstar KO?
Finally, I wanted to talk a little bit about why we made this mode. It all started with taking a joke a little too seriously. "What if Madden had a battle royale mode?" Now, obviously, that would never work, but the motivations around ever-evolving, accessible gameplay are something we value. We also wanted to give everyone a chance to see how amazing the Superstar X-Factor abilities can be, especially when multiple amazing players are in the zone. But we couldn't just do that in MUT or Franchise without disrupting the ways people love to play those experiences. In those modes, so much can depend on your roster, or your rating, or your tightly developed scheme. These are all amazing ways to play!

So, we set out to create something different, challenging the rules of how you play Madden in an arena where Superstars shine. For the hardcore Madden players who read this blog, your first few games could be a shock to your system. Superstar KO really is almost like a fighting game. Your team choice won't give you the path to victory, just tools to win and weaknesses that could make you lose. You'll wish this play or that play was in the playbook, but they aren't there for a reason. Strategies that work in other modes, like who to user control, will change each game based on who is on the field and what abilities they have. In many ways, Superstar KO is the ultimate arena for stick skills, because we've worked hard to make so many things as equal as possible. As you learn how different the game can be, don't get discouraged! Like a fighting game, you must learn your character, and like a battle royale,your weapons, the X-Factors, are the key to victory.

Give it a shot! We've been having so much fun playing. Knowing that so many more people are going to get to experience a new style of Madden is incredibly exciting. We can't wait to see you online and hear what you think!

JP Kellams (@synaesthesiajp)
Producer, Superstar KO

P.S. I want to give an enormous shout-out to the Madden team that built this. It started out as a small team working on the side to see if we could find the fun, but along the way it turned into a full team effort, with unique ideas and contributions coming from all angles. It was a labor of love, and I hope you can feel it in every down you play.

WHAT'S NEXT
Stay tuned to Gridiron Notes for future details on Title Updates, Gameplay Tuning and things coming to Madden Ultimate Team.

---
Stay in the conversation by following us on Facebook, Twitter, Instagram, YouTube, and EA Forums. Sign up for the Newsletter today to receive updates on Madden, and other EA news, products, and events, all season long.