A first overall draft selection in the NFL doesn't always translate to a high Madden rating. Even Baker Mayfield, last season's highest-rated rookie QB at launch, came into the league with an 80 OVR in the game and had to put in work to earn his 83 OVR by season's end.
It doesn't take rocket science to understand that last year's quarterback class set a remarkably high bar in terms of Madden ratings. Here's a snapshot of the top five highly-rated rookie QBs when Madden NFL 19 launched last summer:

Even the highest-rated rookie QB in Madden NFL 20 falls short of last year's top five. But as always, there's room to grow. Let's get into it.
TOP 5 ROOKIE QBs
Kyler Murray | 73 OVR | Arizona Cardinals | QB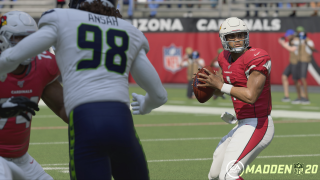 The first overall pick in the 2019 NFL Draft is slated to begin the year as the Cardinals starting quarterback. Kyler Murray's 91 Speed rating is the second-fastest among all QBs in the game behind only Lamar Jackson. Murray's scrambling QB ratings profile evokes the legend of Michael Vick, as his 89 Throw Power rating and 87 Throw on the Run rating cannot be ignored. His less-than-ideal height could pose an issue when throwing over the middle, but the "Kyler Murray is too short" narrative is tired and overblown (See: Drew Brees, Russell Wilson, Baker Mayfield).
Dwayne Haskins Jr. | 72 OVR | Washington Redskins | QB
The Redskins desperately needed to bolster their quarterback room and did just that in the first round of the draft with the selection of Dwayne Haskins Jr. out of Ohio State. His 72 OVR in Madden NFL 20 doesn't signal that he'll be usable in the game at the start of the season, but his 75 Awareness rating is the highest among the top five QBs on this list. He lacks speed and is far from being a mobile QB, but he is a field general with 89 Throw Power. Haskins is a guy to keep an eye on as he develops at the NFL level.
Daniel Jones | 63 OVR | New York Giants | QB
Perhaps the most shocking pick of the NFL Draft, the New York Giants took Daniel Jones sixth overall. Presumably, Jones will take over Eli Manning's starting gig . . . at some point? There really isn't much that stands out in Jones' Madden NFL 20 ratings, and at a 63 OVR, you're not going to use him in the game. It will be entertaining though, to monitor the imminent quarterback controversy that will be swirling in New York all season.
Drew Lock | 67 OVR | Denver Broncos | QB
Set to start the season behind Joe Flacco in Denver, Drew Lock isn't likely to have much of an impact in Year 1. He has a strong arm, reflected by his 88 Throw Power rating, but it wouldn't be a shock if he remained on the bench the entire year. Sorry Broncos fans, you're stuck with Flacco under center in Madden – and in life.

Will Grier | 66 OVR | Carolina Panthers | QB
The expectation is that Will Grier will spend his rookie season warming the bench behind Cam Newton. Grier comes into Madden NFL 20 with a Scrambler archetype, and his 85 Acceleration and 81 Throw On The Run ratings could improve if he ever sees the field. But barring injury, the Panthers want Newton starting all 16 regular season games.
Check back throughout July as we reveal more Madden NFL 20 ratings information like this season's exclusive Madden 99 Club, NFL team and player ratings, and Madden Ultimate Team and Madden Mobile ratings.

---
Madden NFL 20 is available worldwide on August 2. Pre-order the Superstar Edition and play three days early. Stay in the conversation by following us on Facebook, Twitter, Instagram, YouTube, and EA Forums. Sign up for the Newsletter today to receive updates on Madden, and other EA news, products, and events, all season long.