In NHL® 19, dynamic rosters are updated to accurately reflect the landscape of the league. With the NHL All-Star weekend just around the corner, we're taking a look at player ratings and updating them based on how players have performed through the first half of the season. These new ratings will affect all modes except Hockey Ultimate Team™, so check out all the details below, and start playing to feel the changes for yourself.

The Full List

See the full list of Ratings Refresh updates here.

Highlights

Below are some of the most notable changes to player ratings in NHL 19, with some in-season stats that have influenced their rise or fall.

Increased OVR's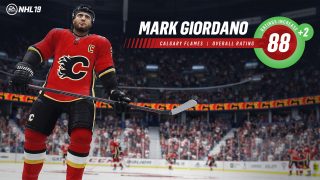 Mark Giordano (CGY) – 88 OVR (+2) – 48 GP, 11 G, 41 A

With 52 points in 48 games played, Calgary's Mark Giordano might just be the mid-season front runner for the Norris Trophy, as the defensemen is playing at a point-per-game pace. Giordano's contributions have been a key factor for the Flames, who currently lead the Western Conference in points.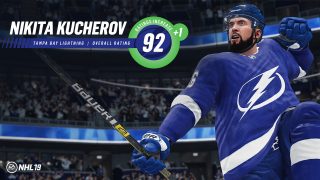 Nikita Kucherov (TBL) – 92 OVR (+1) – 49 GP, 22 G, 56 A


Kucherov has been putting up ridiculous numbers halfway through the year, which is why he's been boosted to an impressive overall rating of 92. The Lightning are Stanley Cup® favorites mid-way through the year, and Kucherov is a huge reason why as the current league-leader in points.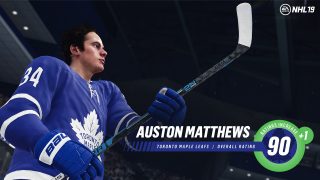 Auston Matthews (TOR) – 90 OVR (+1) – 34 GP, 20 G, 22 A


Despite missing 14 games due to injury, Auston Matthews has some incredible results to start the year, putting up 42 points to earn himself a +1 boost. The Maple Leafs will need Matthews to keep his current pace and have a career high in point totals if they want to make it deep into the playoffs.
Decreased OVR's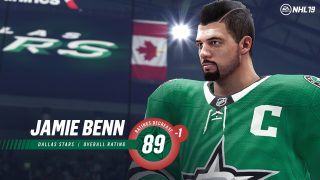 Jamie Benn (DAL) – 89 OVR (-1) – 48 GP, 18 G, 16 A

As the Stars battle for a playoff spot, Jamie Benn's game has left something to be desired, with the Dallas captain seeing a slight decrease in his overall rating. Having been called out personally by top-level management, it will largely be Benn's responsibility to pull his team into the post-season.

Cory Schneider (NJD) – 83 OVR (-4) – 9 GP, 4.66 GAA, .852 Save Percentage

One of the biggest drops on this list, Schneider has a long way to go to reclaim the starting role in New Jersey, falling from 87 to 83 overall. With only one win in the past calendar year, Schneider has seen his playing time cut significantly, which greatly impacts his overall rating.

William Nylander (TOR) – 84 OVR (-1) – 20 GP, 1 G, 3 A

After a prolonged contract negotiation delayed his season debut, Toronto's William Nylander has been slow out of the gate, putting up just four points in his first 20 games. Nylander's big contract was recently updated in NHL 19, and he'll have to pick up the pace in order to live up to his $41.77 million-dollar extension.

All Transactions

You can find the full list of NHL 19 transactions implemented as part of this update right here.

Roster Update Download Instructions*:
In the NHL 19 main menu, select "Roster"
In the Roster section, select "Active Rosters"
In the Active Rosters section, select the most recent update organized by "Date & Time" under EA SPORTS™ NHL Official Rosters
*NOTE: Your console must have an internet connection to download this roster update.

Thanks for checking out all the new ratings! Let us know what you think of the changes on Facebook, Twitter, and Instagram.
---
Get your copy of NHL 19 now, and start your journey from the ponds to the pros.

Sign up today to receive the latest NHL 19 news, updates, behind-the-scenes content, exclusive offers, and more (including other EA news, products, events, and promotions) by email.