Unravel Two is out now on Nintendo Switch, so you and a friend can swing into adventure as two adorable Yarnys with joy-cons to match.
But the journey wasn't easy – bringing the Yarnys to the Switch screen was a huge undertaking from the team at Coldwood Studios, who didn't get their first look at Nintendo's newest system until Unravel Two was well underway.
"We started out working on Unravel Two six or seven months before the Nintendo Switch had been shown," says Unravel Two Producer Michael Gill. "When Nintendo unveiled it, we were all blown away by the fact that it felt like this was a machine that was made for our game – and the other way around. So, we didn't know about the Switch, but I think we all feel like making a game for a Nintendo console is a childhood dream come true."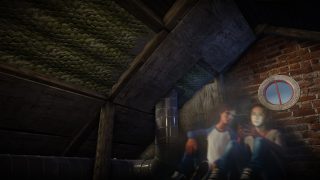 But while the team knew they wanted to start down the path to Switch, there were some big challenges standing in their way: Unravel Two was launching in just a few months, and they would need to make some major changes to adapt the game to a brand-new console. "Having Unravel Two play and look good on both big screens and the smaller, handheld one proved to be somewhat of a challenge. With a zoomed-out camera the characters are quite small in handheld mode," says Programmer Karl Broström.
Fellow programmer Daniel Wallin also called out the visual complexity of Unravel Two, which needed to be accounted for on any new system. "Unravel Two is visually very dense and detailed, and it was no small feat to make sure that we kept that level of detail without compromising the frame rate and overall smoothness of the game."
And then there was the question of controls: "Making sure that the game was enjoyable to play on all the different Switch specific controllers proved to be somewhat more complex than we first thought," says Programmer Victor Bohlin.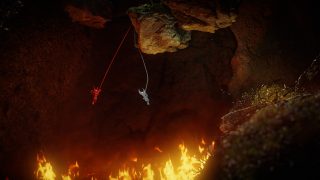 Lastly, the engine that Unravel Two was built on – "a heavily modified version of Phyre engine," says Bohlin – had never been used on a Switch game before. It was difficult to say what about the game would work flawlessly when ported to Switch and what would crash the console without being properly adapted. "We didn't really know the implications of this," says Bohlin.
All of this meant that, as much as they wanted to see Unravel Two swing onto the Switch, it wouldn't be possible in time for launch. However, that didn't stop the Coldwood team from making that childhood dream come true: once Unravel Two was released last June, it was off to the races again.
"The Switch hardware was easier to work with, and actually a lot more powerful than what we thought when we saw the specs for it," says Gill. They updated the engine, adjusted objects in the environment, and tweaked the visuals to make the Yarnys "pop" on a much smaller screen. "We did this by re-lighting some scenes, adding some light to the yarn itself, and by making the little yarn stump connecting the two Yarnys thicker when the camera was fully zoomed out," says Broström. Sometimes the results weren't what they expected – according to Gill, "We had some of the bats transform into fully grown Nosferatu vampires. In hindsight it was very funny, but seeing it on screen was actually quite terrifying!"

But step by step (and thread by thread), the Switch version of Unravel Two came together into something the entire team was proud to call their own. "We actually had time to smooth out some gameplay hurdles that we've seen players on other platforms stumble on a bit," says Broström, and Wallin can't speak highly enough of what the team pulled off in such a short time. "We're really happy and proud of what we managed to do," says Wallin, and "It was hard work, but we did it. We did it in time, and we made it to the level of quality that we're really proud of. We made a game for the Nintendo Switch. That's awesome!"
Now you can experience the result of all that work for yourself – grab Unravel Two now for Nintendo Switch and see what adventure awaits. Plus, Broström dropped a hint or two about something you should look for: "I don't want to say too much, but there is an easter egg that we think is pretty cool that couldn't have been added on any other platform." Happy searching!

Swing into an adorable adventure – Unravel Two is available now.
Want to know more about Unravel Two? Check us out on Facebook, Twitter, and Instagram!