A flooded French marshland that is overlooked by the largest structure ever created for a Battlefield™ game – a monumental, partly destroyed steel bridge. This is Twisted Steel.

As we go through the ins-and-outs of this vast multiplayer map, you'll learn about its always-evolving squad challenges, the many playstyles supported, and the characteristics of each control point.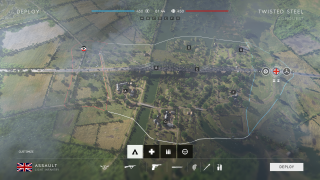 Map Overview
Twisted Steel is one of the two Battlefield V multiplayer maps set in France, the other being Arras. While not portraying a specific historical event, Twisted Steel is heavily inspired by the events at the fortified sector of the river Escaut in 1940, on the border between Belgium and France.

Apart from the aforementioned impressive fallen bridge, you'll fight in villages, across fields, and along a river on a map designed to bring those rural, Europe-based World War 2 fantasies to life.

Twisted Steel at a Glance

Units:
Size:
Tempo:

Playstyle
Vastness and location variety make all playstyles valid on Twisted Steel. Everybody has their place and there's plenty of room for both infantry, large vehicles, and planes to make a mark. If you deploy in a land vehicle, you may prefer be roaming in the swamp area north of the bridge. If you're playing as infantry here, use the vegetation as cover – but remember that the trees are destructible, and the landscapes may change drastically. If you're into close-quarters fighting, you're likely to spend a lot of time in the small village south of the bridge, where buildings and trenches provide cover.

No matter your playstyle, Twisted Steel's green/gray color palette, open fields, tall vegetation, trenches, and ambush opportunities may make this your favorite map when it comes to experiencing iconic WW2 scenarios.

Available Game Modes
Twisted Steel gives you the opportunity to take on a wide variety of modes, including:
Airborne – Parachute on to the battlefield and spearhead an invasion or scramble to defend and fortify your positions from the oncoming attack
Breakthrough – Fight to control sectors as an attacker and push the enemy back to claim vital ground in this intense mode
Conquest – An all-time Battlefield classic, this vast game mode includes up to 64 players who battle for control of key locations on the map.
Domination – Fast-paced, infantry-based combat in close quarters is where you'll see the enemy up close and personal and where the fighting revolves around significant strategic objectives.
Frontlines – An intense tug-of-war battle where one single key area at a time is contested
Team Deathmatch – Kill or be killed is the name of the game; inflict as many casualties on the enemy as possible to emerge victorious.

Grand Operations
The first two days of the Grand Operation Fall of France take place on Twisted Steel (the other two days are played on the Arras map). If you're unaware of Grand Operations, it's Battlefield V's most vast multiplayer experience that takes players across fictional in-operation "days," where each day is represented by a round played on a combination of a map and mode that brings the narrative to life. The actions you, your squad, and your team take on day one will have a direct impact on gameplay in day two, which in result will impact day three, and so on.

In this particular Grand Operation, day one begins with Axis forcers paradropping down to the French countryside along the river Escaut in Airborne mode, attacking the Allied positions. Day two is all about Breakthrough mode, where attackers and defenders face off, battling over sectors, one at a time. Play the objective and support your squad during these two days, and your team will gain an edge when the operation reaches Arras for the remaining day(s).

Capture Point A: Silo
Going through the capture points – a.k.a. flags – you'll fight over in Conquest mode will give you a good overview of Twisted Steel's different areas. Let's start with the silo, the closest flag to the Axis HQ. The Axis team needs to maintain control of this flag to stage attacks deeper into the map towards the stone bridge connecting it to Flooded Farm (see Capture Point C). Use anti-vehicle Fortifications and the surrounding buildings to control this flag. The capture point's location also allows for a great flanking opportunity if a team has locked down the B flag, as it lets you deploy close to the back connection of the vast bridge.
Capture Point B: Bridge
Fight on top of it or under it. Climb the ladders situated on its pillars – or fight on the actual pillars themselves, secured by your newly-built Fortifications. The giant bridge on Twisted Steel's B flag is something you could easily spend an entire round on due to its dynamic nature. Owning this flag gives your team sniper positions overlooking the rest of the map. It has strong fortification possibilities in both directions, effectively making it a roadblock in the middle of the bridge. Team play and maintaining Fortifications are critical for holding this flag against enemy attacks.
Capture Point C: Flooded Farm
Even though this flag is located on the lowest elevation of the map, farmhouses and Fortifications provide plenty of infantry cover, and supply stations give you the means to defend the flag from assaults coming across the bridges. Use explosives to destroy the bridges and slow down enemy attacks. The middle barn has strong Fortifications that make it an effective fortress against attackers advancing from both Capture Points A and F. Don't miss the field gun constructible just outside of the flag area, on the main road.
Capture Point D: Swamp
To the north of the bridge, you'll find a more open swamp area. Its scattered islands are ideal hunting ground for tank drivers seeking to ambush enemies or engage in close-quarter tank battles. Enemy attacks from the higher elevations are always a threat when attempting to hold this flag. Flag D has one of the largest territories when it comes to capturing it, so use the different stationary weapon positions scattered around it, both when attacking and defending.
Capture Point E: Sabotage
This is the destroyed section of the bridge, full of the remains of a destroyed military convoy. Rubble is everywhere; you'll fight alongside burning wrecks, overturned vehicles, and even a crashed plane. This Capture Point can be difficult to take, and the limited Fortifications make it hard to hold. Squads defending this flag should use the elevated bridge sections and place explosives. The underside of this area is a good place to approach enemies, forcing them to leave their positions on the two upper breakpoints of the bridge.
Capture Point F: Village
This small collection of residential buildings provides ideal elevated positions for ambushing enemy tanks. With plenty of Fortifications, health and ammo stations, and choke points, a talented squad can hold this flag against larger forces. Allied teams will want to always control this flag when preparing to assault the Flooded Farm C flag. It also has a deadly stationary gun that tank commanders should be wary of; its location in the village gardens make it deceptive.
Capture Point G: Overlook
Last but not least, there's Overlook, found close to the Allied HQ at the map's northeast part. Its military trenchworks provide ideal defensive positions to combat Axis tanks assaulting from the swamp. Farm houses and Fortifications ensure that infantry combat can thrive at this flag, although the more open terrain makes it difficult to hold against determined armored assaults. Overlook is a Capture Point split into two distinct areas – use it to fight or fall back to when enemies advance and take either area.

As you deploy on Twisted Steel armed with these facts, we hope your fights on the map will be many and full of Battlefield moments.

Check out how to play on the rest of the eight launch maps so you're prepared when you hit the battlefield: Narvik, Fjell 652, Rotterdam, Devastation, Arras, Hamada, and Aerodrome.

– Jonas Elfving

Deploy on the battlefield with style – pre-order Battlefield V and get the Firestorm Ranger Set*.

Enter mankind's greatest conflict on Xbox One, PlayStation®4, and PC. On November 9, play the full game with Origin Access Premier or try it as part of the EA Access and Origin Access Play First Trials**. Or, join the fight on November 15 with Battlefield™ V Deluxe Edition early enlister access, or November 20 with the Battlefield™ V Standard Edition.

Sign up today to receive the latest Battlefield news, updates, behind-the-scenes content, exclusive offers, and more (including other EA news, products, events, and promotions) by email.

Follow Battlefield on Twitter and Instagram, like us on Facebook, and subscribe to our YouTube channel. Hop in and join the Battlefield Community on the Battlefield Forums, and discuss with us on Reddit and Discord.

*Conditions and restrictions apply. See https://www.ea.com/games/battlefield/disclaimers

**CONDITIONS, LIMITATIONS AND EXCLUSIONS APPLY. SEE ea.com/ea-access/terms AND origin.com/store/origin-access/terms FOR DETAILS. One free trial per EA account. After the trial, the current Origin Access monthly or annual membership fee will be billed. Cancel during the trial period without charge.

Note that game content, gameplay mechanics, and other Battlefield V aspects covered in this article may change between now and the launch of the game.