Welcome to Narvik. We'd like to take you on a tour of the map, including details even experienced players might have missed. We'll also offer newcomers all the intel they need to play Narvik effectively.

This once charming harbor town now echoes with the sounds of gunfire and munitions. Planes scream overhead, peppering the ground with fire and a high-pitched whistle is the only warning you get before an oncoming bomb tears its way through buildings, vehicles, and anyone unlucky enough to be in its path. Some houses still stand, while others lay in smoldering ruins. Tanks prowl the town's narrow streets, winding their way up from the harbor to the snowy ridge above, leaving nothing but destruction in their wake.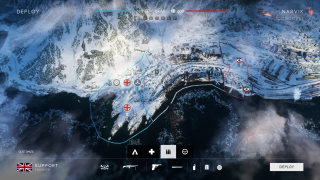 Map Overview

This map is one of two inspired by the Norwegian Campaign, which took place in the spring and summer of 1940, in the northern port city of Narvik and the surrounding mountains (the other is the Fjell 652 map). Allied and Axis troops skirmish for control of this strategically vital location and the rich iron-ore (a critical wartime supply) transported by the city's railway.

This overview is specific to the Conquest mode, the most popular and iconic in the Battlefield series. But the tips below are designed to help players succeed in any mode on the Narvik map.

Narvik at a Glance

Units:
Size:
Tempo:

Play Style

If you're looking for a solid map with a little something for everyone in terms of play styles, Narvik is a great choice. Whether you want aggressive, close-quarters combat in the now ruined streets of the city center, or more open battle with clear line-of-sight options for Recon snipers down by the harbor, you'll find it here. Climb into the cockpit of a Spitfire and rain death from above on enemy positions or tear through war-torn neighborhoods in a Panzer, grinding formerly charming houses beneath your treads. Narvik is the very definition of all-out war.

Available Game Modes

Narvik offers players the opportunity to take on a wide variety of modes, including:
Airborne - Parachute on to the battlefield and spearhead an invasion or scramble to defend and fortify your positions from the oncoming attack.
Breakthrough - Fight to control sectors as an attacker and push the enemy back to claim vital ground in this intense mode.
Conquest - An all-time Battlefield classic, this vast game mode includes up to 64 players who battle for control of key locations on the map.
Domination - Fast-paced, infantry-based combat in close quarters where you'll see the enemy up close and personal and where the fighting revolves around significant strategic objectives.
Frontlines - An intense tug-of-war battle where one single key area at a time is contested.
Team Deathmatch - Kill or be killed is the name of the game, inflict as many casualties on the enemy as possible to emerge victorious.
The first two days of the Norway Grand Operation take place here (day 3, and if necessary, day 4 take place on the second Norway map, Fjell 652). What is Grand Operations? It's the ultimate multiplayer experience that takes players across fictional in-operation "days," where each day is represented by a round played on a combination of a map and mode that brings the narrative to life. The actions you, your squad, and your team take on day one will have a direct impact on gameplay in day two, which in result will impact on day three, and so on.

Day one begins with Allied paratroopers dropping into the Axis-held city under cover of darkness in Airborne. With good timing (and a little luck) attackers can even airdrop behind enemy lines where the low light and blowing snow acts as perfect cover. Day two begins with defenders deeply entrenched throughout the town, while attacking forces attempt to gain and hold one sector after another in Breakthrough mode.

Capture Point A: Artillery Base

In all this map contains six capture points, many at different elevations and each presenting its unique challenges. Let's start with Flag A (the artillery base), located on the snowy ridges. Defenders have the definite advantage here as it's prime real estate for Fortifications and attackers must fight their way uphill (generally under heavy fire). During the first day of Grand Operations, Allied transports drop paratroops under cover of darkness as Axis troops dig in and try desperately to hold the town.

Capture Point B: Train

Flags B can be found at the train yard, located on the low-lying, southern portion of the map near the harbor. It includes a cargo train and a double-level platform. The two levels of the latter are frequently contested, leading to some genuinely high-intensity fights. Though it's inaccessible to vehicles, there are many flanking routes available for players to discover (keep an eye out for scaffolding and ladders to find them), so there's never a dull moment. Players can also find an Ammo cache on the lower platform if they need to reload in a hurry.

Capture Point C: Town

Flag C is located in the open town center, which tends to attract the most aggressive close-quarters combat. There's plenty of cover here in and around the remaining multi-story homes. It's an excellent area for strategic Fortifications, but remember, what goes up can definitely come down. Here in the city center destruction of anything and everything is the name of the game. Players will be able to find Vehicle repair, Ammo and Health stations in this highly-contested area.

Capture Point D: Loading Bay

The loading bay (Flag D) lies directly south of the town center and includes a two-level dock bridge. The upper deck provides a clear view of oncoming enemies but little in the way of natural cover, though it can be reinforced with Fortifications. The capture zone for this flag is quite large, allowing teams to hold the area from multiple locations in and around the dock. And the area includes both Ammo and Health stations, one on each level, plus a Vehicle repair station further north.

Capture Point E: Ammo Depot
Anyone looking for some high ground should head to Flag E, the ammo depot, on the ridge behind the houses. This capture point's elevation makes it ideal for defensive emplacements, Fortifications, and resupply stations. There are a battery of gun positions that allow for good low ground coverage of this capture point and that of the town center. Check behind the houses for both Ammo and Health stations.
Capture Point F: Ore Depot

Finally, the ore depot (Flag F) can be found at the port. This industrialized area is quite open but offers a great deal of cover from crates to abandoned train cars. Recon players who position themselves at the tops of iron ore mounds and on the nearby hillsides will love this spot with its clear sight lines for sniping opportunities. It's also open enough for serious vehicle-versus-vehicle action. Look to the middle ground between the two large buildings for Health and Ammo stations.
Check out how to play on the rest of the eight launch maps so you're prepared when you hit the battlefield: Fjell 652, Rotterdam, Devastation, Arras, Twisted Steel, Hamada, and Aerodrome.

Deploy on the battlefield with style – pre-order Battlefield V and get the Firestorm Ranger Set*.

Enter mankind's greatest conflict on Xbox One, PlayStation®4, and PC. On November 9, play the full game with Origin Access Premier or try it as part of the EA Access and Origin Access Play First Trials**. Or, join the fight on November 15 with Battlefield™ V Deluxe Edition early enlister access, or November 20 with the Battlefield™ V Standard Edition.

Sign up today to receive the latest Battlefield news, updates, behind-the-scenes content, exclusive offers, and more (including other EA news, products, events, and promotions) by email.

Follow Battlefield on Twitter and Instagram, like us on Facebook, and subscribe to our YouTube channel. Hop in and join the Battlefield Community on the Battlefield Forums, and discuss with us on Reddit and Discord.

*Conditions and restrictions apply. See https://www.ea.com/games/battlefield/disclaimers

**CONDITIONS, LIMITATIONS AND EXCLUSIONS APPLY. SEE ea.com/ea-access/terms AND origin.com/store/origin-access/terms FOR DETAILS. One free trial per EA account. After the trial, the current Origin Access monthly or annual membership fee will be billed. Cancel during the trial period without charge.

Note that game content, gameplay mechanics, and other Battlefield V aspects covered in this article may change between now and the launch of the game.