The latest update introduces a new Spectator mode, a Custom Match lobby, new Nod unit, an updated Command Bar, updates to Challenge Battles, an update to the number of cards from crates and map balance changes. Continue reading to learn about the exciting changes coming in Update 1.3.
Table of Contents:
NEW UNIT
Laser Drone
Laser Drones are the result of Kane's directive to utilize recruits from Yellow Zones whose physical limitations, brought on by years of Tiberium exposure, made them unsuitable for standard service. It was found that by forcibly transplanting the cerebrum of these recruits into a Laser Drone, they could provide a few days of valuable service to the Brotherhood despite their disabilities.
Read the full details, including tips and tricks, here.
FEATURES
Spectator Mode
The new Spectator mode allows you to watch Rivals matches from a neutral perspective, with both deck loadouts in full view. Spectator mode is primarily designed to empower the Rivals Community to host your own tournaments - and to have the match perspective needed to watch, learn and improve your own in-game ranking.
Read more about the Spectator Mode here.
Custom Matches
You can now create a custom match to play against your friends or set up your own tournament. Creating a custom match will create a four-digit code that you can share with others, allowing them to join as a "spectator" or "player."
Find out how to create custom matches here.
Ranked Seasons
Ranked seasons gives players a month to gain as many medals as they can with both GDI and Nod in the core ranked PvP game mode. Afterwards, everyone will have their progress recorded in their profile, their medals reset, and will have the opportunity to compete and earn the rewards for reaching ranked divisions again in the new season.
Read the full details on how ranked seasons work here.
In Update 1.2, we changed from a Medal-based to an experienced-based player level system, which allows players to unlock units based on the amount of time spent playing, not on their rank. We also adjusted the level when some units unlock, giving lower level players access to units that now unlock at a higher level.
These changes led to players facing opponents with a higher player level, with units that they don't yet have access to. We want matches to be fair and competitive and whenever possible matches that fall outside our parameters of 'fair' should be Challenge Battles. Subsequently, we have added a new criterion to the Challenge Battles to account for the differences in player levels.
If your opponent is using a unit you have not unlocked yet, this will now cause that match to become a Challenge Battle.
We've also been tracking how Challenge Battles are performing in Tiberium League. There is no cap to the maximum number of Medals that a player can earn in Tiberium League. This has led to situations where players are 200 or more Medals higher than their opponents very frequently, triggering almost continuous Challenge Battles. We've found this undermines the competitive integrity of the top of the leaderboard, where the #2 player in the world can be facing the #1 player in the world, but get a Challenge Battle every time. To help address this issue, Challenge Battles will no longer be triggered by the medal count in Tiberium league (unit levels and units unlocked will still trigger them)
Challenge Battles based on your opponent having 200+ more medals are now disabled when you reach the Tiberium League.
It's not always easy in the heat of battle to know which units are good against vehicles or what is needed to counter the enemy. We've updated the Command Bar to make it easier to see which types of enemies (Infantry, Aircraft, or Vehicles) the unit is strong against. The updated Command Bar also displays which enemy units cannot be attacked.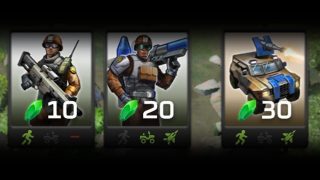 It is also easier to see which types of enemies the unit is strong against on the unit card, to make it easier to determine which units to include in your army.
ECONOMY CHANGES
General Economy
The amount of Cards in Common, Uncommon, Rare, Epic, Colossal, and Faction Crates have been increased for Player Levels 29 and up to compensate for upcoming new units.
MAP CHANGES
We have added three new maps to be used for Rivals Champions events: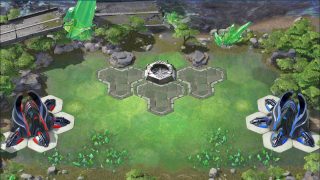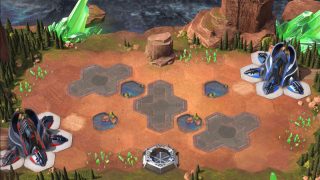 The following maps have been updated:
Fighting Pit - Moved the bottom Tiberium out to a safer location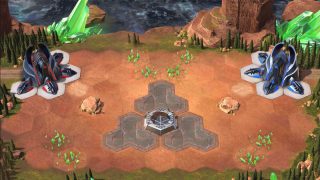 Down the Middle - Moved the spawn point so the first harvester automatically goes to a safer location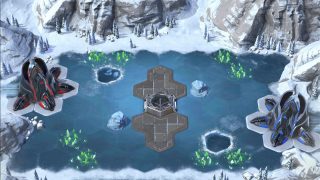 Canal Row - Moved the top middle Tiberium out to a safer location to mitigate snowballing
Three Sentinels - Now with 50% less Sentinels. The Missile Silo moved up to replace the middle rock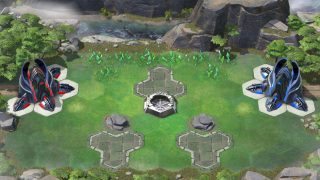 BUG FIXES
Desert Island Maps - Fixed an issue where some of the rocks were not set to block ground unit vision (allowing Snipers etc to see/shoot through them)