Made to honor the history of America's first NHL® team, the Boston Bruins Digital 6 jersey has been designed in collaboration with adidas to create a bold new look. The Digital 6 jerseys give you all-new looks while celebrating the Original Six NHL teams, built for the future while paying homage to the past. Jump into HUT on November 5 where you can collect the jerseys first, and then continue to enjoy them in other modes starting November 19. Fit for a Bruin, see what went into designing Boston's Digital 6 jersey.

The Boston Bruins Digital 6 Design

This completely new take on the Bruins jersey design is modern and innovative, with choices steeped in history combined with striking patterns to create a stunning new look. The 13 stars surrounding their logo represent the earliest American colonies, while seven stripes along the torso are a unique addition to help complete the look of a flag. Each player wearing this original creation will carry the spirit of a nation, no matter what team they're on.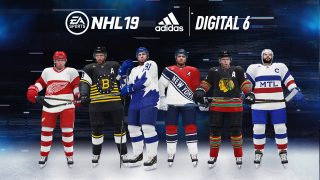 The iconic "B" crest takes center stage in this flag-inspired design, representing not only the fighting spirit of a Bruin, but also the city of Boston itself. White color blocking on each arm is used to make the player's number pop out, creating a strong presence that highlights the importance of each player's identity. Known for having some the most passionate fanbases in the entire world, Boston's jersey combines sport and history to create a fresh look as part of the Digital 6 series.

Collect All Six in Hockey Ultimate Team
The Digital 6 jerseys will be available first in Hockey Ultimate Team™ on November 5 before coming to more modes on November 19. You can acquire the Digital 6 in HUT by the following ways:
Get one of six jerseys featuring your favorite Original Six team today by entering Hockey Ultimate Team. Redeem the Digital 6 choice pack located in the HUT store before November 19. Don't miss out!
Six HUT Challenges, each featuring an Original Six team, can be completed to earn the remaining jerseys.
See full details on the Digital 6 Event in HUT.
---
Stay up to speed with NHL 19 on Facebook, Twitter, and Instagram.
Get your copy of NHL 19 now, and start your journey from the ponds to the pros.
Sign up today to receive the latest NHL 19 news, updates, behind-the-scenes content, exclusive offers, and more (including other EA news, products, events, and promotions) by email.