Toronto arrives in a jersey threaded with tradition, as the Maple Leafs are celebrated with their own NHL® 19 Digital 6 jersey, designed in collaboration with adidas. Available in game, the Digital 6 jerseys give you a bold new way to celebrate your fandom while paying homage to the Original Six. Jump into HUT on November 5th where you can collect the jerseys first, and then continue to enjoy them in other modes starting November 19. Let's dig into more specifics about the Leafs' new jersey.


The Toronto Maple Leafs Digital 6 Design

Blending the Maple Leafs logo with the Team Canada Summit Series jersey from 1972, each player wearing this jersey looks like a singular flying leaf with the unified design. The untouched white area in the upper half of the jersey, combined with the frosted blue visor, pay homage to the winter cityscape when the ice has frozen over.

With delicate detailing on each arm, the Leafs logo spreads out onto the sleeves of this jersey, something that's rarely seen outside of the Summit Series from which this draws inspiration. The edge detailing on the Leaf designs are meant to represent the city skyline, as the leaves on the arms dip down into the gloves to create a complete look.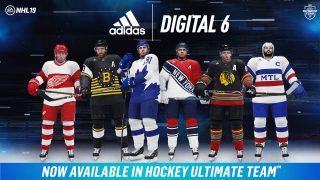 The blue pants bring everything together, connecting the upper and lower halves of the design, as if the players' legs are stems. Combined with a simplified number system and enormous color blocking, this jersey is unmistakably Maple Leafs. Now it's time to celebrate this historic team with a new chapter.

Collect All Six in Hockey Ultimate Team
The Digital 6 jerseys will be available first in Hockey Ultimate Team™ on November 5 before coming to more modes on November 19. You can acquire the Digital 6 in HUT by the following ways:
Get one of six jerseys featuring your favorite Original Six team today by entering Hockey Ultimate Team. Redeem the Digital 6 choice pack located in the HUT store before November 19. Don't miss out!
Six HUT Challenges featuring an Original Six team can be completed to earn the remaining jerseys.
See full details on the Digital 6 Event in HUT.
---
Stay up to speed with NHL 19 on Facebook, Twitter, and Instagram.
Get your copy of NHL 19 now, and start your journey from the ponds to the pros.
Sign up today to receive the latest NHL 19 news, updates, behind-the-scenes content, exclusive offers, and more (including other EA news, products, events, and promotions) by email.