There's something different about Unravel Two™. Like in Unravel, you get to join a tiny magical being called Yarny (whose body is made from a single thread of yarn) on a journey through beautiful Scandinavian environments. You run, jump, swing, and solve your way through the world in search of something important that's gone missing. But this time you (or you and a friend) control two new Yarnys joined at the thread.
That's because there isn't just one Yarny in the world, or even a few – everybody, including you, has one of their own. They're protector spirits made from positive emotions, and it's their job to aid the person they're connected to with whatever is weighing on their heart.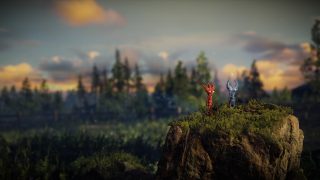 Where the iconic red Yarny from Unravel helped a grandmother recover memories of the past, the Yarnys in Unravel Two are focused on the future. Tied to two young people wrapped up in each other, they explore the world together as they search for a mysterious and special "spark."

Whether they're swinging from each other's thread, launching each other through the air, or giving each other piggyback rides, their friendship is what makes the journey possible. You can control both of them on your own (either separately or morphing them together into one super-Yarny), or invite a friend to play one while you play the other.
Because they belong to young humans, these Yarnys are agile and playful: they can jump up walls, swing in full loops, and run faster than their older and wiser comrade from Unravel. But that can also get them into trouble. There are many dangers to dodge in Unravel Two, including the Yarnys' dark opposites: monsters made of negative emotions that can appear anywhere. To reach the spark safely, these two will have to work together and depend on each other every step of the way.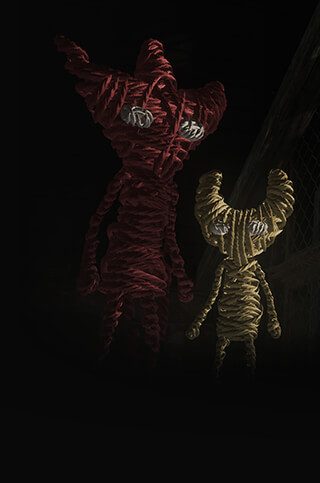 But Unravel Two isn't just about these Yarnys – rescuing others trapped in challenge maps reveals different looks you can use to customize your own. Pick unique heads, bodies, and colored thread to create a Yarny that's all yours.

Unravel Two is available June 9, 2018. Grab a friend, meet your Yarny, and see where your adventure takes you.
- Ashley Reed (Follow Ashley on Twitter @ashsmashreed)
Want to know more about Unravel Two? Check us out on Facebook, Twitter, and Instagram!