The first week of Chapter 3: Trial by Fire is here. As covered in our FAQ article, this content-packed Chapter brings a lot to Battlefield™ V, including a stunning map portraying the Battle of Greece, a meaty Combined Arms update, the strategic Outpost mode, and of course Firestorm – battle royale, reimagined for Battlefield™*.
In this post, however, we're zooming in on its first week. Between March 28 and April 4, you can take on in-game tasks introducing you to Firestorm. At the top of this challenge tree, in which you choose what branches to climb, is a true scorcher of a vanity item: The Firestorm Facepaint.
You'll find an overview of this challenge in the in-game Tides of War menu. There are several tasks to take on, and though a 100% completion isn't needed to unlock the final reward (you just need to complete the tasks in your chosen path along the challenge tree), you'll get Chapter XP for clearing each one. Let's go through the tasks.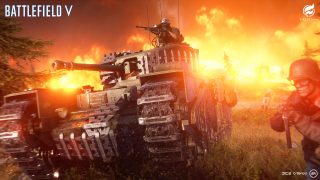 Firestorm: Score 1,500 points in Firestorm.
The overall goal in Firestorm is surviving both enemy and wildfire long enough to be the final squad (or player) left standing. Fighting towards this, points can be earned in several ways. Kill enemies, support squad mates, open strongboxes, capture Re-supply Points, and you'll soon reach 1,500 points. More info on how succeeding in Firestorm can be found in our Firestorm Overview and Breakdown article.

Workhorse: Score 30,000 points in any game mode.
There are many ways to enjoy Battlefield V multiplayer, and you can jump into any mode to complete this task. Continue your battle royale bravery in Firestorm to reach the 30K, or go for a multi-mode approach in Grand Operations. Fans of infantry warfare will always enjoy Team Deathmatch or Domination.

Scrounger: Open a strongbox in Firestorm.
Strongboxes are secure wooden crates that contain weapons, gadgets, or healing items of various rarity levels. They appear at random on fixed locations, typically in and around Halvøy's landmarks. Find and open one of these to complete this task.

Tooth and Nail: Deal damage with melee weapons or sidearms in Firestorm when downed.
In Firestorm, you may still pose a threat when knocked down by enemies. When downed, score a hit with your sidearm or melee weapon to earn some Chapter XP in this optional task.

What is Mine is Mine: Capture a Re-supply Point in Firestorm.
Re-supply Points are similar to Flags in modes like Conquest and can be captured for an opportunity at the Epic tier loot within. All players will be notified on the map once the Re-supply Points are active. Be careful, though. Weigh risk against reward, since other teams are likely to have the same plan.

We Lucky Few: Finish as one of the last 16 players in a Firestorm match.
Survival in Firestorm is dependent on a variety of different player actions. Gear up, keep moving, know the status of the fire closing in, and get familiar with the map. If you're playing with a squad, rely on it for revives, resupplies, equipment trades, and locking down Objectives. Keep at it and you'll get there, and check out the aforementioned Firestorm Overview and Breakdown article for more pointers.

Reaper: Kill 30 enemies in any game mode.
If you feel like cooling off from the fire, head to another game mode for this task. Or, since you're already warmed up, stay in Firestorm and complete it! As long as you defeat 30 foes, you'll be good – and ready for this weekly challenge's final trial.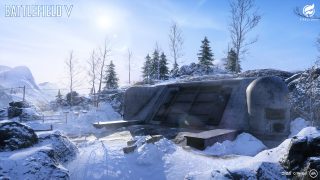 Let the Sunshine In: Open a Vehicle Lockup in Firestorm.
Vehicle Lockups are bunker-like structures full of Firestorm's most powerful machinery – such as the Churchill or Panzer IV tanks or weapons of the Epic rarity tier. Open a Vehicle Lockup by interacting with the mechanisms by its doors – but beware the lethal attention of the alarm triggered by this. Want more tips? See our Firestorm Objectives and Reinforcements article.

Gear Up: Equip Armor Plates in Firestorm five times.
In Firestorm, you always deploy with an empty armor vest that can be loaded with Armor Plates found on the battlefield. Equip these plates five times, and you'll not only complete this task, you'll be better protected from gunfire and explosives. Get more Armor Plate info such as an explanation of rarity levels by reading our Firestorm Weapons and Gadgets article.

No Time to Bleed: Heal yourself or squad mates for 1,000 health.
Only one task left before you can add the Firestorm Facepaint to your Company collection. Deploy as a Medic and lay down Bandages or Medical Boxes and heal your squad mates' war wounds. Playing Firestorm (where classes only differ when it comes to visual customization), all players can use the Healing Syrettes to track towards this task.

Again, welcome to Chapter 3: Trial by Fire. As you throw yourself into the heat of the first week, we hope the new experiences, challenges, and gear will be rewarding. Good luck.

– Jonas Elfving

Enter mankind's greatest conflict now with the Battlefield™ V Deluxe Edition or Standard Edition on Xbox One, PlayStation®4, and PC. Play the full game with Origin Access Premier or try it first for 10 hours with EA Access or Origin Access Basic**.

Sign up today to receive the latest Battlefield news, updates, behind-the-scenes content, exclusive offers, and more (including other EA news, products, events, and promotions) by email.

Follow Battlefield on Twitter and Instagram, like us on Facebook, and subscribe to our YouTube channel. Hop in and join the Battlefield Community on the Battlefield Forums, and discuss with us on Reddit and Discord.

*PERSISTENT INTERNET CONNECTION MAY BE REQUIRED TO PLAY
**CONDITIONS, LIMITATIONS AND EXCLUSIONS APPLY. SEE ea.com/ea-access/terms AND origin.com/store/origin-access/terms FOR DETAILS.