All trains through Rotterdam are currently delayed due to an unforeseen military invasion.

This Battlefield™ V map is the stage for an impromptu metropolitan frontline in the war against invading enemy forces. The train cars have been commandeered as makeshift defenses, and the windows of a multi-story building are now opportunities to ambush foes patrolling the maze of streets below.

This look at the Rotterdam map is the best place to develop the street-smarts that just might save you from disaster.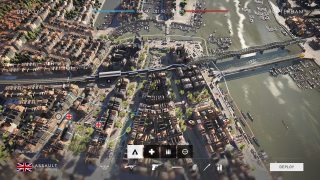 Map Overview

The Rotterdam map is inspired by an unfamiliar conflict of World War 2, set in May 1940. Expecting little resistance, the German military pushed through the city of Rotterdam, but were met by fierce opposition from the Dutch military.

This overview is specific to the Conquest mode, the most popular and iconic in the Battlefield series. But these tips are designed to help players succeed in any mode on the Devastation map.

Rotterdam at a Glance

Units:
Size:
Tempo:
Playstyle

Consider Rotterdam a spiritual successor to the Battlefield 3 Seine Crossing map with a hint of Amiens from Battlefield 1. It's an urban environment decorated by canals, tall buildings, and a marketplace that no longer soothes pedestrians but preludes close-quarter firefights. The railway provides an elevated position to move across the map or oversee chokepoints with a ranged weapon from east to west – but is still dangerous if you don't keep an eye on the railcar next to you.

Wide main roads support vehicular combat, and narrow alleys are where players discover who's the better squad. The not-yet destroyed Rotterdam allows more room for vehicles than its counterpart, Devastation.
Available Game Modes
Rotterdam offers players the opportunity to take on a wide variety of modes, including:
Airborne – Parachute on to the battlefield and spearhead an invasion or scramble to defend and fortify your positions from the oncoming attack.
Breakthrough – Fight to control sectors as an attacker and push the enemy back to claim vital ground in this intense mode.
Conquest – An all-time Battlefield classic, this vast game mode includes up to 64 players who battle for control of key locations on the map.
Domination – Fast-paced, infantry-based combat in close quarters where you'll see the enemy up close and personal and where the fighting revolves around significant strategic objectives.
Frontlines – An intense tug-of-war battle where one single key area at a time is contested.
Team Deathmatch – Kill or be killed is the name of the game; inflict as many casualties on the enemy as possible to emerge victorious.
Day one and two of the Battle of Holland Grand Operation are settled here, with day three and four resolved on the bombed-out Devastation map. Grand Operations are the ultimate multiplayer experience that takes players across fictional in-operation "days," where each day is represented by a round played on a combination of a map and mode that brings the war narrative to life. The actions you, your squad, and your team take on day one will impact gameplay in day two, as well as day three, and so on.
On day one of the Grand Operation, players will get the best view of Rotterdam before it crumbles in Airborne, followed by Breakthrough on day two. The fate of the city is determined on Frontlines, with up to 64 players on the Devastation map, where the urban fight continues. If no sides give way, the optional Final Stand on day four will take place.
Capture Point A: Train Station Beurs
In the west is Flag A, situated directly under the railway and flanked by sets of stairs. At first glance, it will feel exposed to enemy fire from the surrounding streets and buildings. But a Support Class soldier and squad mates can quickly transform the open area into a Fortification of sandbags and mounted machine guns. When fully Fortified, this becomes the largest piece of Fortifications on Rotterdam. However, the wide streets leave this area susceptible to tanks attacks.
Capture Point B: White House
You can probably find the route to Flag B by looking up, since it's characterized by the large, landmark White House. Two levels keep much of the battle indoors and a squad's Fortifications can fend off enemies rotating from Flag D at bay. Once a team has fortified the White House, the Point becomes the classic the stuff of WW2 films, where you will be commanding a center point and just holding it against attackers with everything you've got. But beware the maze of back allies behind the White House. 
Capture Point C: Courtyard
The Courtyard, nestled by surrounding buildings, is tricky and requires a good combination of offense and defense to hold. It can be shut down from nearly all avenues of approach and main entryways can be walled off by Fortifications, forcing enemies to fight through or blow up interiors. Still, defenders can be cornered, surrounded, and flushed out by a well-timed push
Capture Point D: Ruins
Ruins is an open space of rubble, and a preview of what's to come. The buildings have been mangled into a maze of splintered wood and charred foundation. Soldiers will play the most dangerous hide-and-seek game here, challenging the entries from the east and north sides with Fortifications. The capture area is relatively small for a Conquest match, making Ruins one of the most challenging to capture.
Capture Point E: Willemsbridge
This Flag is a war on two fronts, of sorts. Fight to control one of two levels, the car garage below or the open road above. This is the Axis forces first spawn point, so expect a rotating exchange of infantry skirmishes to be settled in the garage. Get to the upper deck on one of two staircases, where you'll likely find tanks testing their armor.
Not much cover outside of a few abandoned vehicles here, but like other Rotterdam Points it can be Fortified with barricades and gun emplacements. This area is relatively safe when compared to the other ambush-heavy alleys found throughout the map, just don't get too comfortable.
Check out how to play on the rest of the eight launch maps so you're prepared when you hit the battlefield: Narvik, Fjell 652, Devastation, Arras, Twisted Steel, Hamada, and Aerodrome.
– Jeff Landa (Follow Jeff on Twitter @JeffLanda)
Deploy on the battlefield with style – pre-order Battlefield V and get the Firestorm Ranger Set*.

Enter mankind's greatest conflict on Xbox One, PlayStation®4, and PC. On November 9, play the full game with Origin Access Premier or try it as part of the EA Access and Origin Access Play First Trials**. Or, join the fight on November 15 with Battlefield™ V Deluxe Edition early enlister access, or November 20 with the Battlefield™ V Standard Edition.

Sign up today to receive the latest Battlefield news, updates, behind-the-scenes content, exclusive offers, and more (including other EA news, products, events, and promotions) by email.

Follow Battlefield on Twitter and Instagram, like us on Facebook, and subscribe to our YouTube channel. Hop in and join the Battlefield Community on the Battlefield Forums, and discuss with us on Reddit and Discord.

*Conditions and restrictions apply. See https://www.ea.com/games/battlefield/disclaimers

**CONDITIONS, LIMITATIONS AND EXCLUSIONS APPLY. SEE ea.com/ea-access/terms AND origin.com/store/origin-access/terms FOR DETAILS. One free trial per EA account. After the trial, the current Origin Access monthly or annual membership fee will be billed. Cancel during the trial period without charge.

Note that game content, gameplay mechanics, and other Battlefield V aspects covered in this article may change between now and the launch of the game.