The launch of Battlefield™ V was only the beginning. Tides of War, the Battlefield V live service journey, is now underway with Chapter 1: Overture.

Just like the other Tides of War Chapters, Chapter 1 spans over multiple weeks (upcoming Chapters will however be longer than the Overture) and is full of new gameplay possibilities and challenges, all centered around a unique theme. A Chapter can bring new battlefields, challenges, modes, weapons, progression options, and more to your Battlefield V experience.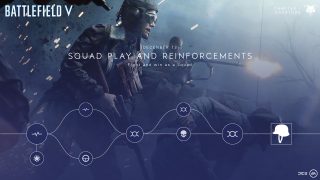 Squad Play and Reinforcements
We are entering the second week of Chapter 1 – and this week is all about teamwork. In Battlefield V, you're better with your squad, and well-oiled squad play will benefit you even more during Week 2. The weekly Tides of War challenges known as Chapter Events continue with the Squad Play and Reinforcements event. Just like last week, you'll be climbing the branches of a themed challenge tree in pursuit of a reward waiting at its top.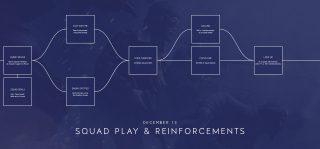 Choose Your Path to the Ratburner Helmet Reward
The final goal of the Chapter Event is the striking Ratburner helmet for the Axis side. To unlock this headgear, deploy with a collegial squad of friends or friends-to-be and choose which tasks to take on. Let's dig into some descriptions and tips for the Chapter Event's tasks.

Note: the exact numbers related to these challenges (such as "10 teammates") may change in the final release.

Buddy Revive: Revive six squad members as an Assault, Support, or Recon.
Keeping your squad members on their feet is essential to a successful attack or defense. New to Battlefield V, it's now possible for non-Medic squad mates to revive each other. Revive icons above comrades will highlight Buddy Revive opportunities – but you should also consider them as warning signs. Make sure enemy presence is as low as possible before rushing towards fallen friends.

Squad Goals: Earn "Best Squad" at end-of-round.
After a match of Battlefield V, the squad with the highest squad score will be highlighted. This score is earned by playing the game mode's objective, killing enemies, assisting squad members with ammo, health, kill assists, and more. Achieving this feat can be challenging, as it requires everyone in the squad to be on top of their game. Cooperate, communicate, and stay close to each other for an optimal chance at nailing this one.

Stay with Me: Revive 10 teammates using the Syringe.
The Syringe gadget is equipped by default if you spawn in as a Medic, and allows for the class revives of any downed teammate faster than Buddy Revives. Stay close to the action and you'll see revive icons popping up all over. As mentioned, these can also spell trouble, so keep on your toes and try laying down some smoke with the Smoke Grenade Launcher gadget to operate more safely.

Enemy Spotted: Spot 15 enemies with the Spotting Scope.
Another way of helping both yourself and your squad is the Spotting Scope, one of the starting gadgets for the Recon class. Look around the battlefield with this to spot enemies and inform teammates of their location via icons over enemy heads. Spotting an enemy gives you points, and if that enemy is killed by your friend, you'll rack up even more.

Stick Together: Complete five Squad Orders.
Each squad has a squad leader. One of his or her functions is to designate target objectives for squad members to rally towards. Perhaps you've noticed blinking icons around some control points on the map? This means your squad leader wants you to, for instance, capture flag B instead of running around like disorganized poultry all over the battlefield. If your squad leader is not issuing any orders, bring up the Commo Rose – the in-game communication tool – and choose "request order." If the request keeps getting ignored, the person who made it will automatically replace the slacker.

Calling: Call in one Reinforcement as a squad leader.
Speaking of the squad leader role: if you find yourself shouldering this responsibility, be glad! There are cool moves to pull off. If your squad does well in capturing objectives, issuing and following orders, distributing ammo or bandages, and more, you'll earn Requisition Points. These can be spent on powerful Reinforcements, from armored vehicles to devastating rocket call-ins. When you have enough points, hit the Reinforcement call-in button, choose what you want, and select where on the battlefield you want it to hit.

Focus Fire: Get 15 kills or squad assists.
It's all about decimating the resistance in this one. Get enough kills or squad kill assists, which both generate squad points, to complete this part of the Chapter Event. A squad assist is when you put a big dent in an enemy's health bar, but a squad member delivers the fatal blow. Reach the target number any way you want; all kills, all squad assists, or some of both.

Look Up: As a squad, kill two enemies with JB-2 or V-1 Reinforcements.
Eyes on the skies. The rocket (or flying bomb, to be technical) Reinforcements tend to have great impact – both on groups of enemies and your squad score. Whether you're leading the squad or not, you'll earn points when these tools of destruction generate enemy kills.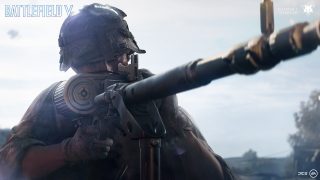 Three Kills Assignment
The second unique assignment of Chapter 1: Overture is called Three Kills. Complete any two of the three tasks below for a meaty Chapter XP reward. This XP type lets you climb your Chapter Rank – which comes with its own rewards.

In one life, get three headshots: The Recon class is a natural choice to complete this. Find the high ground, bring a squad mate or two for ammo and health, and take aim. Remember to hit the key for taking a deep breath, this will steady your reticle. Get more great tips on sniping from this Battlefield V Boot Camp article.

In one life, get three kills while the bipod is deployed: Some weapon types, like the Support class's light and medium machine guns, are hard-hitting but also heavy and somewhat inaccurate. Bipods are the solution. Deploy a bipod simply by going prone or by walking towards suitable surfaces (windows, concrete slabs, etc.) to increase stability when firing.

Get one triple kill: This requires you to defeat three enemies within a short period of time. This is no walk in the park. The Assault class is a good pick here; find a busy spot and potentially flank your foes and you'll hit that triumphant triple. You could also get lucky with explosives or the aforementioned rocket Reinforcements.

So, squad up, take down enemies, and rewards will be left and right this week. We'll be back next week for details and tips on the third Chapter Event, where you'll learn to be best in class behind the wheel.

– Jonas Elfving

Enter mankind's greatest conflict now with the Battlefield™ V Deluxe Edition or Standard Edition on Xbox One, PlayStation®4, and PC. Or try it first for 10 hours with EA Access or Origin Access Basic*.

Sign up today to receive the latest Battlefield news, updates, behind-the-scenes content, exclusive offers, and more (including other EA news, products, events, and promotions) by email.

Follow Battlefield on Twitter and Instagram, like us on Facebook, and subscribe to our YouTube channel. Hop in and join the Battlefield Community on the Battlefield Forums, and discuss with us on Reddit and Discord.

*CONDITIONS, LIMITATIONS AND EXCLUSIONS APPLY. SEE ea.com/ea-access/terms AND origin.com/store/origin-access/terms FOR DETAILS.