What are some of the real-life events from WW1 that inspired these Nivelle Nights?
Stefan: Reality triumphs fiction every time we dig deeper into the Great War. The series of battles around the Chemin des Dames ridge are truly awe-inspiring and horrific at the same time. It is one of those battlefields that are known in France but less known to the rest of the world. One only has to look at pictures of the devastated village of Soupir in 1917 to try to understand the scale of destruction. Something our incredible talented team managed to capture in this map.
What were some real-life events from WW1 that inspired Prise de Tahure?
Martin: In this case, we wanted to make our first two multiplayer maps set during the night, we wanted them to feature the French and German armies, and we wanted to focus more on trench warfare, with one of the maps having a twist of being more urban.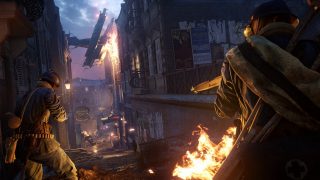 Battlefield 1 artwork
In the autumn of 1917, following the Battle of the Hills, a lot of minor attacks and trench raids back and forth were going on between French and German forces in the Champagne region. I started reading about the "lost villages" of Champagne-Ardenne, all located on or near the frontline for a large part of the war, which were totally destroyed in the brutal fighting, never to be rebuilt. One of these villages was Tahure, where only the church altar remains today.
Tell us a bit about your background with EA. How long have you worked on Battlefield games?
Stefan: We have both been with DICE and EA for 10+ years and both worked on several Battlefield titles. Together we have a broad background of both sound, design, single player and concept design. We dislike the word "veterans" because it just makes us feel old… But hey, together with an incredible team we became even older in style.
EA DICE in Stockholm
Is there anything that you would like to expand on?
Martin: It is a very interesting and rewarding ongoing experience for the whole team to develop Nivelle Nights and Prise de Tahure in Battlefield 1's new Community Test Environment, with huge engagement and input from our players. So, a big thanks to the Battlefield 1 community for being with us on this journey!
Love Battlefield 1? Tell us why on Twitter @EA.
______________________________________
Stay in the conversation of all things EA: Read our blog, follow us on Twitter and Like us on Facebook.