When planning the concept behind the Real Racing Daytona 500 2017 update, the Real Racing team spent time considering how they could promote women in racing.
Racing may still be a male-dominated sport, but The Real Racing team took the opportunity to celebrate women in racing.
Danica Patrick is the first female driver to lead the Daytona 500, and the first woman to ever win an IndyCar series race. She's a household name in the U.S., promoting bravery and risk taking as an inspiration for women to chase their dreams. She has also motivated girls to get into the sport.
Danica Patrick is the first real-life woman to be featured as a character in Real Racing. In this update, players have the opportunity to complete a Danica Patrick Quest and win up to two new liveries. Danica acts as a player's mentor throughout the quest and helps players win.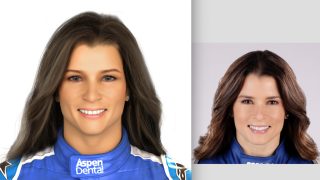 We sat down with Real Racing 3 artist Cody Alday to see what was involved in capturing Danica Patrick's in-game character:
Hi Cody, what research is involved in achieving a realistic character portrayal?
Ideally we would work from a 3D scan of Danica's head, unfortunately this time we did not have that luxury. Instead, we gathered various head references and her Aspen Dental race uniform from her official team, as well as sources off the internet.
How did you capture Danica's unique personality?
Our game portrait renders are realistic, but they have a stylized and specific art style which we wanted to stay true to, while still retaining the likeness of Danica. Her eyes, mouth and hair was the most important to capture.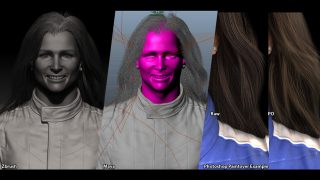 Zbrush/ Maya/ Photoshop Paint over Example
Walk us through the end to end process of creating Danica Patrick in game.
Using the reference gathered, I started with a base head mesh in Zbrush to block out Danica's main facial forms. Once I was happy with that I moved on to her secondary forms. I also started on her uniform and began to get her hair roughly in to place.
I then proceeded to UV unwrap the uniform and the head. I created textures using Polypaint inside Zbrush, as well as using traditional digital texturing inside Photoshop.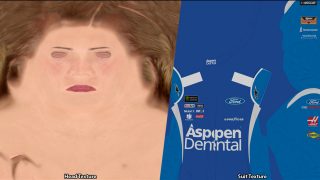 Head Texture/ Suit Texture
After that point, there were many iterations back and forth from Zbrush and Maya. The model changes drastically based off the lighting that the render produces, so I needed to refine certain parts of the model to obtain Danica's resemblance.
Once I was happy with the final render I brought it over to Photoshop where I proceeded to do some color correction. Paint overs were also done for the hair and eyes to save time, as well as to fully achieve the likeness of Danica. Doing this in 3D would have extended the timeline further.
What was the most challenging part of creating Danica?
I think recreating Danica's smile was the most challenging. The shape of her smile is unique, and has subtle forms and asymmetries that are essential to capture in order to represent her accurately.
From concept to completion, how long did it take to create the final Danica Patrick character?
All up the character took around two and a half weeks. The last portion was back and forth between our art director to get feedback and a fresh pair of eyes to spot any issues.
Watch the full interview on Real Racing TV with Dario Franchitti and Danica Patrick, live from the Daytona 500 2017.
Download Real Racing 3* and let us know what you think on Twitter.
______
Stay in the conversation of all things EA: Read our blog, follow us on Twitter and Like us on Facebook.
*Network fees may apply. Includes in-app purchases.