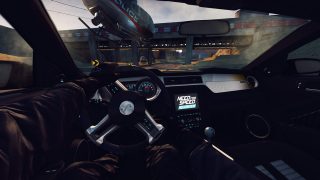 Motion sickness often associated with virtual reality can be a big worry. How did the team combat this in Need for Speed No Limits VR?
PM: We got a fair amount of information from Google that helped inform some of our research on player nausea. Travis Moorfield was especially passionate about this as our Dev QA Lead mainly because he tended to be our benchmark test case.
AR: I think he eventually found his sea legs!
DvR: The major things we implemented include Vignetting, which means the game darkens the player's peripheral vision. You don't notice this as a player at all as you become focused on trying to drive rather than what's going on to your left or right.
AR: Don't forget Windy Tech!
DvR: That was a way to gently "blow" a player away from a direct head on collision with a pillar at the entrance to a tunnel for example. There are a couple of places you can hit the pillar if you're driving fast enough but I don't recommend it!
JD: We also did things like smoothing out the undulations in the road and reduced the weight of the AI cars so they'd bounce off the player more readily.
AS: Increased vehicle traction!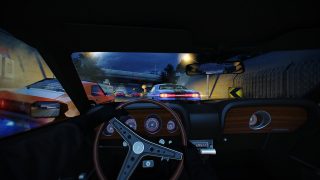 You had to change the shape of the table to work with the VR Garage experience, what other in-game elements were challenging to work with?
JD: The garage and map took some iteration to get right as the natural starting point was a round table but we found that the natural inclination in VR was to want to either spin it or walk around it. We settled on the horseshoe design as a natural way to be able to interact with the map.
AS: UI is interesting in VR as unlike normal games, players can be looking 'anywhere'. There was a lot of discussion about the placement of triggered UI and 'guiding the player's eye' to important elements. Dan van Raay makes a good point about resolution: we had to make sure things were legible but not jammed in front of your face.
DvR: The UI in general was challenging as although the screen resolution is reasonably high, after you apply the distortion for the VR lenses and scaling for performance, text legibility becomes quite an issue. Try holding your phone less than 5cms from your face and see what you can read.

Garage concept art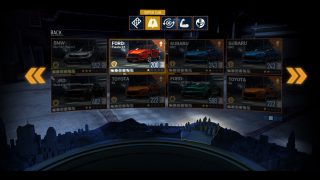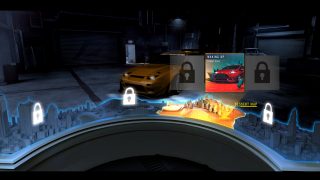 Need for Speed No Limits VR enhances real-world driving actions and responses, how exciting was it to bring this new perspective to the franchise?
JD: Bringing a more visceral experience and taking the gameplay in a new direction was exciting.
AS: There's nothing like the surprise of seeing cop lights flashing in your rear-view mirror or the shock of physically looking to the side to see it.
PM: I'm a bit of a car guy, so getting the opportunity to feel like I'm sitting in some of the most exclusive cars in the world was awesome. Holding a drift in a McLaren 650s, nitro'ing out of the bend whilst looking over my shoulder as I go past a cop…That's a pretty special experience.
VR with audio adds a much more visceral feel to the action. Jamie Andersen, our Audio Director, was passionate about making sure we could achieve that level of engagement to create a fully immersive, sonic, virtual space.
AS: Some of the smallest things we do when getting into a car in the real world made the game feel authentic. The seat adjust feature doesn't sound very exciting but it made a huge difference to how you feel when sitting in the car. We were struggling with that feeling for the longest time. Everyone is different, so we couldn't find a good standard driving position. One of the team members came up with the seat adjust feature.
AR: It was me! And Alastair Richardson implemented it as there were a lot of animation problems to solve.
AS: It was such a simple idea, but made a big impact because adjusting your seat is one of the first things you do when getting into a new car to make yourself comfortable. It added a lot to the feeling of immersion.
Need for Speed No Limits has some amazing key art and concept art. How did these visuals help determine the final look and feel of the game?
JD: The original concept art helped us focus on trying to squeeze as much quality out of the game as possible with all the performance challenges.
DvR: We didn't get final hardware until quite late in the development process. Having the concept visuals there helped us focus on the quality that we wanted to achieve.
For players getting hands on for their first time, which car would you encourage them to drive and why?
DvR: The Ferrari F40. It's a classic!
AR: The Pagani Huayra. I felt like I was driving a supped-up Italian coffee machine!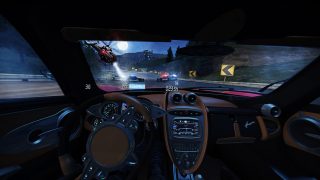 JD: The BMW M4 for me!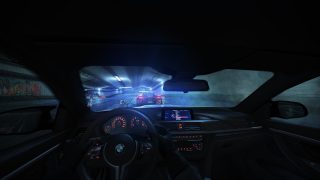 PM: I'm a big fan of the Lamborghini Diablo SV - the guys made it purple for me!
Where do you see virtual reality going and what does it mean for the future of handheld gaming?
AR: I think mobile is the start of something really interesting for VR as there are much more physical freedom, but the hardware still has a way to go to match PC systems for performance.
PM: VR is certainly exciting and how it's being implemented in education is amazing. Allowing a room of 30 to 40 students to do practical experiments with millions of dollars' worth of microscopes without having to spend that kind of money is impressive.
JD: I'd love to see a first-person shooter type of experience. There are a few franchises that would work well with the level of immersion you get with VR.
____________________
Download Need for Speed No Limits* and let us know what you think on Twitter.
______
Stay in the conversation of all things EA: Read our blog, follow us on Twitter and Like us on Facebook.
*Network fees may apply. Includes in-app purchases.