Can you talk through the production of Fondor Dock?
SU: One of the key assets that Lucasfilm and ILM shared with us was a 3D model of the Scarif Shield Gate.
This model allowed us to embrace their design principles, and incorporate them into our new aesthetic. This also gave our Art Team a better sense of what they needed to build and helped our Design Team with scale.
It also meant we could take whole swathes of geometry, repurpose them and add them onto our low-poly object, which was a huge leap forward for early development.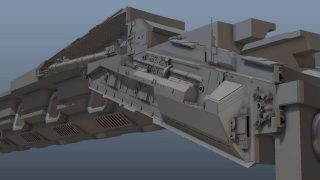 An early block-out of the Dock, where Criterion Games directly took some of the assets from the model of the Scarif Shield Gate that ILM supplied
This was a big win for both our Art and Design Teams as we could fly around and see it from all angles and provide feedback from a gameplay point of view.
What types of challenges did you face during its development?
SU: There were challenges finding the right balance between art, design, Star Wars authenticity and readability to players.
Fondor Dock is a big structure and the section players get to fly around is probably three or four times the size of a Star Destroyer.
For us, it was a case of designing something that looks great from a distance with a real imposing Imperial feel but also looks great close-up.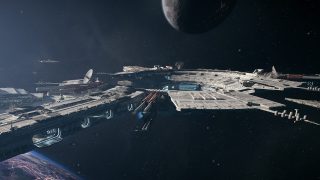 JS: Motive Studios also use this level for the campaign, so we had to make sure their single player scene worked with our Starfighter Assault multiplayer scene in the same location.
RW: The Dock's tunnel was an interesting design challenge. Imperial Structures have a very distinct look. They're very uniform; they don't use much decoration; and they are very grey.
We wanted to develop a tight space with obstacles, but players would need to understand it's visual language – for example: is this an obstacle I should go towards or avoid?
SU: This meant we couldn't draw a player's attention through overtly traditional game traits, like big flashing lights or color, as that wouldn't feel authentic to an Imperial space station.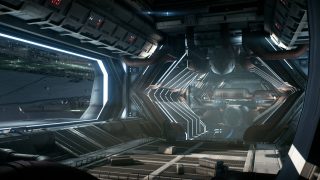 Are there any features of the Fondor Dock that Criterion is particularly proud of?
RW: There isn't one feature we're not proud of!
JS: For us, the Fondor Dock is a crowning moment. There were other challenges that came out well, such as the Resurgent class Star Destroyer, which was a momentous task that turned out to be a fantastic looking level. With Fondor, though, what's really cool is that you see the grandeur and overview of the whole Dock, but when you get into the tunnel it's a completely different feel.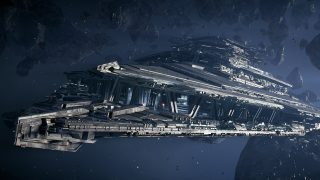 SU: Everything in the level has reason and thought behind it. Cinder Turrets, for example, fold up and are placed in the Fondor Dock and Star Destroyer hanger.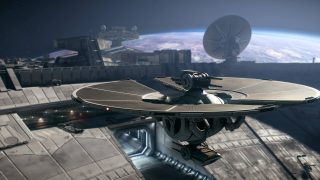 Cinder Turret
JS: When you go into the Dock, the condensed geometry coupled with the way it's lit does a great job helping with the sense of speed. Then, coming out the end of the tunnel through a tight space really makes it feel like you have shot out! And finally, the payoff of the amazing vista of the planet Fondor.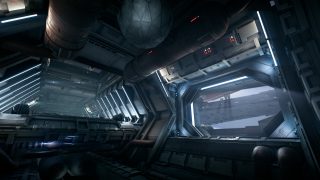 An example of the tunnel's condensed geometry
How has working with DICE and Motive Studios helped with the game's vehicle development?
JS: DICE is only a few hours away by plane and there's only a one hour time difference, so it was easy to communicate and share learnings on heroes and class design.
We also kept in close contact with Motive Studios to ensure all vehicles in the single player campaign were designed to suit the gameplay experience they were building.
Open communication and collaboration meant we could get the abilities and balancing right for both single player and multiplayer.

Criterion is always looking for talented individuals who love learning, sharing knowledge and creating extraordinary games. Learn more about their current opportunities by visiting EA Career Search.
Star Wars Battlefront II is available worldwide now! Get tips and tricks here.
Learn more about Fondor and Starfighter Assault in Star Wars Battlefront II at EA.com. Follow along on Twitter to stay up to date on all the latest news related to the game.
---
Stay in the conversation of all things EA: Read our blog, follow us on Twitter and Like us on Facebook