There's something special about making video games, and whether you love art, engineering, or both, you know how magical the experience can be.
We're lucky to have lots of amazing creative people who make video games here at EA, and we wanted to find out more about why they've chosen to make video games.
Aspen Forster is an Associate Artist and worked on the recently launched Police Professions update for The Sims FreePlay. Aspen has always loved art and being creative. Growing up, she was also very interested in technology.
She realized early on that working in games was the perfect mixture of all her passions.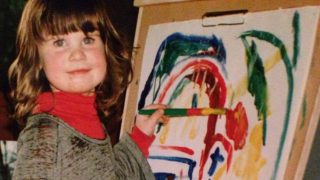 She didn't consider the possibility of a job in games until she got to high school and started playing MMO's and RPG's. She was fascinated by how they were made and wanted to learn as much as she could.
Aspen also played a lot of educational games when she was young on her very own PC. Next, she moved on to playing PopCap games with her dad. "Dynomite was my favorite, but I was never able to beat his high scores," she says.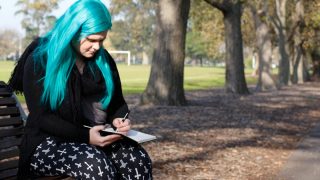 Aspen completed a Bachelor of Design (Games) at RMIT University in Australia.
During her final year she had the opportunity to attend an event put on by EA Firemonkeys at Melbourne International Games Week.
"I spoke with some cool people there, and decided to apply for an internship," she says. "I got a call shortly after!"
Aspen completed a six-month internship at Firemonkeys before being offered a full-time position on The Sims FreePlay art team.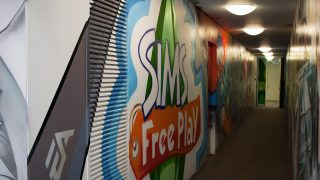 The Sims FreePlay was perfectly suited for her. "The Sims was a huge part of my childhood, I had all the expansion packs - even 'Hot Date' which my mom didn't like the sound of," she says.
In her role, Aspen works on in-game assets.
"Every update has new unexpected items that I never thought I'd have to make for a game," she says.
For the Police Professions update, Aspen was responsible for the Interview Room in the Police station. She also spent a lot of time working on items found all over the Police Station, such as doors, windows, and walls. "I also worked on some fun props, like a bullhorn, and a sack of Simoleons," she says.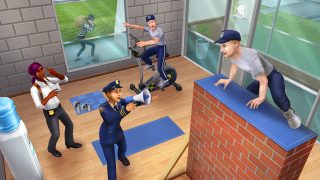 On a typical day, Aspen will get a brief for an object, or an area that needs to be made.
Next, she'll do some research as to what sort of colors, materials, patterns, and shapes she should use.
From there, she'll go straight into 3D modelling software and start to make a "greybox" version of the object. After that, she starts working on the texture, and makes adjustments to the model as she goes.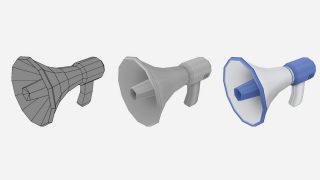 Finally, her items get added to the game. Aspen checks to make sure they blend well with the area before making final adjustments.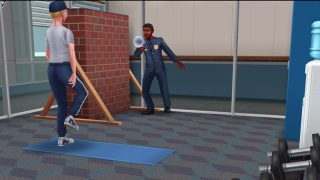 Want to work in games like Aspen? A great place to start is with a little research.
"Find out as much as you can about the various roles in games development," she says. "The world of games is a diverse place, and there's a lot of different types of roles and specialities that you may not be aware of."
Download The Sims FreePlay and let us know what you think on Twitter @EA.
Want to work with us? Visit our careers page.
Stay in the conversation of all things EA PLAY: Visit our site, follow us on Twitter and Like us on Facebook