There are so many different opportunities to work in gaming all over the world.
Meet Courtney Woods, Writer at BioWare.
Courtney Woods has always been a writer, but it wasn't until college that she decided to pursue it as a career.
"Before that, I mainly wrote for myself," says Woods. "I was also very interested in drawing - in high school, my dream was to become a mangaka."
Woods remembers writing "morbid fairy tales" in school, and since then has pursued a career writing for games.
"I worked at Newsarama as a freelance writer mainly covering RPG's," she says. "At San Diego Comic-Con, I had an impromptu interview with BioWare to be on the Star Wars™: The Old Republic™ community team and was actually offered my position at the convention. I'll always have a soft spot for SDCC because of this."
Now a character writer at BioWare, Woods tries to think through the right approach with every piece of writing she creates.
"At work, when I'm given an assignment, I like to think about what I would want to do as a player - where would I like to go and who would I like to meet?"
Eventually, those ideas turn into concrete pieces of a story.
"As I start eventually writing scenes, those concepts become more real and that's extremely satisfying," she says.
Like anyone working in a creative field, Woods relies on the help of others to get through challenges.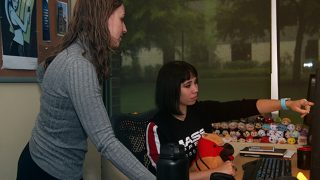 "It's a collaborative process," says Woods. "I've got an awesome team of fellow writers, designers, artists, and producers who all want to make an amazing game. When you have that kind of support, you're bound to find an answer to even the toughest challenges. The key is to be flexible and be open to new ideas."
Writing can be complicated, and keeping it simple is important.
"I feel like every story is a puzzle," says Woods. "Usually what keeps me up at night is figuring that puzzle out - moving around and fiddling with pieces to make sure it all fits."
And when you write for games, there is a lot to keep in mind, outside of your story arc or character development.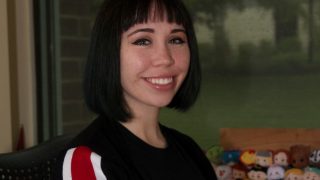 "You aren't writing in a vacuum - numerous teams are going to be working on your material from cinematics to level design. Hold onto your vision, but don't be too precious with your work," says Woods.
If you've always wanted to write for games, there are a few things you can start doing now, even before you graduate from school.
"Play lots of games, read lots of books, and write every day," says Woods. "Study how different games tell stories and present information to the player, then ask yourself how you would do it."
And if you've already got an idea of what type of writing you want to do, Woods has some more advice.
"If you're interested in branched storytelling, use inklewriter or a similar tool to practice. If you don't already, learn to love iteration."
There's a delicate balance you need to strike as a writer, learning to improve your work but also finding a place to be satisfied.
"Don't become precious with a first draft—it can always be better. That being said, it's also important to learn when it is time to say, "This is done!" Otherwise, you'll be revising forever."
Want to work in gaming? Visit our careers page.
More Why I Make Games:
Andrei Lăzărescu, FIFA
Sean Ramjagsingh, NHL
Daniel Berlin, Battlefield 1
Stay in the conversation of all things EA: Read our blog, follow us on Twitter and Like us on Facebook.