There's something special about making video games, and whether you love art, engineering, or both, you know how magical the experience can be.
We're lucky to have lots of amazing creative people who make video games here at EA, and we wanted to find out more about why they've chosen to make video games.
Jordan Phang wasn't really sure about working on a racing title.
"I thought that it would be a bit boring, clinical and with not much room for creative expression," he says. "I was wrong."
Phang, who works on Real Racing 3, has become a bit of a car fanatic since joining the team.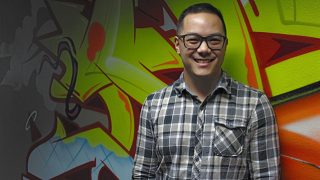 "From fragile high-technology F1 or LMP1 cars to tough all-condition rally cars or even crazy one-off Pikes Peak challengers, I find the variety of vehicles fascinating," says Phang.
Based out of the Firemonkeys studio in Melbourne, Australia, Phang always starts his day the same way: with an espresso.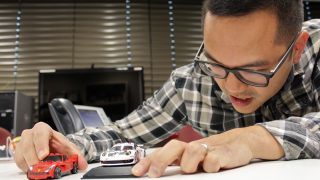 "My favorite part of the day is to make coffee, steam milk, and attempt to make latte art," he says. "My milk is not consistent – even after over 2 years of practice."
Phang has grown into his role with Real Racing, and he's actually become a true fan of racing as a sport. He'll watch races if they're on TV, but he prefers to experience racing in games.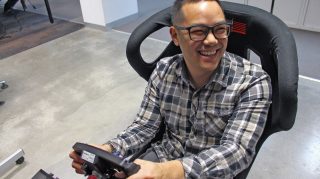 "The difficulty in keeping a good racing line, maintaining the same brake point lap after lap, finding the best time to overtake - the action of actually racing is vastly different from the detached viewing experience of watching on TV or even on the stands," he says.
His on-track experience includes an F1 track in Malaysia … with one catch. He actually went for a night jog, covering 11 kilometers in a little under an hour and a half.
"It's interesting actually being on track vs watching it on TV," he says. "The elevation change is real. You don't notice it as much on TV because of the camera angle, but you sure do when you're jogging up that hill."
From running on a track to working on Real Racing, Phang has grown to love the sport because of the human element.
"It is in the racing experience that you find the human stories," he says. "Drivers winning races in spite of faulty equipment, or team fuel strategies that go wrong and their car running out of fuel on the last lap, or motorcyclists thrown off their bikes yet somehow managing to hold on and cross the finish line."
Phang hopes that everyone who plays Real Racing can feel it.
"What I aim for is to be able to let players experience similar stories when playing our game," he says. "My goal has always been to delight the player, and right now I'm doing it through a racing game."
Love Real Racing? Tell us why on Twitter @EA.
Stay in the conversation of all things EA PLAY: Visit our site, follow us on Twitter and Instagram and Like us on Facebook.