Battlefield™ V comes out November 20 on Xbox One, PlayStation®4, and PC, or play early If you pre-order either the Battlefield V Deluxe Edition or Battlefield V Standard Edition you get the Enlister Offer*, which includes up to six Paratrooper Sets, the Firestorm Ranger Set, in-game Special Assignments, and more.*
The Battlefield V Deluxe Edition grants additional in-game bonuses at launch, such as 20 weekly items with Airlifts. Plus, hop on the Road to Battlefield V to unlock an additional two Paratrooper sets!
Read the complete guide to bonuses and extras below.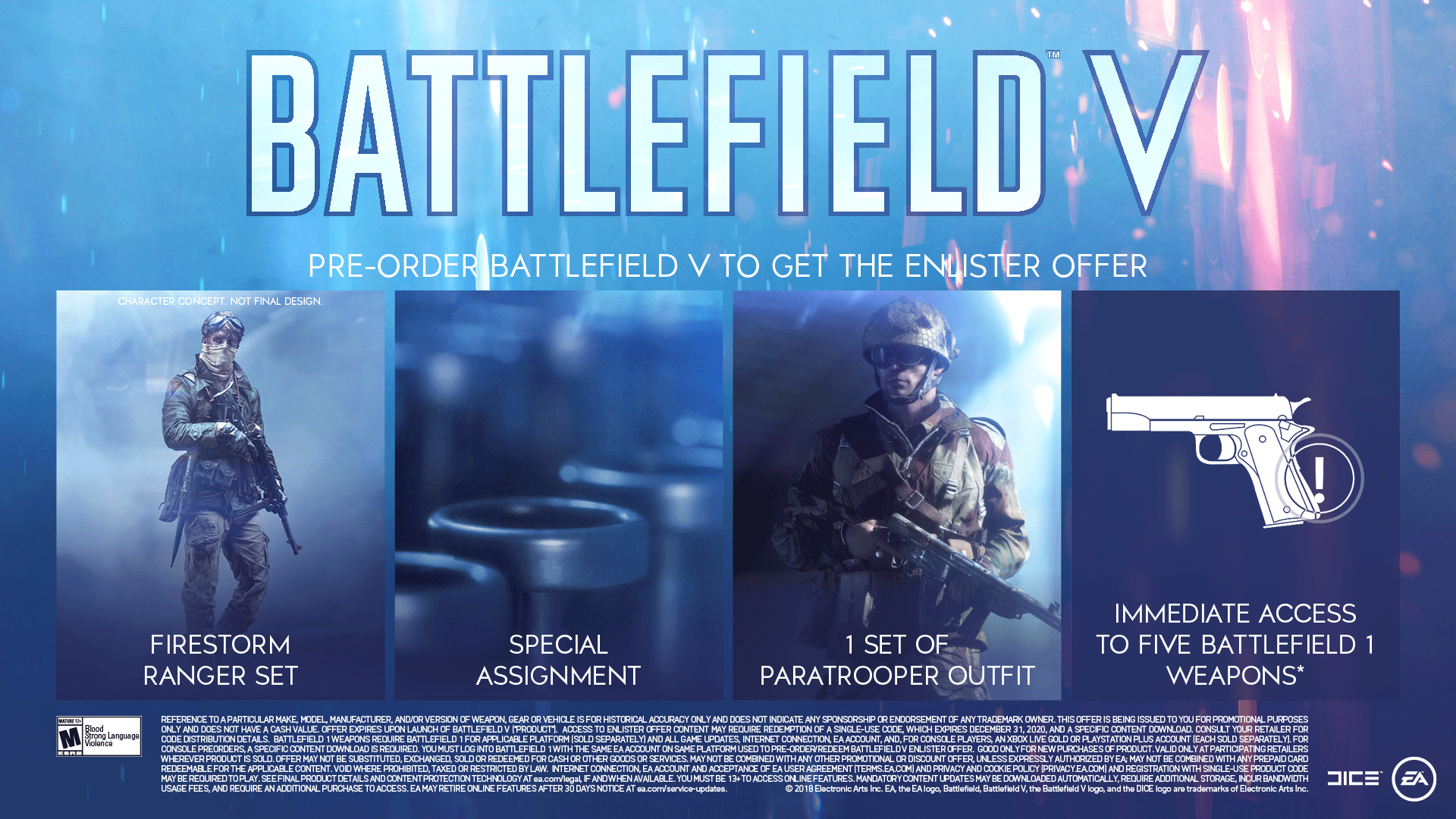 Pre-order and Deploy with the Battlefield V Enlister Offer
The Battlefield V Enlister Offer is for all players who pre-order Battlefield V or the Battlefield V Deluxe Edition. Players get extra soldier customization options, as well as access to Special Assignments and their rewards, starting the week of launch. Enlist today and get:
Paratrooper Outfit: Once Battlefield V launches, choose one of eight Special Soldier Sets available in the game to customize your troops
Firestorm Ranger Set: Usable across multiple modes, you'll get to wear this custom look, inspired by Battlefield V's battle royale mode, Firestorm
Special Assignments: Earn rewards and get an edge over the competition when you complete Special Assignments
Immediate Access to Five Battlefield 1 Weapons: Unlock some of the Great War's most modern weapons for use in Battlefield 1, as you bridge the interwar period on the road to Battlefield V.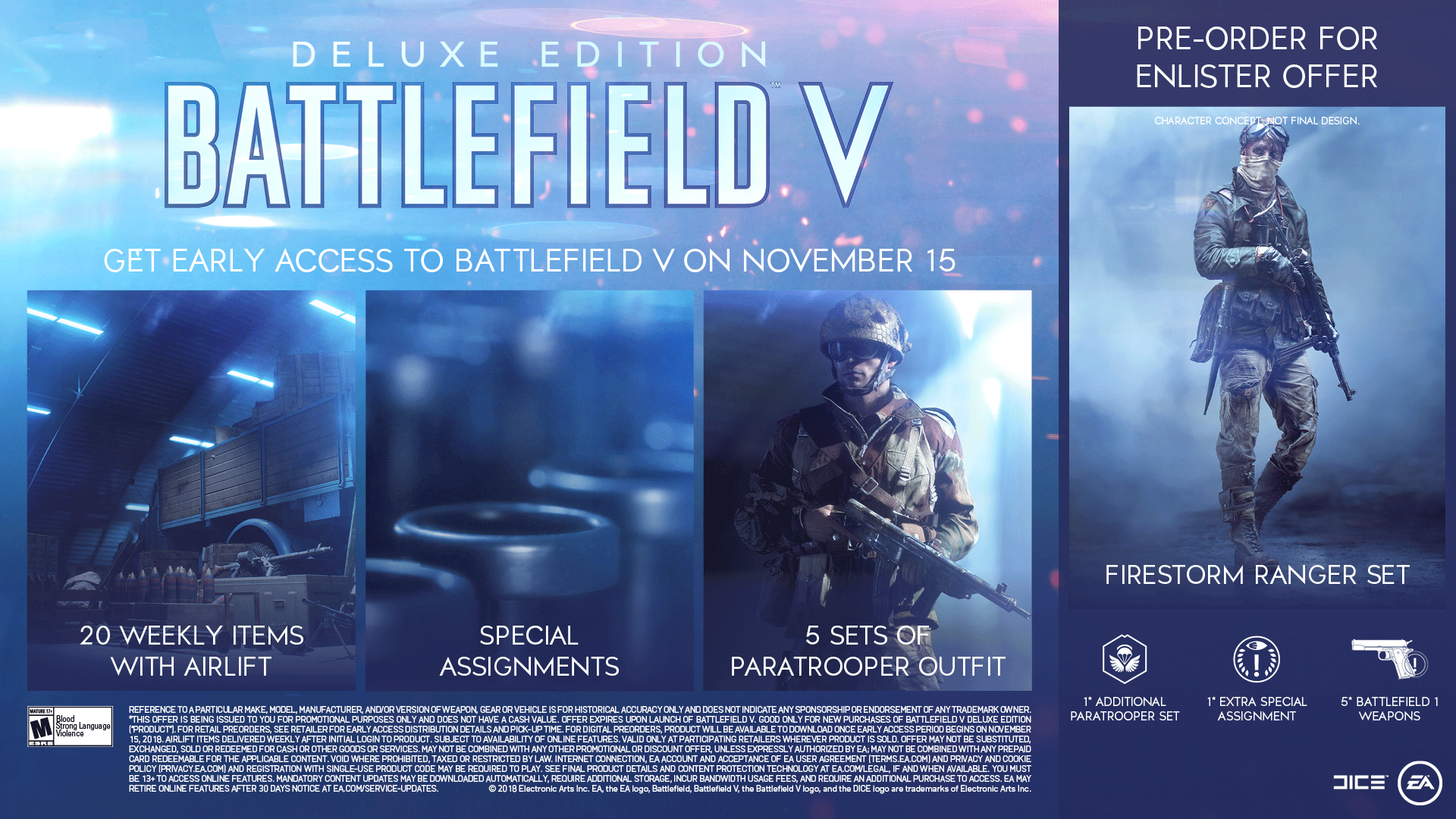 Battlefield V Deluxe Edition
For players that want to enter Battlefield V early and with more outfits, customization items, and Special Assignments, let me introduce you to the Battlefield V Deluxe Edition. Pre-order it and get the above extras from the Enlister Offer, plus:
Early Access to the Battlefield V Base Game on November 15: Be among the first to dictate the fight and play the Battlefield V base game
Five Sets of Paratrooper Outfits: Choose Special Soldier Sets from the eight available when deploying as the British Special Air Service or German Airborne troops
Special Assignments: Get rolling with Assignments inspired by the British Special Air Service's true-to-life raids on German air bases, and ones based on the defense of airfields on the North African coastline by the German Fallschirmjäger troops, as well as Starter Assignments providing more ways to test your skills on the battlefield and earn rewards
20 Weekly Items with Airlift: Receive vital supplies with 20 weekly Airlifts, each containing one customization item.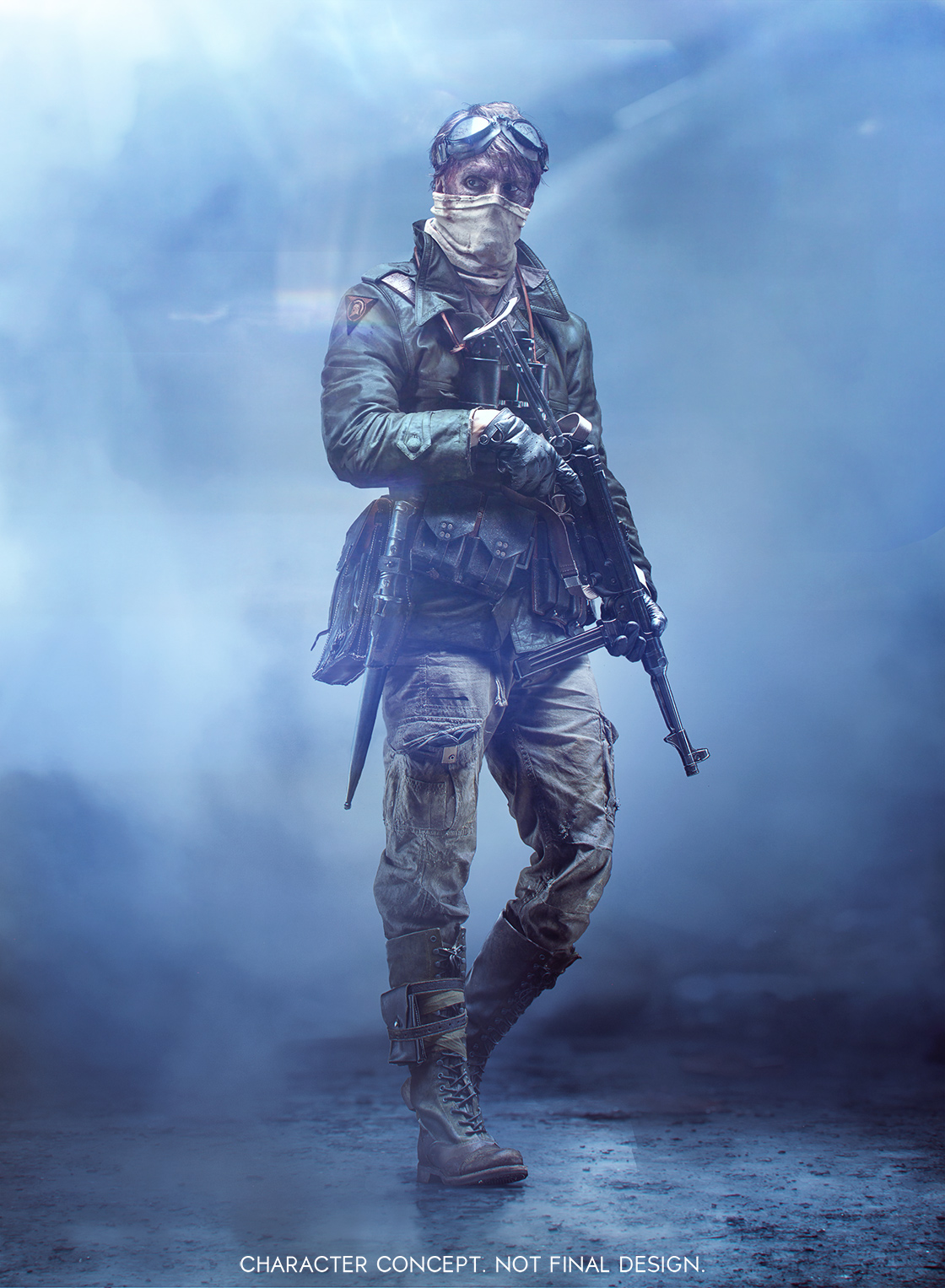 How to Get Every Soldier Set
There are a total of nine Soldier Sets you can use to customize your Company. Here's how to get them all:
One Paratrooper Soldier Set is available when you pre-order either the Battlefield V Deluxe or Standard Edition
Five Paratrooper Soldier Sets are included as part of the Battlefield V Deluxe Edition
Earn two Battlefield V Soldier Tokens by playing Battlefield 1, as part of the final stage of the Road to Battlefield V. This is also the way to earn weapons skins for use in Battlefield V
Announced in September, the Firestorm Ranger Set is an additional pre-order bonus to drop into the battlefield with a tactical look inspired by the Firestorm — battle royale reimagined for Battlefield— and usable across multiple modes.
Or you can subscribe to Origin Access Premier for PC and get all this now, plus immediate access to EA's growing library of games.
– Jeff Landa (Follow Jeff on Twitter @JeffLanda)
Deploy with style – pre-order Battlefield V and get the Firestorm Ranger Set.
Enter mankind's greatest conflict on Xbox One, PlayStation®4, and PC. On November 9, play the full game with Origin Access Premier or try it as part of the EA Access and Origin Access Play First Trials**. Or, join the fight on November 15 with Battlefield™ V Deluxe Edition early enlister access, or November 20 with the Battlefield™ V Standard Edition.
Sign up today to receive the latest Battlefield news, updates, behind-the-scenes content, exclusive offers, and more (including other EA news, products, events, and promotions) by email.
Follow Battlefield on Twitter and Instagram, like us on Facebook, and subscribe to our YouTube channel. Hop in and join the Battlefield Community on the Battlefield Forums, and discuss with us on Reddit and Discord.
*Conditions and restrictions apply. See https://www.ea.com/games/battlefield/disclaimers
**CONDITIONS, LIMITATIONS AND EXCLUSIONS APPLY. SEE ea.com/ea-access/terms AND origin.com/store/origin-access/terms FOR DETAILS. One free trial per EA account. After the trial, the current Origin Access monthly or annual membership fee will be billed. Cancel during the trial period without charge.
Note that game content, gameplay mechanics, and other Battlefield V aspects covered in this article may change between now and the launch of the game.