The Star Wars™ Battlefront™ II multiplayer gameplay trailer has arrived! Battle Droids march into action behind a colossal Multi-Troop Transport. Legions of the Separatist confederacy descend on Theed. A whirling double saber cuts through a sea of troopers. Rey and Kylo Ren square off, blue blade against red.
Prepare yourself to join huge battles for the fate of the galaxy across landscapes from the Star Wars™ prequels, original trilogy, and the new trilogy era. There's still so much more to see... keep your eyes on the EA Star Wars Facebook, Twitter, and Instagram accounts for the latest news, character reveals, and more leading up to the game's release. Preview the heroes and villains you'll be leading into battle, the vehicles you'll pilot, and some of the extraordinary moments you'll discover as a soldier in a galaxy at war.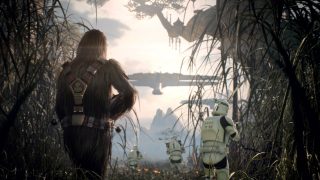 You'll be able to play Star Wars Battlefront II on November 9 for EA Access and Origin Access Members with the Play First Trial*, on November 14 if you pre-order the Star Wars™ Battlefront™ II: Elite Trooper Deluxe Edition release, or on November 17 in the worldwide release.
*CONDITIONS, LIMITATIONS AND EXCLUSIONS APPLY. SEE http://www.ea.com/eaaccess AND http://www.origin.com/store/origin-access FOR DETAILS.